What is AEPS ( Aadhaar Enabled Payment System) and How it Works?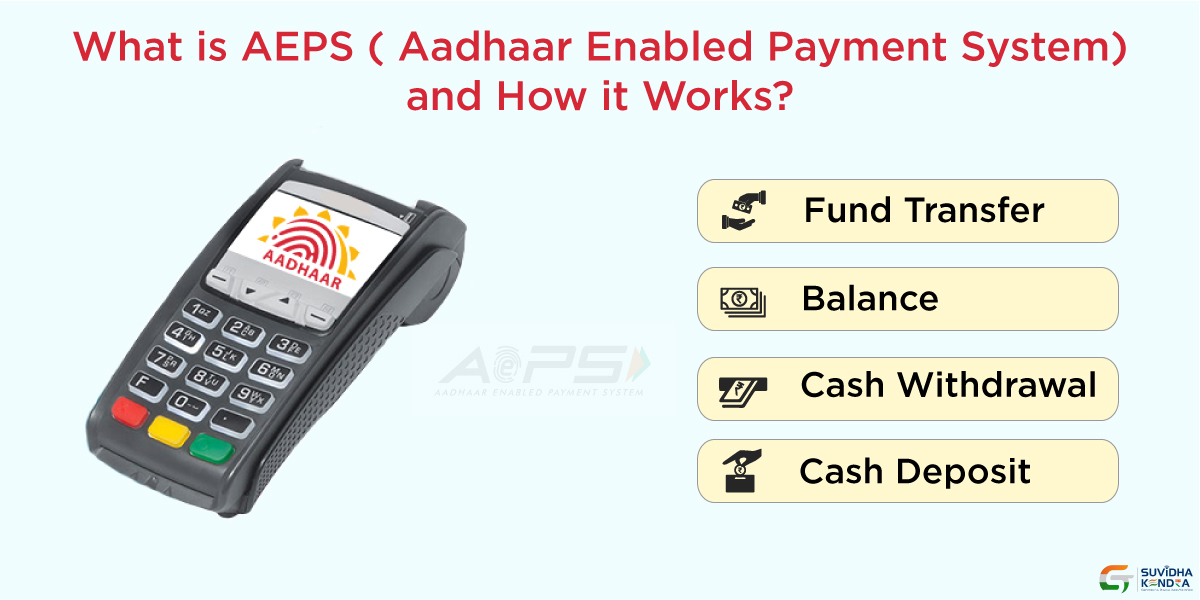 Searching for an opportunity where you have to invest less and have chances of earning more? If yes, then here is the answer for you. Aadhar Enabled Payment System is a new payment service which is offered by the National Payments Corporation of India to the banks and other financial institutions by using Aadhar. It is based on Unique Identification Number and enables Aadhar cardholders to effortlessly make financial transactions by Aadhar based authentication.
AEPS system focuses on empowering all the sections of society by making banking and financial services available to everyone by Aadhar. It is an Aadhar-enabled payment system by which you can transfer funds, deposit/withdraw cash, make payments and much more. AEPS service can be availed at Customer Access points which are controlled by Business Correspondents by using Point of Sale devices.
For every transaction that is done, either inter-bank or intra-bank, one transaction receipt would be printed and given to the customer as a transaction record with its complete status, by the BC from whom the transaction was done.
Want to know about the benefits of using AEPS? As it would help you in explaining the customers of making payment through AEPS. Some of its major benefits to you and your customer are-
It is a safe and secure process
User-friendly
Approved Payment system
Safe money transfer
Bank account holders can access their bank accounts by Aadhar Authentication
Just 2 things required for initiating a transaction which is Aadhar number and biometric information
Inter-operable among numerous banks
Works as a mini ATM
After reading these benefits, you would be thinking that how can you earn through this method and where would you get the POS device from? GST Suvidha Kendra is one such company that offers AEPS services all over India and joining it can benefit you immensely.
GST Suvidha Kendra- One-stop-shop for financial services
It is one company that is transforming lives by digitizing cash. They are touching the lives of people by providing them with financial services by a cost-effective platform including POS delivery, mobile, and web. There are a lot of financial services that they provide for making day to day life easy for people such as GST services, accounting, audit, travel, bill payments and much more.
If you join GST Suvidha Kendra as an agent for AEPS you can earn a tremendous amount of money with minimal investment. The major advantage of joining GST Suvidha Kendra is that they believe in making work simple and easy for their customers, which can be your foremost point of attracting more people, thus it would ultimately lead to increased revenue.
How you can get AEPS from GST Suvidha Kendra?
The first thing that comes to mind after reading about AEPS and GST Suvidha Kendra is that are you eligible for getting it? If yes, then how can you get AEPS from GST Suvidha Kendra? Here are the eligibility criteria for you-
Any Indian Citizen
No Education obligation
Full Time/ Part Time/ Work from Home
Have access to the internet by computer/phone
If you are eligible then you just need to provide 1 copy of PAN card and Aadhar card along with 1 Passport size photo. If your application gets approved you would get a call from GST expert or an email confirming the same. Once the application gets approved you would have to pay an amount of Rs.20,000 if you want to take the basic license and if you wish to take the Super License for that you would have to pay Rs.24,000.
The good news for you is that you would get a lot of benefits if you pay this fee, which would make you feel great and a complete value for money. Some of its benefits are-
You would get access to the software and the Login page both, where you would be able to place fresh orders.
They would provide you with Rs. 100 discount on all the services. Say for example, if the GST registration fee is Rs. 600, and your commission is 50%. With this coupon, you have to pay fees of Rs. 500.
Training Material
Promotional Material
You will be provided with the promotional material like user manual, CRM instruction manual, information kit about the services, etc.
Training and Support
You would be given training for four days so that you become well versed with the process
Round the clock help Desk either by phone, mail or ticket support
These were the few perks that you would get paying the fee and this information must have made you feel relieved and happy. You must be thinking about the commission structure now as to how much would you be paid on each transaction done by the customer.
Commission and Earning
This is the most exciting part of the information. Here is the list of commission structure for you-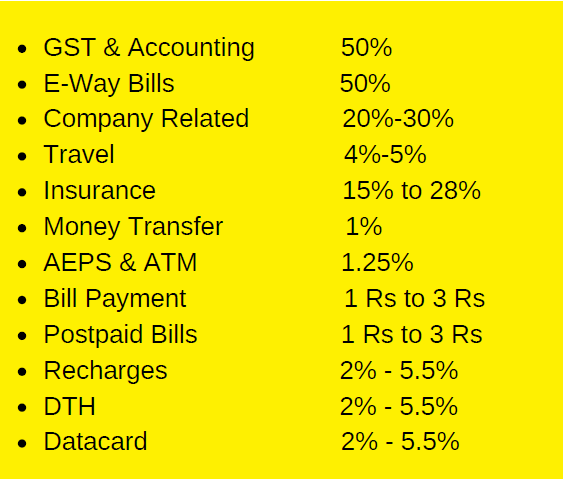 Thus, for each transaction done by the customer, you would get a 1.25% commission on that. It means that there is a lot of scope for earning money through AEPS if you become a member of GST Suvidha Kendra. If you want you can also calculate your monthly income using GST Calculator, by this, you would get a fair idea of how much money you can earn every month.
For earning more and more commission, you just need to convince your customers to make payment through AEPS. You would get the POS machines, customer juts need to put their Aadhar number and authenticate the transaction by using their biometric data.
Bottom Line
After reading everything about GST Suvidha Kendra and AEPS, you must have made your mind of becoming a member with them. This company provides you with loads of perks, excellent support, and a decent commission structure and that too with much less investment amount. Therefore, be a part of this renowned and reliable company today.

Share this post?