Requisite information on Aadhar Card Services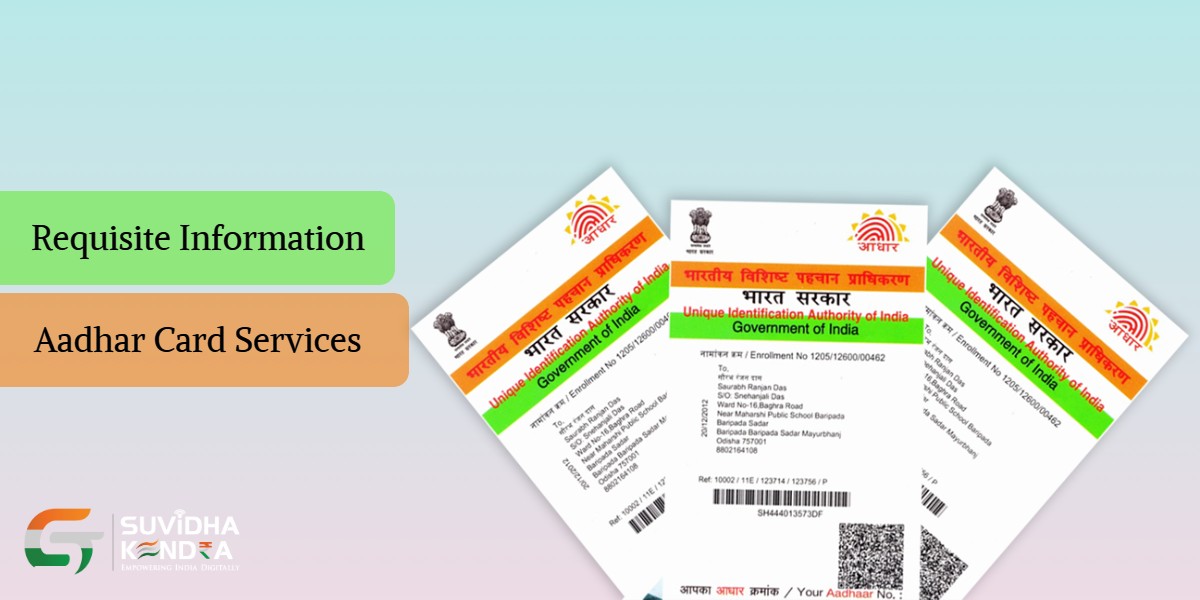 Table of Contents
1. Overview/ What is Aadhar card
2. Constituents of Aadhar card
3. Eligibility Criteria for Aadhar card
4. Documents required for Aadhar card
List of Identity Proofs
List of Residential Proofs
List of Birth Proof
List of Relationship Documents proof
5. Process of getting Aadhar Card/How to get the Aadhar Card?
Locate Aadhar Enrolment center near you
Book an Appointment
Enrol for Aadhar
Checking the Aadhar card status
6. Aadhar card Benefits and Services-
Availing of Subsidies
Jan Dhan Yojna
Voter Card linking
Digital Locker
Mutual funds
Proof of residence and identity card
Acquisition of Passport
Disbursing provident fund online
7. 10 FAQ's on Aadhar Card
8. Conclusion
1. Overview/What is Aadhar Card?
Aadhar is the biggest biometric system in the world. The number that is allocated at the time of issuing Aadhar, is deemed to be a proof of residence. Although, it cannot be considered at the time of showing one's proof of citizenship.
Before we get acquainted with the Aadhar card services, let us know what Aadhar card is. It is a 12 digit number issued by the Unique Identification Authority of India (UIDA) to all the Indian residents once after they complete and validate the verification process laid down by the concerned authority under the jurisdiction of the information technology and the ministry of electronics. The Aadhar number has certainly benefited the government to rule out the corruption in the economy and granting many perks to the residents in various ways. We will discuss them later, in this blog.
The process of issuing this Unique Identification number (UID) or Aadhar number was started in the year 2009 after the UIDA was founded. Subsequently, in the year 2016 Aadhar act was passed in the Lok Sabha, which led to the commencement of UID number under the provisions of the Aadhar act by the government of India. With the exponential significance and the launch of various government schemes, have made it mandatory for every person who resides in India to have an Aadhar number.
2. Constituents of Aadhar card
Aadhar card comprises details of the person enrolled in it. Although all the details are not mentioned on the Aadhar card, some of them are mentioned over it. The details which are not mentioned are encrypted and stored in a QR code for security reasons which can be accessed through authorized channels whenever required.
The details that are printed on the card are as follows-
Date of birth
Name
Gender
Aadhar card number
Residential Address
Photograph
QR code stating the Aadhar card number
The details that are stored encrypted and stored in the database-
3. Eligibility Criteria for Aadhar Card
Aadhar has become a mandate for every Indian citizen. Therefore anyone who is a resident of India needs to apply for it. It has even become compulsory for the Income Taxpayers to link their PAN card with Aadhar to file their annual ITR.
Even minors can apply for the Aadhar card, the procedure is slightly different for them as if you want Aadhar for minor, you would need to submit the birth certificate along with the address of parents and proof of identity. Aadhar for children below 5 years of age is in blue. Parents can apply Aadhar for even newborn kids but they need to update their biometrics after they become 5 years old.
Another crucial information about Aadhar is that any Indian citizen residing abroad can also apply for Aadhar card. NRI's with Indian passport can apply for Aadhar card once they come to India without waiting for 180 days. Foreigners or NRI's staying in India for 12 months can apply for Aadhar.
4. Documents Required For Aadhar card
It is paramount for us to know what documents are required when applying for the Aadhar card. Also, you need certain documents when you want to get any changes done in your Aadhar card. You are required to carry original documents to the center, they will scan the documents and return them to you. You do not need to carry the printed copies.
There is a long list for the documents required for Aadhar card that is further divided into 4 categories
List of identity Proofs-You may give the following documents for your identity proofs:
Passport
PAN card
Driving license
Voter Identification card
License of Arms
Service photo cards issued by PSU
Photo credit or debit card
Job card of NREGS
Marriage certificate
Approved Name change certificate
Photo passbook of Kisan or Pensioner
2.List of Residential Proofs-
All the documents mentioned above are also considered to be the residential proof for Aadhar enrolment. Apart from the above documents, below is the list of the documents which will also work as your address proof-
Insurance policy
Water and electricity bill
Ration card
Photo and a letter signed by the bank on the letterhead
Gas connection bill
Spouse passport
Assessment order of Income-tax
Registration certificate of vehicle
Domicile and castle certificate along with a photo issued by the state government
3.List of date of births proof-
The documents that will work for Aadhar card registration containing the date of proof are as follows:
Birth Certificate
Passport
PAN card
SSLC book
Authorized date of the birth certificate issued by the gazetted officer
Mark sheet issued by any university or government board
Pension payment order (state or center)
PSU issued ID card containing Date of Birth or a government photo ID card
Ex-servicemen contributory health scheme photo identity card or Central government health scheme photo card
4.List of Relationship Documents Proof-
It is essential to have a proof of relationship with the head of your family. Following is the list of documents ascertaining the relationship for Aadhar card enrolment with your family's head-
PDS card
Passport
Canteen card of the army
Job card of MNREGA
Registration of birth or any local government birth certificate
Families entitlement document issued by either center or state government
A medical card issued by CGHS, ESIC, ECHS or the state government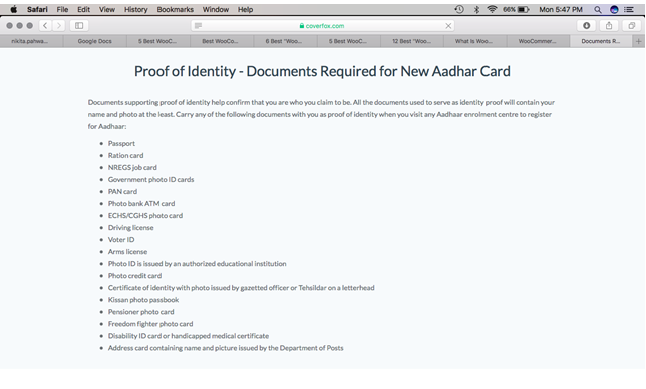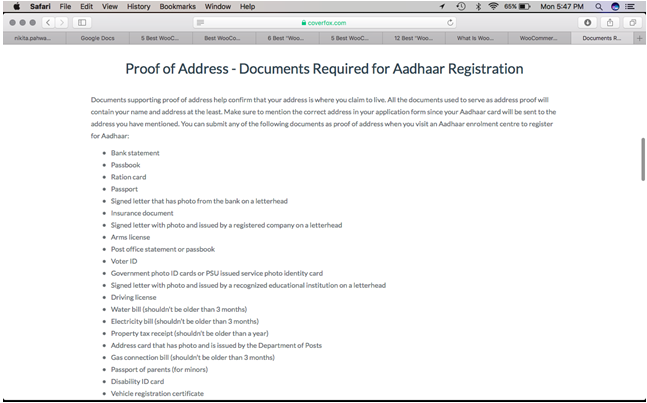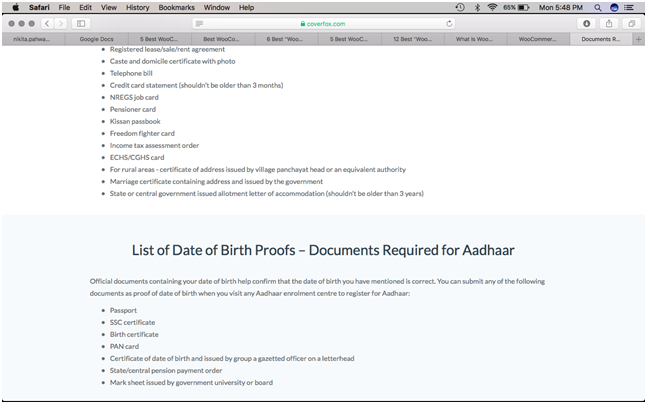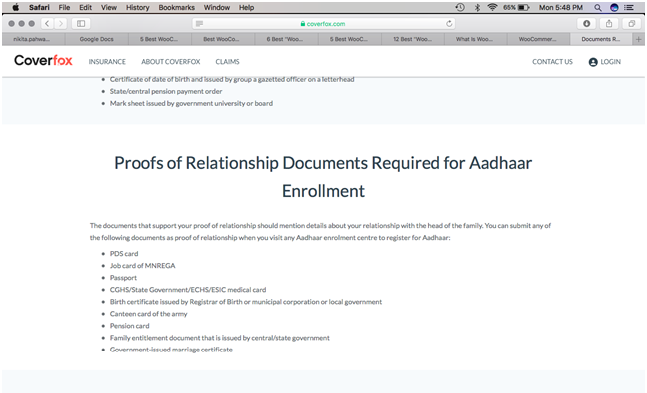 5. Process of getting Aadhar Card/How to get the Aadhar Card?
Each one of us knows by now, that how essential it is to own the Aadhar card as it has numerous benefits. The main thing is how can we apply for it? The government has set up a procedure to apply for Aadhar card. Also, there are a few documents as well that are required when you apply for it.
Let us see the steps you need to follow to apply for Aadhar card-
1. Locate Aadhar Enrolment center near you- The first thing you need to do is seek for an Aadhar Enrolment Center. The good thing is that you can apply for an Aadhar card free of cost and you can visit any enrolment center near you. You can search for the enrolment center online as well by visiting this web page https://appointments.uidai.gov.in/ and enter a few details to search for the nearest enrolment center.
The details you need to enter are your State and PIN code, you will get the address of the nearest enrolment centers. Here you would get all the information whether the center is temporary or permanent, how many enrolments were done in the last few days and many other things that you need information on.
2.Book an Appointment- Once you have all the information about the enrolment center, you need to visit to apply for it. You can also book an appointment online before visiting the center. Appointment can be easily done through the official website which is https://aadharcarduid.com/aadhaar-card-apply-online. Well, it is not mandatory to book an appointment, you can go even without a prior appointment. There are a few documents that you require to carry with you, which are mentioned above (Refer 3.1, 3.2, 3.3, 3.4).
3.Enrol for Aadhar- Once you go to the center with the required documents, you need to take an enrolment form and fill it with the personal details. The details that you need to mention are the name, address, DOB, mobile number and gender as these are the mandatory fields that you need to fill. There is a space to mention your email address too, but that is optional.
You should personally visit the center as they need to take your biometric information, which includes your face (photograph), fingerprints and they also scan IRIS. It is important to check the details vigilantly before submitting them. Once you submit the form and required details, you would get an acknowledgment slip which would have the 14 digit enrolment number. With the help of this number, you would be able to track the status of your Aadhar card. Another thing is that if you have children who are below 5 years of age, then they only need the name of parents or guardians and biometrics.
4. Checking the Aadhar card status- Tracking the status of Aadhar card has become really facile and you can do it online without any trouble. You just need to 14 digit enrolment number to track it. Visit the webpage, check Aadhaar Status on the UIDAI website and you will be able to see if it has been made or is still in process. In case you forget or lose the enrolment number you can retrieve it by visiting Retrieve Lost or Forgotten EID/UID webpage on UIDAI website.
It mostly takes a time span of 60-90 days to get the Aadhar card. Once your Aadhar card is ready, you would get SMS and would also get an email confirming the same. Subsequently, you will receive it at your verified residential address or you can also get it online. You will see a PDF file that would be password-protected. You just go to the link https://eaadhaar.uidai.gov.in/ and download your Aadhar card.
6. Aadhar card Benefits and Services
While several other uses are publicized through awareness campaigns conducted by the government, there are certain benefits and services provided by Aadhar to all the residents which they may not be aware of. Hence, we wanted to highlight those services and benefits that you can avail from Aadhar Card-
1. Availing of Subsidies-
It is one of the biggest uses of Aadhar card as no resident is entitled to claim any government subsidy without it. As the government already has all the data encrypted on a particular level, that is why they only need to know the Aadhar card number to fetch all the details of that person in whose name the Aadhar card is registered. Certain government schemes have been introduced which states that LPG connection's subsidy can be claimed when Aadhar card is linked with the bank accounts by which you may get your LPG connection subsidy directly in your account.
2. Jan Dhan Yojna–
It accepts Aadhar number as the only document which is enough to open your bank account. Although, you can open Pradhan Mantri Jan Dhan Yojna (PMJDY) account after submitting other documents as well. The benefits provided are free zero bank savings account, RuPay card, accident, life insurance, etc. This scheme mainly benefits all the people living in rural and remote areas to avail the services offered by banks.
3. Voter Card linking-
Now, Aadhar number has been linked to voter id cards, started from the year 2015. This action was taken for bogus voters. As one Aadhar number can be allotted to one person, this ensures no person could have multiple voter ID cards.
4.Digital Locker-
You can store all personal documents on the government's server as the government of India has launched the Digital locker system. The signup process for this system only includes linking of 12 digit Aadhar number.
5.Mutual funds-
SEBI has mandated using the Aadhar card for e-KYC documents required for mutual funds investment. After the Aadhar card came into existence, the e-KYC process has been eliminated. This has simplified the investment account opening process incredibly.
6.Proof of residence and identity card-
A residential address is mentioned on the Aadhar card which is considered a valid address proof when applying for any financial projects like home loan, personal loan, market investments, mutual funds, credit cards, filling ITR, etc.
It is only the Aadhar card which is accepted by all government and non-government organizations. It is even accepted when it is not a citizenship document. It is not only comprised of your photograph but also your biometrics and IRIS code. It also contains your QR code which can be scanned to verify whether the details match with the one mentioned in the card or not.
7.Acquisition of Passport-
Earlier it could be a daunting experience for you to apply for a new or renewing your passport as it used to take multiple weeks. But after the Aadhar card increased uses, it has now expedited the process of obtaining a passport. You just simply need to attach your Aadhar card in the documents along with your application that you would submit to apply for the passport
8.Disbursing provident fund online-
An app specially designed for the provident fund named as EPFO can be used to disburse your provident fund online. You just need to link your UAN number with your Aadhar number, and you can commence the process of disbursal. The money will be paid directly into your Aadhar linked bank account within a few days.
8. Conclusion
The Aadhar card is a centralized and universal identification number. It is the most significant document for all the people residing in India. It has also become the government's base for citizens' services and public welfare. Aadhar card is the only document out of all, which you can download online in case you have lost your original one. It is the best part, that you are not going to lose the indispensable document of your identification.
Share this post?