Become a GST Expert with GST Suvidha Kendra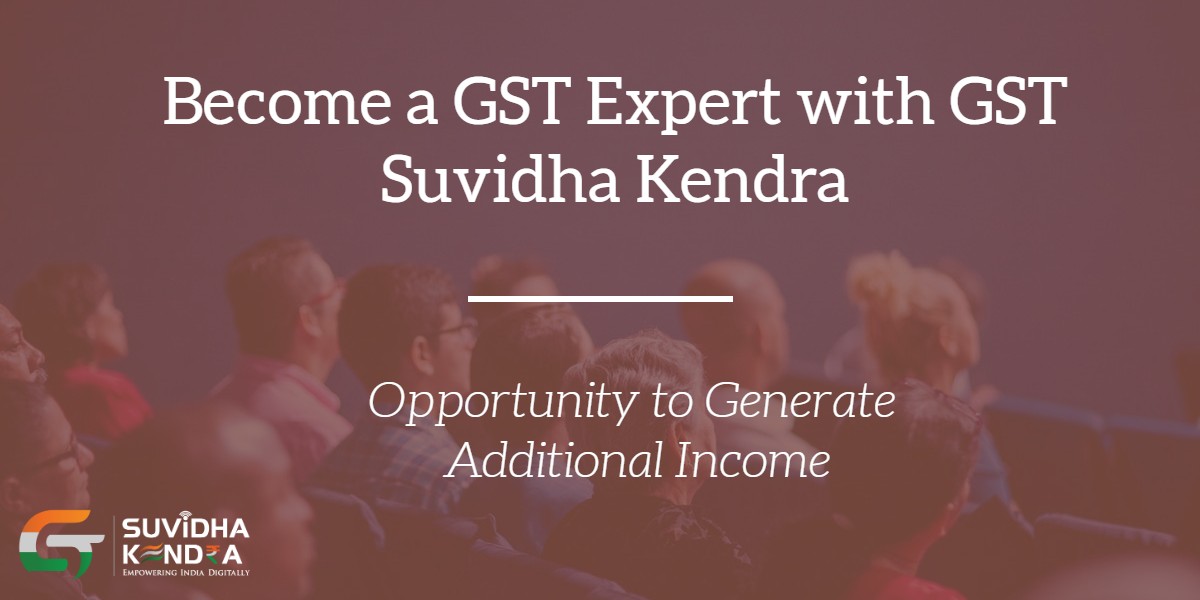 Are you planning to switch job? Are you looking for some excellent employment opportunities? Or are you looking for extra income?
If yes, then you have stumbled upon the right article. Do you know there are various opportunities to earn extra by becoming a GST expert?
GST can be regarded as one of the Indian tax regime's most impressive reforms. In all the sectors of those include the banking and financial services sector, GST is subject to an 18% tax on all the one-nation-one tax-one-market proposals, compared to a 15% tax before GST was introduced.
GST is a step towards simplifying the country's tax structure and creating a single tax system. In both the consumer economy and enterprises, GST has caused a lot of confusion over the past year. But, you can become a savior here.
You can start earning extra by becoming a GST expert at GST Suvidha Kendra. It is the best opportunity for those looking to invest a minimum amount and can gain remarkable benefits. Once you register yourself to be a GST expert with GST Suvidha Kendra, you will be provided with proper training with an approved license.
Hence, if you are seeking a fresh start and want to become a GST expert, this is the platform for you. The quicker you jump into it, the sooner you would get the client base.
Know the eligibility criteria
The procedure to join as a GST Expert with GST Suvidha Kendra is quite easy, but you need to be aware of the eligibility criteria.
Anyone who is a citizen of India can join
Must be minimum 12th std pass
Must have Internet and Computer knowledge
Must be ready to work from home or office
Should carry one photo ID card and one photograph
If you happen to fulfill the above-mentioned criteria, then you are eligible to join GST Suvidha Kendra as a GST Expert.
You do not need any additional experience of any other certificate to join GST Suvidha Kendra as a GST Expert. For any housewife or retired personnel looking to earn in a part-time manner, this is an excellent opportunity for you. Also, for full-time workers looking to make extra income can fill the application form and join GST Suvidha Kendra.
What is the application process?
The application process is quite simple; hence, you will not face any trouble while applying to become a GST Expert with GST Suvidha Kendra. You need to carry the following documents for the KYC submission form:
1 Photograph
1 Photo ID (either of Aadhar Card, Passport, PAN Card or Voter ID)
Address proof of your location
After you submit all the documents, you are done on your part. Then, the GST expert will verify your location and other details. The duty of the GST Expert is to verify the applications submitted by the people.
The GST expert also checks whether there is any GST Suvidha Kendra in your area and if not, then you will get a call from the experts to go ahead with the further process.
You will get a call from the GST Expert, and you will be asked to pay the license fee and sign an agreement. Getting a call from the GST Expert means you have successfully become an agent.
Your training would start from the very next day when you get the agreement, and also you would get the promotional material which would include banners, visiting cards, letterheads, etc.
Now the application process is complete, are you eager to know about the commission structure, let's know more about it.
The Commission Structure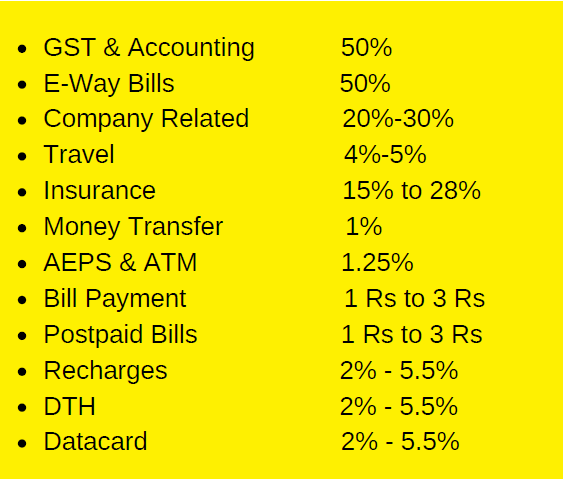 So you have chances to earn quite some money as a GST Expert, as the average would be about 50%, which is a lot. In addition to clearing your doubts, you can measure your monthly profit according to the work you have done, GST Suvidha Kendra has provided you with the Commission calculator. To adjust the amount, just press the+ or-button and the exact value is provided.
Role of GST Expert
The GST expert is an authorized person to carry out any or all of the following activities on behalf of a taxable individual by the Central and State governments. Those include:
File a fresh registration request
File a request for registration change or cancelation
Provide data on external and internal resources
Make credit payments into the electronic cash register, i.e., fee, interest, fine, tax or any amount other than that
Send a refund request
Provide GST returns on a monthly, quarterly, or annual basis.
List of GST Suvidha Kendra Services that you can offer after getting the license: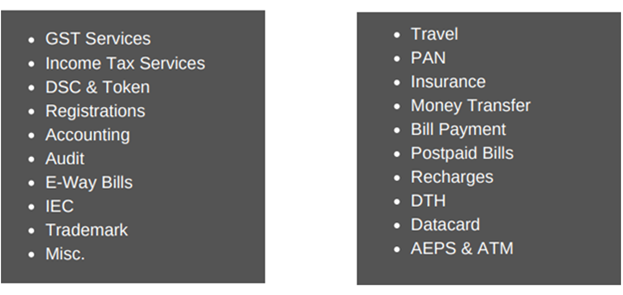 Various advantages of paying for GST Super License-
When you pay for the GST License fee which is Rs.24000, you don't have to think that you are paying for nothing. By paying the application fee, you will have added benefits that you will get after paying your fee. Various perks that you can enjoy after paying the license fee are mentioned below:
You will be provided with coupons that are equivalent to the amount you have paid
You will be provided with the training material
The GSTN – GST approved the license
You will be provided with GST Promotional material
You will get a set of all the GST related services
24×7 help desk support
The GSK engagement services
Every Tax and Company related services
Get Rs.100 discount on all the services
There are lots of advantages which you can avail after paying the license fee and would be really helpful for you. This is the service list that states various services you need to pay for the GST basic license.
Be a part of GST Suvidha Kendra
After reading this, don't you feel this is the best opportunity to boost your career? Here you need a little initial investment, and then you can earn enough money. The application process is straightforward, and no previous experience is required. You will receive proper training here and also educate you in-depth about the whole process. Therefore, enter GST Suvidha Kendra without any second thought and become part of one of the most reliable and trustworthy online stores.

Share this post?