Common Questions About Health Insurance In India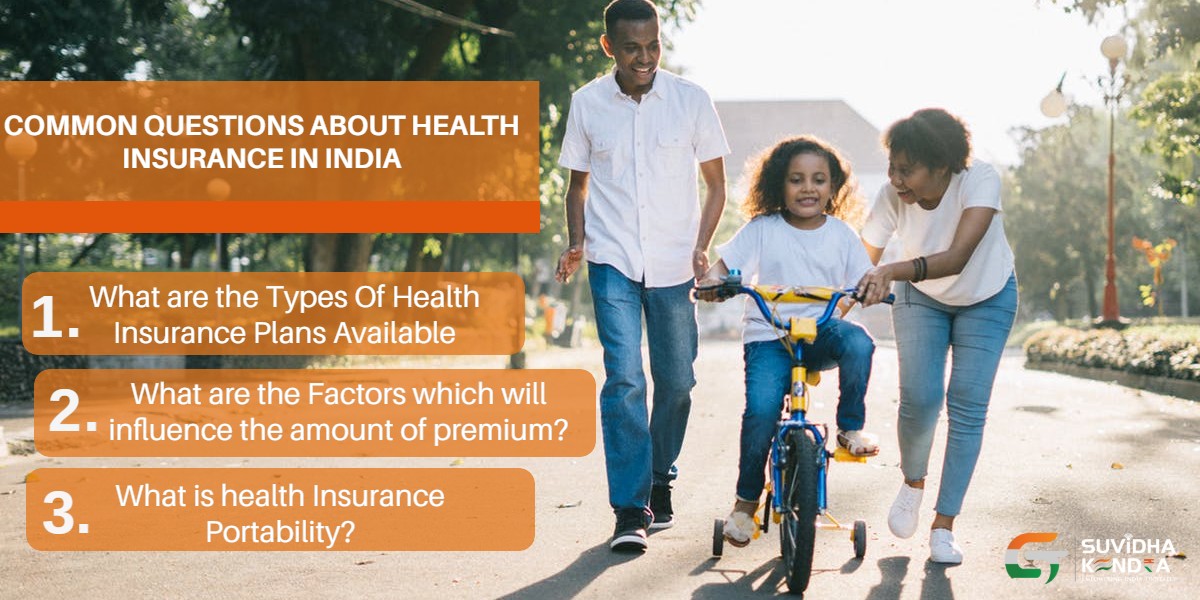 TABLE OF CONTENTS
DO I REALLY NEED TO WORRY ABOUT HEALTH INSURANCE?
WHAT ARE THE TYPES OF HEALTH INSURANCE PLANS AVAILABLE
INDEMNITY PLANS
INDIVIDUAL INSURANCE PLANS
FAMILY FLOATER PLANS
SENIOR CITIZEN PLANS
EMPLOYEE INSURANCE PLANS
MATERNITY INSURANCE PLANS
FIXED BENEFIT PLANS
ACCIDENT INSURANCE PLANS
CRITICAL ILLNESS INSURANCE PLANS
PREVENTATIVE INSURANCE PLANS
UNIT LINKED INSURANCE PLANS (ULIP)
WHAT ARE THE FACTORS WHICH WILL INFLUENCE THE AMOUNT OF PREMIUM?
YOUR JOB
YOUR AGE
CURRENT MEDICAL CONDITIONS
UNHEALTHY HABITS
TYPE OF PLANS AND NUMBER OF BENEFICIARIES
POLICY TERM
WHAT IS HEALTH INSURANCE PORTABILITY
AM I ELIGIBLE FOR A TAX BENEFIT ON HEALTH INSURANCE PAYMENT?
WHAT ARE SOME PROBLEM AREAS TO LOOK OUT FOR WHILE SELECTING AN INSURANCE PROVIDER?
AFFILIATED HOSPITAL NETWORK
LACK OF COVERAGE FOR PRE-AND POST-HOSPITAL EXPENSES
SUB-LIMIT
RENEWAL AGE RESTRICTION
CO-PAYMENT
CAPS ON TIME-LIMIT
CLAIM BONUS
CLAIM-DISCOUNT
PREMIUM LOADING
CLAIM SETTLEMENT RECORD
WHAT IS THE PROCEDURE TO MAKE AN INSURANCE CLAIM?
CASHLESS CLAIMS
PLANNED HOSPITALIZATION
EMERGENCY HOSPITALIZATIONS
REIMBURSEMENT CLAIMS
HOW TO LODGE A COMPLAINT AGAINST A TPA/INSURANCE PROVIDER
WHAT ARE THIRD PARTY ADMINISTRATORS (TPA)?
WHAT ARE SOME MYTHS PERTAINING TO HEALTH INSURANCE?
THE CHEAPEST POLICY IS THE BEST
THE YOUNG DON'T NEED HEALTH INSURANCE
HEALTH INSURANCE COVERS ONLY HOSPITALIZATION COSTS
I DON'T NEED A SEPARATE POLICY IF I AM COVERED UNDER GROUP INSURANCE
ALL BENEFITS WILL BE LOST AT ONCE IF PAYMENT IS NOT MADE BY DUE DATE
ALL BENEFITS WOULD BE COVERED FROM DAY ONE OF THE POLICY
HOSPITAL BILLS DON'T NEED TO BE TRACKED MANUALLY
PRE-EXISTING ILLNESS EVEN IF KNOWN BUT NOT DISCLOSED WOULD STILL BE COVERED AFTER 48 MONTHS
SMOKERS DO NOT GET HEALTH INSURANCE
Between taking your loved ones to the hospital in times of emergencies, consoling relatives, consulting doctors, major medical emergencies are one of the most difficult times in the life of a person. A good Health Insurance Policy provides for cashless hospitalization, diagnostics, and further medical expenses to ensure that you remain worry-free at least on the expenses front in these testing times.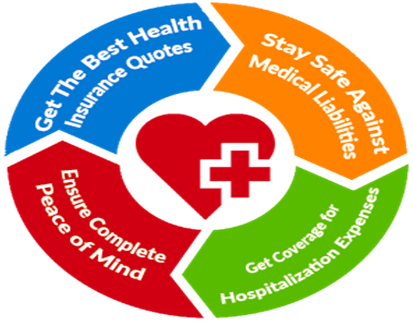 Do I really need to worry about Health Insurance?
Medical expenses are skyrocketing in India. The cost of healthcare in India is expected to rise at a rate double than that of the rate of inflation. There has been a 300% increase in average hospitalization costs in the last decade. A study by the British Medical Journal reported that whereas 60% of the population had reported out-of-pocket (OOP) payments for medicines in 1993-94, the number had increased to 80% in 2011-12, and this had forced 5.5 crore Indians below the poverty line. The number is even higher currently now. Yet more than 84% of Indians have no form of health insurance. According to the National Sample Survey Organization (NSSO) titled "Key Indicators of Social Consumption in India: Health", a mere 18% in urban areas and 14% in rural areas had health insurance policies. One in five families in urban India is forced to borrow for hospital expenses and more than 5.5 crore Indians have been forced below the poverty line to cope with hospital expenses.
The costs for major operations in urban areas have the potential to deplete entirely the savings of a middle-class household. For. e.g. in 2014 the avg. cost of a heart bypass surgery was found to be Rs. 3.2 lakhs, this figure denotes only the cost of the operation and not things like diagnostics, hospital stay, and post-op care which more than double the expense. It is thus imperative for everyone to invest early in a suitable health insurance plan.
What are the types of Health Insurance Plans available
There are a variety of plans and sub-plans available with different coverage aspects like cashless hospitalization, reimbursement, coverage of pre-hospitalisation and post-discharge expenses and various add-ons. It is recommended that you conduct a little bit of research before finalizing on one. However, to assist you in starting here are the broad types of plans available.
Indemnity Plans
Indemnity plans, also called Medicare or Mediclaim, cover hospital expenses and some even let you claim multiple times subject to a predetermined limit every year. If the treatment is availed in a panel hospital, cashless treatments are available, and for other hospitals, you are indemnified against your expenses up to a certain limit.
Individual Insurance Plans
These plans only cover the costs of a single policy-holder and not the whole family, thus offering comparatively cheaper premiums. Pre-existing illnesses may not be covered according to policy terms. However, all hospital costs, pre and post, diagnostic charges and doctor visits are usually covered.
Family Floater Plans
Covers the medical and treatment costs for the whole family under one umbrella which includes the policy-holder, wife, and kids. Premiums are higher than individual plans but are well-justified given that the entire family is benefitted. Claims up to a certain amount can be made either for a single person or multiple family members. Some plans even allow children below 2 years and up to 15 family members.
Senior Citizen Plans
Special plans tailored for senior citizens and retired persons. Covers treatments and hospital costs, common geriatric illnesses and emergencies. Eligibility starts from 50 years of age and can go up to even 80 years. However, it must be remembered that there can be a waiting period of 1-4 years to start coverage for certain illnesses, as per the policy details. Also, the Insurance Regulatory and Development Authority of India (IRDAI) has made it mandatory for companies to provide valid reasons for rejecting prospective policyholders, who cannot be discriminated against arbitrarily.
Employee Insurance Plans
Also, called Group Medical Insurance, this is specially designed for companies and associations for the benefit of employees. These plans offer many special benefits – employees don't have to undergo separate medical examinations that would be required to purchase separate insurance plans, the entire family including parents, spouse and children can be included by paying a little extra premium, the premium paid is tax-exempt and generally cheaper, and depending upon the employer it may also be contributory on a 50-50 basis.

Maternity Insurance Plans
Special type of insurance designed to cover pre-and post-pregnancy expenses and hospitalizations, emergency transports, delivery charges and diagnostics (up to a limit) including any complications that can arise. Maternity insurance can generally be added to family plans or employee group plans. The waiting period is generally around 3-4 years and thus it is advised that the couple plans this well in advance to avail the benefit.
Fixed Benefit Plans
These are specialized plans which are designed to cover specific circumstances and specialized diseases like cancer or heart problems. Unlike Indemnity Plans, they automatically do not cover hospital expenses except when in case of those specialized diseases being triggered. They are of the following three types.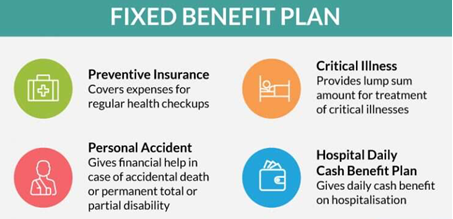 Accident Insurance Plans
Designed to bodily injury, disfigurement, partial or total disability and treatment costs of the policyholder in case of an accident. They also contain a provision for payment of a sum assured to the bereaved family of the victim. Legal, funeral and last rite expenses may also be covered according to policy terms. Generally, no health documents and medical checks are required for the policyholder. The benefit may also be extended to cover the whole family or included in employee group insurance.
Critical Illness Insurance Plans
Specifically designed to target critical illnesses which may not be covered unless traditional medical insurance, and have the potential to cause permanent disability and death, like heart surgeries, brain stroke, cancer, coma, chronic kidney failure, blindness, etc. The list of illnesses covered is decided before the policy is finalized. A lump sum is provided for treatment. Usually, the wait period may be lower than normal. This may be purchased separately or as an add-on to traditional health insurance. Some policies may even provide a monthly allowance for a permanent disability which leaves the policy-holder unable to work at all.
Preventative Insurance Plans
Covers expenses for regular checkups and investigations for serious diseases like heart conditions and cancer usually only in hospitals and diagnostics centers affiliated to the insurance provider company. Check-ups are usually conducted annually, or in some cases bi-annually. May be purchased separately or an add to employee plans, individual plans or family plans.
Unit Linked Insurance Plans (ULIP)
ULIPs are a relatively new concept and hybrid plan where half of the money is invested in debt or equity instruments (stocks or bonds) and half of the money is used to provide traditional health insurance plans for the policyholder. ULIPs have rapidly gained popularity in India, it allows for both investments and insurance in the same instrument thus minimizing hassle for the policyholder. However, it must be remembered that ULIPs, though have the potential to offer greater returns, are still subject to market risk, and thus the sum payable would not be an assured amount like traditional indemnity insurance plans but vary according to the fund performance.
What are the Factors which will influence the amount of Premium?
Premium is the money payable by the policyholder to continue to be a beneficiary under the plan. It is not a one-time lump sum amount but a recurrent payment which must be made periodically, usually per annum. Here are some factors which influence the amount of premium which you are liable to be charged.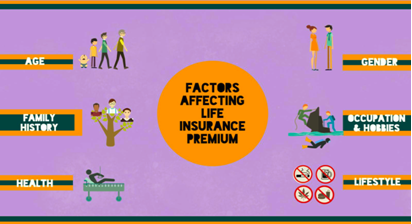 Your Job
The nature of your professional has a lot of influence on the amount of premium which you may be charged. Riskier professions that statistically have greater likelihood of danger or adverse effects on physical and mental health attract higher premiums. For e.g. a private security contractor would have to pay a higher premium than a teacher.
Your Age
Higher the age the higher the chances of occurrence of an illness and thus the higher the premium chargeable. This also doesn't increase with a linear progression, rather the amount of premium starts multiplying as your age advances. Thus, it is highly advised that you start investing in your health insurance policy as early as possible when you are young and in the best of health.
Current Medical Conditions
Any medical conditions or pre-existing ailments at the time of getting a new policy and those detected in a medical exam also influence the premium payable, as the company may judge you to be susceptible to allied ailments too. Often, those pre-existing conditions are subject to specific exemptions from coverage, meaning that expenses incurred by you for treatment of those conditions will not be indemnified by the insurance company.
Unhealthy Habits
Some specific habits like obesity characterized by a high Body Mass Index (BMI), low testosterone, and especially smoking and habitual drinking can raise premium amounts drastically. In fact, one of the first questions asked to you while filling out a query for health insurance is whether you have consumer tobacco in the 12 months prior.
Type of Plans and Number of Beneficiaries
Family plans would obviously have a higher rate of premium than individual plans, however, the cost is well offset as multiple people are covered. The number of actual family members covered in a family plan would again influence premium amounts.
Policy Term
Usually longer the policy term, the premium that is charged.
What is Health Insurance Portability
The health insurance portability scheme was launched by the Insurance Regulation and Development Authority (IRDA) in 2011 to empower policy-holders to shift from one insurance provider to another with ease. Under this scheme, the policy-holder would get some "credits" transferred from the previous policy and would not lose benefits like the waiting period for covering "Pre-existing Diseases". This not only applies for switching between providers, but also between plans with the same provider including switching from individual to a family plan and vice-versa. However, it is important to note that the amount of premium on the new policy shall be at the discretion of the new provider, only benefits like the wait period is covered. A request for porting the policy, specifying the new provider, has to be lodged with the old provider. It is also important to remember that porting has to done at the juncture of policy renewal, where the request for porting has to be lodged at least 45 days before renewal, and the old policy should have been renewed with a break (a 30 day grace period is applicable for renewal when porting).
Am I eligible for a Tax Benefit on Health Insurance Payment?
Yes, you are eligible for tax deductions and exemptions under Section 80D of the Income Tax Act for payments on health insurance in India. Individuals can claim up to Rs. 25,000 per year annum for premium payments, which includes premiums for children and spouse.
For senior citizens, this limit goes up to Rs. 50,000. An additional deduction of Rs. 5000 can be claimed for preventive checkups. Further, if you are the one paying for the treatment of senior parents then this amount increases by an additional Rs. 30,000 per annum including Rs. 5000 for preventive health checkups. For pre-determined ailments (the complete list of which can be found in the Income Tax Rules, Rule 11DD), in the case of senior citizens and super senior citizens, this limit is extended up to Rs. 60,000 and Rs. 80,000 respectively. A benefit of Rs. 75,000 per annum can be claimed by persons with disability and Rs. 1.25 lakhs for persons suffering from extreme disability for medical treatment, nursing or rehabilitation expenses, under Section 80DD and 80U. For employee insurance, a sum up to Rs. 15,000, paid by the employer is exempt under Section 17. A table with exemptions is given below for clarity.
What are some problem areas to look out for while selecting an Insurance Provider?
The sheer amount of options while selecting a provider for your life insurance can be overwhelming for a novice purchaser. These are some of the trickier aspects you should keep in mind while selecting a provider.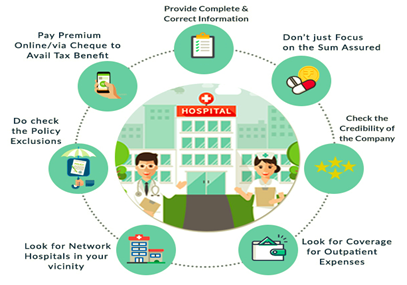 Affiliated Hospital Network
Cashless treatment facility may be offered only at hospitals affiliated to, or in the panel of the Insurance provider company. Therefore, it is advantageous to purchase insurance from a provider who has a large network of hospitals approved for cashless treatment.
Lack of Coverage for Pre-and Post-Hospital Expenses
Sophisticated investigative diagnostic scans like C.T. and MRI, and strong antibiotics and regular doctor visits gradually add up to quite a lot. While many health insurances now cover such expenses for 60 days' pre-hospitalization and 90 days' post, there are still many plans which do not cover such. While it is true that this may decrease premium, the actual reduction may not be significant enough to justify this lacuna when you need it.
Sub-limit
A comparatively new introduction, and one you should absolutely avoid whenever possible. Basically, a sub-limit caps the amount payable for a certain category to a percent of the sum insured. For eg., let's say there is a sub-limit on hospital room rent to a maximum of 1-2% of the sum insured which of let's say 3 lakhs, which comes to Rs. 3000 per day. Thus, if the room rent at the hospital is over Rs. 3000 per day, the extra amount has to be payable by the policy-holder even if the total claim amount comes to below the sum insured.
Renewal Age Restriction
Many companies restrict the police renewal age at around 70-80 years even the policyholder is a long-term client. Needless to say, this is the age which most illnesses start to manifest and when health insurance is most needed for a policy-holder. Thus, it is, of course, better to choose a policy that has a delayed renewal age restriction, or none at all.
Co-payment
Co-payment is a policy term that compels the policyholder to pay a percentage of the expenses, usually, about 20%, even if the claim is below the sum assured. Thus, the policy with co-payment terms should be avoided as much as possible.
Caps on time-limit
Apart from imposing a limit on the maximum amount payable, many plans also limit the number of days of treatment. For e.g., if the plan imposes a cap of 10 days and the hospitalization exceeds that, the insurer may deduct from the payable amount accordingly, even if the total amount is below the sum insured. Thus, wherever possible such time limit caps should be avoided.
Claim Bonus
For most people, there are no claims every year. The provision of a claim bonus gives a bonus at the renewal of the policy next year if there has been no claim in the year previous. This bonus may be in the form of decreased premiums or increased coverage. As healthcare costs are on a sharp rise, it makes much more sense to opt for more coverage instead of lower premiums. However, claim bonus is a rare feature in Indian policies and thus it should be looked out for, as it can be hugely beneficial, especially for people who don't have any serious illnesses.
Claim-Discount
Discounts in premiums or a no-claim bonus (NCB) ranging from 5 to 50% may be given if there haven't been any claims during the policy term. This is also an extremely beneficial feature to be kept in mind while selecting a policy.
Premium Loading
Premium loading allows the insurer to raise premiums after a claim has been made as the policyholder is adjudged to be at "greater risk" (for the company) and in poorer health with a likelihood of making a subsequent claim. Premium loading is unfair one-sided policy term unilaterally favoring the company and outright discourages the policy-holder to lodge a claim for minor diagnostic expenses. Premium loading terms in the policy should thus be avoided wherever possible.
Claim Settlement Record
Insurance companies are notorious for delaying and dodging payments and finding absurd and obscure loopholes in the policy document to deny a genuine claim. The policy-holder is then left with no choice but to lodge a lengthy and expensive legal battle against the company or abandon the claim, which is exactly what the company wants. It is thus recommended that you do a little research online and purchase insurance from companies with a positive claim settlement record.
A comparison table of companies according to their claim settlement ratio for the financial year 2018 is given below.
What is the procedure to make an insurance claim?
Claim procedures vary according to whether a cashless claim is made or a reimbursement claim.
A policyholder may be entitled to cashless treatment at hospitals with the insurance provider, by showing his medi-claim or insurance holder card as proof at admission where after the details are sent to the Third Party Administrator (TPA) for approval. Depending on whether the hospitalization was a planned one or an emergency one, the process can vary a little.
Planned Hospitalization
In a planned hospitalization, the insurance provider is informed and apprised prior to the hospitalization of the policyholder, usually at least four days before admission. A cashless claim is submitted by email to the insurance provider's office where after the affiliated hospital is notified by the insurance provider prior to admission. This eases out the process for all parties concerned – the policyholder, hospital, and insurance provider – and the party can be discharged with ease without requiring last-minute frantic approvals by the hospital staff which causes cause distress to the patient's family. The medical bills are directly paid by the insurance provider to the hospital.
Emergency Hospitalizations
Sometimes however it is not possible to inform the insurance provider prior to hospitalizations due to unfortunate and critical circumstances. The policyholder patient's insurance ID card is shown at the hospitalization and all insurance details are given by the family which files a request for cashless payment with the hospital. However, as this request is subject to subsequent approval by the insurance provider after it is forwarded by the hospital, the policyholder has to deposit an initial amount with the hospital (a reimbursement claim for which may be lodged subsequently with the insurance provider later, if the final bill comes to less than the sum insured), and thus it is not absolutely true cashless treatments. Before the discharge can be finalized also, the hospitals confirm with the insurance provider or TPA if the payment amount is within the sum assured and requires the amount in excess from the patient before discharge can be finalized.
Reimbursement Claims
Cashless treatments cannot be availed if the hospital is outside the affiliated network or not empaneled with the insurance provider. In that, the policyholder must first pay all hospital expenses out of his pocket and then lodge a claim request with the insurance provider or TPA. All documents in regards to the illness and treatment including, detailed hospital invoices, payment receipts, investigation reports, discharge summaries, doctor prescriptions, medical certificates (if any), FIRs in case of accident and any other related documents should be submitted the original along with the claim form, after photocopies being made by the patient for personal retention. The claim would then be evaluated by the company based on the terms of the policy. The claim may also be partially accepted or rejected by the insurance provider and in that case, details would be provided against the same. The funds would be deposited in the account of the policyholder to the extent that the claim is accepted.
How to lodge a complaint against a TPA/Insurance Provider
If you are unsatisfied or feel like the claim has been unfairly rejected or underpaid, then there are a few avenues to explore for redressal.
A grievance may be lodged with the designated grievance redressal officer of the insurance provider itself, who is usually a member of the senior management.
A formal complaint may be lodged with the insurance ombudsman of the Executive Council of Insurers of the concerned state whose decision is binding on the insurance provider.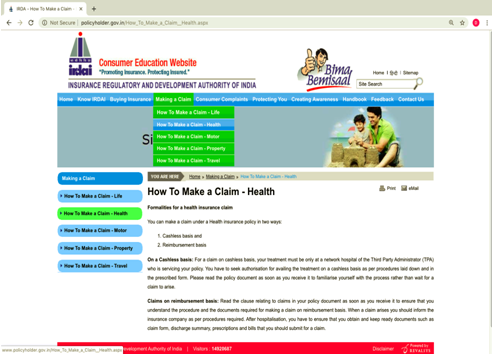 A complaint may be lodged with the grievance redressal cell of the consumer affairs department of the Insurance Regulatory Authority of India (IRDA) by sending an email at complaints@irda.gov.in or by a phone call on 155255 (or) 1800 4254 732. The IRDA may also be contacted through the Integrated Grievance Management System (IGMS) at igms.irda.gov.in.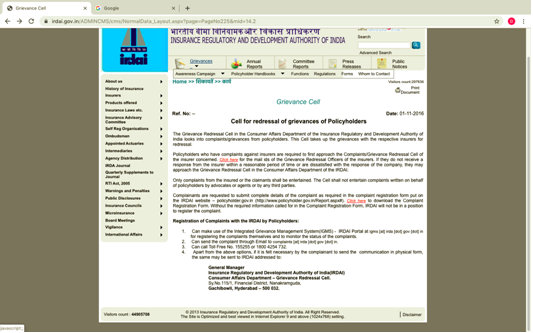 Finally, you can also complain to the National Consumer Helpline by signing up online, giving a call on 1800-11-4000 or 14404 or sms to 8130009809 or signing up on the app, litigation may be lodged at a consumer court of the judiciary. Off late there has been an increase in private complaints against insurance companies.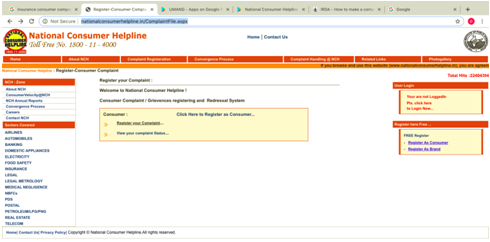 What are Third Party Administrators (TPA)?
Third-Party Administrators (TPA) are organizations who possess license from IRDA to process insurance claims to provide cashless treatment to policyholders on behalf of insurance providers. The concept was introduced by the IRDA in 2001 to ease the administrative burden on insurance companies.
They assistance insurance providers in many vital ways
TPAs are essential to process claims with agility in case of discharge of patients availing cashless treatment.
They have their own infrastructure and team of doctors and legal experts to peruse through claim documents and verify the authenticity of claims.
They negotiate with hospitals on behalf of insurance providers on matters of empanelment.
They connect with hospitals to book appointments for planned hospitalizations.
However, the system is also mired in some practical difficulties.
Collusion with corporate hospitals resulting in lower rates of claim acceptance for individual clients and higher rates for corporate clients.
Lack of effective standardizing procedures on medical bills due to a lack of a statutory authority on the subject leading to conflict between hospitals and TPAs which leads to their removal from the empanel list or Preferred Providers Network (PPN), which in turn leads to difficulty for the policyholders in securing cashless facilities.
Lack of any strict regulations or appraisal mechanisms for TPAs by IRDA leads to them being assessed only on financial returns rather than customer satisfaction or quality of services provided. This, in turn, incentivizes TPAs to reject policy claims on frivolous grounds to maximize profits.
An updated list of TPAs can be found on the IRDA website.
What are some myths pertaining to health insurance?
Here are some common myths why falsely act as a deterrent on your path towards becoming medically insured.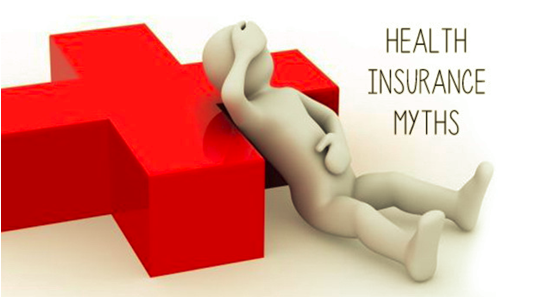 The Cheapest Policy is the best
This is an extremely wrong mindset prevalent in many prospective policyholders. Policies with a very low premium rate may not have coverage over critical illnesses and contain restrictive covenants like mandatory co-pay and sub-pay. They may also not cover pre-and post-hospitalization expenses. Though, it may seem like a waste of money when you are healthy, a higher premium is more often than not, a small price to pay for necessary facilities. It is thus essential that you compare health insurance policies online to select the features that you need with a suitable premium that you can afford.
The young don't need health insurance
While it is true that one doesn't often fall sick when one is youthful and in the pink of health, it must be remembered that the premium payable sharply rises when health insurance is purchased at an older age, especially after 35 years. Additionally, insurance purchased at a later age would also include a big list of excluded diseases, pre-existing illnesses and other constraints in the policy, which are simply not there when insurance is purchased while young. That being said, there may also be unfortunate circumstances like accidents which may befall on both young and old, and having health insurance can be critical to secure urgent and adequate medical care in these situations. Also, after purchasing insurance there is a wait time until the policy becomes active and coverage begins. Thus, it is a very prudent decision to invest in health insurance from a young age.
Health Insurance covers only hospitalization costs
Your health insurance may cover pre-and post-hospitalizations costs, medicines, regular checks, general doctor visits and many more. The complete list of coverage varies between different insurance plans and thus you should check your policy document carefully before purchasing an insurance plan.
I don't need a separate policy if I am covered under group insurance
This would depend on the quantum of benefits provided by your employer, however, generally speaking, most group insurance policies very restrictive in coverage and the sum insured is in many cases not sufficient for major hospitalisations. Also, it has to be remembered that there may be difficulty in transferring the group policy when you change your job in the private sector, and also your insurance coverage may be interrupted in case your employer decides to abruptly cancel the contract with your service provider. Thus, it is recommended that you have a personal insurance policy of your own.
All benefits will be lost at once if payment is not made by due date
It is important that premiums must be periodically paid to get the benefit of continuous coverage for the policyholder. There is a grace period provided in your policy documents (usually 15 days to 2 months) by which if the premium is paid, the policyholder would be protected under "continuous coverage", i.e. there would be no further wait times till policy becomes active again. However, it has to be remembered that if any claim arises, or hospitalisation occurs, during these intermediate days, i.e. between the deadline or due date of payment and when the payment is actually deposited, such claims may not be entertained by the insurer even when continuous coverage resumes.
All benefits would be covered from day one of the Policy
There is a waiting time, from the commencement of the insurance, after which coverage for certain illnesses begin. As a general rule, no coverage is provided for any illness during the first 30 days of the policy, but this number may vary as mentioned in the policy documents for specific illnesses for which the wait period may be as high as 3 years. Pre-existing illnesses already disclosed or discovered after medical exam may only be covered after the expiry of two to four claim-free years.
Hospital Bills don't need to be tracked manually
When treatments are done in non-affiliated hospitals, the policy-holder cannot avail cashless treatment but is reimbursed for the payment already made. In that case, the entire expense at the hospital first needs to be borne by the policy-holder him and then when the claim is submitted, all bills such as discharge summary, diagnostic reports, hospital bills, payment receipts and even FIR have to be submitted. These bills are scrutinized in detail by the TPA office, and any discrepancy may become the cause for denial of claim. Thus, it is imperative that all bills must be segregated and categorized neatly by the policy-holder to claim reimbursement.
Pre-existing illness even if known but not disclosed would still be covered after 48 months
Often times it is a misconception that all pre-existing medical conditions would have to be covered even if not stated after the wait period – which is usually about 48 months. Section 45 of the Insurance Act states that the policy would not be questioned after the lapse of 2 years, but then there is a proviso that if it can be proved that the policyholder has fraudulently suppressed such pre-existing illness then the insurer can refuse coverage. Thus, where there was a pre-existing illness but the policy-holder genuinely did not know about it, and neither did it get detected during the pre-policy medical exam, it would be covered. But when the insurer suspects that the policy-holder deliberately did not disclose illness, it can be a cause of denial of claim, which would require litigation on the part of the policy-holder.
Smokers do not get health insurance
Smokers are not automatically disqualified from health insurance, however you are asked if you have used tobacco products during the preceding 12 months, and if so, you may be subject to higher premiums.

Share this post?