Common Questions Regarding Two-Wheeler Insurance In India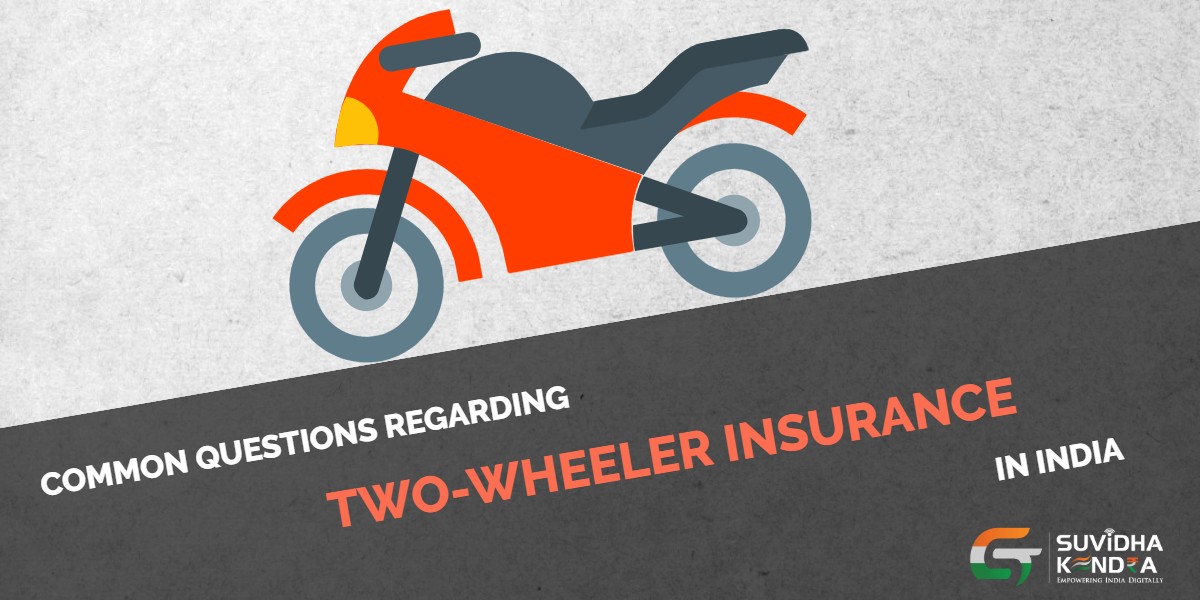 Is Two-wheeler Insurance necessary?
What are the types of insurance coverage available for two-wheelers in India?
Third-Party Insurance
Comprehensive Cover Insurance
Uninsured Motorist Protection Cover
Liability Cover
Collision Cover
Personal Injury Cover
Theft and Vandalism Cover
Natural Calamities Cover
What are Add-ons to Two-Wheeler Insurance Policy?
Roadside Assistance
Accessories Cover
Personal Accident Cover for Pillion Rider
Consumables Cover
Engine Cover
Daily Cash Allowance
Return to Invoice
Key Replacement Add-on
No-Claim Bonus Add-on
Tire Protection Add-on
What are the factors which will affect your two-wheeler insurance premium?
Demographic Factors
Vehicle-Related Factors
Insurance Policy Related Factors
What are some Exclusions applicable to two-wheeler insurance in India?
How to file a claim for a stolen two-wheeler?
What are some myths about Two-wheeler Insurance in India?
Private Insurance Policy Covers risks for personal and commercial use of the two-wheeler
Pillion Rider would automatically be covered under private insurance
Third-party Insurance Cover is sufficient
Insurance Provider cannot be changed
Insurance policy cannot be cancelled
Is it a good idea to buy insurance from the dealer?
What is Insured Declared Value (IDV)?
How to File a complaint against an Insurance Provider?
Accidents on the road happen suddenly when you least expect it. Over 4.5 lakh accidents occur on Indian roads every year. Even if you are an expert rider yourself, you are not the only one on the road. It is thus essential to secure yourself against such uncertainties. Two-wheeler insurance provides coverage in case you get into an accident with your bike or your bike is damaged due to some malfunction or natural calamity. In this article, we discuss the most important questions regarding two-wheeler insurance in India.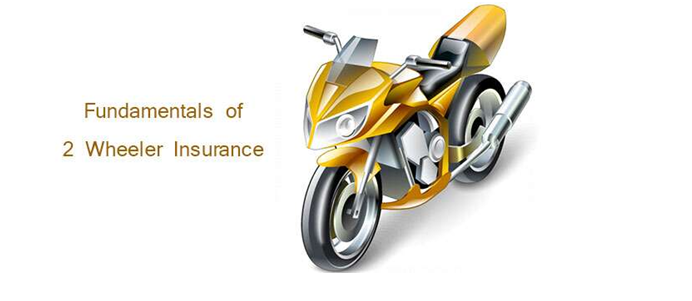 Is Two-wheeler Insurance necessary?
It is compulsory to have insurance for all vehicles plying on public roads in India, though not all types of insurance are mandatory. It is not absolutely mandatory to insure your two-wheeler in regards to monetary damages sustained by you – this is called First Party Insurance. However, Section 146 of the Motor Vehicles Act, 1988 makes it mandatory for you to purchase insurance against Third-Party Liabilities, or Third Party Insurance. What this means is that the insurance company agrees to indemnify you in case you are sued by third parties for injuries caused by your two-wheeler. This type of insurance is absolutely non-negotiable, and it was held by the Supreme Court in G. Govindan v. New India Assurance Co. Ltd. that the requirement of third party insurance cannot be overridden by any clause in the insurance policy. Also, please note that third party insurance does not cover the injury caused to the policyholder himself, as held in National Insurance Co. Ltd. v. Fakir Chand. There are however, some circumstances in which liability can be refused by the insurer – if the two-wheeler was used for racing and speed testing purposes; used as commercial transport vehicle without valid permit; riding without a valid license; used for commercial ride-sharing purposes, and concealment of a material fact at the time of taking insurance.
For new bike owners, the law is, however, even more stringent. According to a directive issued by the Hon'ble Supreme Court in 2018, new bike owners must purchase a minimum insurance cover at least 5 years. This initiate has been aimed at increasing penetration and enforcement of mandatory vehicle insurance as many riders tend to skip annual renewals surreptitiously which leads to a dangerous situation on Indian roads. Even though this means that you would be required to shell out a lump sum towards insurance at the first go, you won't be inconvenienced by annual renewals.
What are the types of insurance coverage available for two-wheelers in India?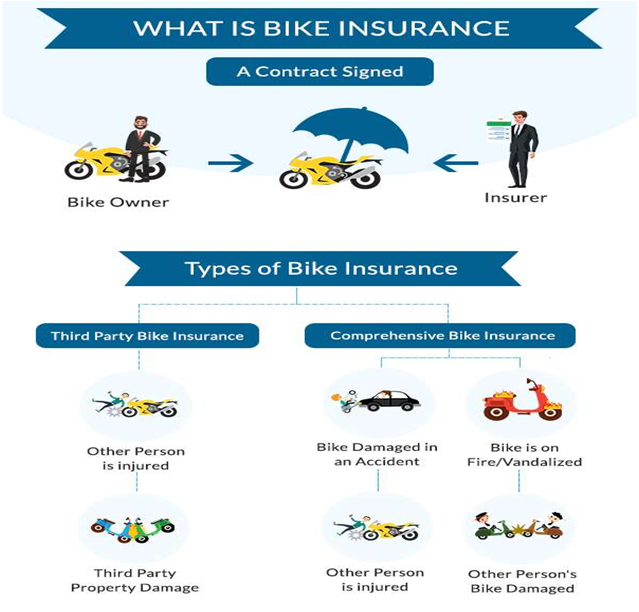 Here are the types of two-wheeler insurance available in India –
Third-Party Insurance
Third-Party insurance is the most basic type of insurance that you can purchase for your bike. It does not cover damage to your bike or personal injury suffered by you. But in turn, if you get into an accident due to your own fault, due to which you have caused damage to someone else's (third party) property or vehicle, or have injured someone else, then you would be legally held liable to such third party. Third-party insurance would cover this type of liability against you, which is owed to another person.
According to the Motor Vehicle's Act, you must at least have purchased a third party liability insurance to ply your vehicle on public roads in India. This is mandatory and not optional. If you are a bike owner, then you must purchase a third-party liability of at least 5 years according to a directive issued by the Supreme Court.
The key benefits of Third Party Liability cover are as follows:
Fulfills all the legal requirements as mandated by the Motor Vehicles Act.
Minimum documentation is required which means less hassle as there is no coverage for your own two-wheeler.
It is only a basic policy and thus is easily affordable.
Comprehensive Cover Insurance
A Comprehensive cover includes all the features of third party liability insurance and then some. It also includes extensive personal injury coverage, coverage for injury to your pillion rider and coverage damages sustained by your bike. Not only accidents, it also provides coverage in case of mechanical faults, and natural calamities and includes add-ons like engine and accessories coverage and zero depreciation. It is essential for the protection of your bike, especially if it's a high-end model. Here is the full length of coverage under a comprehensive plan.
Uninsured Motorist Protection Cover
If you get in an accident that was the fault of someone else, there is a high chance that he is underinsured or only has third party liability cover, which is inadequate to cover the full extent of the damage that caused to you and your vehicle. Here is where uninsured motorist protection cover will kick in and give you the rest of the amount required to repair your vehicle or the rest of the costs of your hospitalization.
Liability Cover
If an accident has occurred due to your fault, you are liable to compensate a third party for injuries suffered by his person or his vehicle. Liability covers this liability to a third party.
Collision Cover
The collision cover protects you against personal injuries or vehicle damage suffered due to colliding with stationary objects (not other vehicles) like walls or trees. The cost of repair for older vehicles in such cases will exceed that of the value of the vehicle itself, and in a basic policy, reimbursement will be provided according to the current market value only. This is where a separate collision cover comes in.
Personal Injury Cover
This cover reimburses you for hospitalization due to injuries suffered by yourself and your pillion rider. Cashless claims facility may be availed if treatment is done in hospitalization affiliated with the network of the provider.
Theft and Vandalism Cover
Natural Calamities Cover
This cover protects you against natural disasters like earthquakes, floods, cyclones, and other such wide-scale natural calamities.
What are Add-ons to Two-Wheeler Insurance Policy?
You can improve your two-wheeler insurance policy by adding some particular features to extend the coverage. These added features are called add-ons. Below are some of the most common add-ons available in two-wheeler insurance in India.
Roadside Assistance
Has your bike ever stopped working abruptly in the middle of the journey or late at night? We have all been there. Locating a mechanic or service center can be harrowing during these times when you are stuck on the highway or at odd hours of the night. Fortunate you can purchase the roadside assistance cover to bail you out in these times. You can just call your insurance provider and he will arrange to send a mechanic to your location to repair your bike on the spot. Extra fuel can be arranged and so can towing services if the bike needs comprehensive repair at a garage to be functional. What's more, your insurance provider will arrange or reimburse you for alternative transport that you may have required because of malfunction.
Accessories Cover
This add-on will provide coverage for repair and replacement of all electrical or mechanical accessories in your bike, like a rearview mirror, chain cover, mudguard, mobile holder, etc. These are normally not covered under the policy.
Personal Accident Cover for Pillion Rider
Medical costs in case of bike accidents can run into tens of thousands or lakhs in case of a major bike accident. While your personal insurance can provide cover to yourself, you may have been sued by your pillion rider for liability. As the name suggests, this add-on will provide cover for all injuries and hospitalizations suffered by your pillion rider. A bonus amount may also be awarded in case of significant partial or permanent disability suffered by such a pillion rider.
Consumables Cover
Consumables such as engine oils, lubricants, cleaning products, chain wax, etc. will mostly be required to be topped up after each major servicing of the bike. However, these are definitely not covered under the basic policy. The consumables cover add-on as the name suggests provide reimbursement for such consumables, and should definitely be purchased by riders who service their bikes regularly.
Engine Cover
Your engine may be damaged by dirt getting stuck to it, and especially due to flood or waterlogging which is ever so common in Indian roads. The engine is easily the most expensive part of your bike but engine damage is not usually covered under a basic policy. The engine damage cover will cover all repair costs due to engine damage so that you don't have to pay high costs out of your own pocket. This cover must be purchased specially by people living in areas prone to waterlogging and heavy rainfall.
Daily Cash Allowance
If your bike is under long term repair in a garage, you will have to make alternate accommodations for travel. While you could borrow a car from a relative, it will still involve paying for petrol. However, most of us would have to avail of commercial transportation such as taxis or buses. The Daily cash allowance add-on provides you will a fixed amount for daily travel so that you are not monetarily inconvenienced when your bike is under repair for a long time.
Return to Invoice
If your bike is totally damaged due to some natural calamity or stolen, you will be reimbursed according to the market value of the bike at the time that it was stolen and not the original value. This can be quite inconvenient as you will now have to buy a new bike at a high price. However, with the Return to Invoice add-on, you will be reimbursed for the full value of the bike when it was purchased (invoice price) and not the present depreciated value.
Key Replacement Add-on
The key replacement add-on reimburses you for the cost of getting duplicate keys from the manufacturer or dealer, and if authorized, may even communicate with them on your behalf sparing you the inconvenience and formalities.
No-Claim Bonus Add-on
Under the no-claim bonus add-on, your annual insurance premium will be reduced if you have made no claims in the previous years preceding. The amount of reduction is directly proportional to the number of claim-free years.
Tire Protection Add-on
Your basic policy will not cover damages to tires that might need to be replaced. However, as the name suggests the tire protection add-on will cover the replacement of tires. This add-on is very useful to have people who do a lot of off-road riding.
What are the factors which will affect your two-wheeler insurance premium?
Your insurance premium depends on some personal factors, demographic factors and your bike model itself. Here is an exhaustive list of all such factors which will increase your premiums –
Demographic Factors
Low credit score which signals that you may risk defaulting on premiums.
People in the age group 18 – 26 are considered inexperienced riders, hence charged higher premiums to cover the increased risk.
Living in a crowded metropolitan area or which is prone to accidents, increases risk and premiums.
Professions that require a lot of travel such as lawyers, delivery boys. Higher travel increases the chances of getting into an accident, hence higher premiums.
Bachelors are deemed to take more risks than married people and charged more premiums.
Males (especially teenagers and till thirty) have statistically been shown to get into more accidents than females, and are charged higher premiums.
Vehicle-Related Factors
If you already have a record of accidents in your license then obviously you are charged higher premiums.
Performance or racing bikes with higher engine capacity are charged more premiums, as there is a risk of speeding.
Older bikes are deemed to be at greater risk of malfunctions and thus charged more premiums.
Insurance Policy Related Factors
Increasing the number of voluntary deductibles would reduce premiums. Deductibles are part of the amount that would be paid by you regardless of the claim amount. Very economical if you are a safe rider and are confident of not requiring claims.
Adding a No-claim bonus would increase premiums. However, if you need to have no claims, the higher initial premiums would cancel out with lower subsequent premiums, so it's fine.
Add-ons increase the premium price. It is thus suggested that you avoid piling up unnecessary add-ons and include only those which you genuinely think you might require.
What are some exclusions applicable to two-wheeler insurance in India?
A comprehensive policy covers personal injury, third party injury, accidents, natural calamity damage, damage to the vehicle and to third party vehicle or property. However, even then there are some situations where the insurer will decline your claim. They are called exclusions. Here are some common exclusions applicable to two-wheeler insurance in India.
Damages suffered at the time when the policy had lapsed due to non-payment of the premium even after the grace period. Even if it is subsequently renewed, continuous coverage will not be applicable to any accidents which took place during the time when the policy lapsed.
If you got into an accident when you were riding in an intoxicated state.
If your bike was being driven by you or someone else without a valid license.
If the damage caused was deliberate.
Damage caused due to negligence or as a consequence of negligence, such as keeping the bike outside during the rain in a flood-prone area while you were fully aware that it may cause damage to the bike.
Damage caused due to war, terrorism, invasion, nuclear attack, riots. Etc.
Damages incurred due to collateral contracts such as pledging the car to secure a loan.
How to file a claim for a stolen two-wheeler?
When a two-wheeler is stolen the situation is a lot more extraordinary and dire than mere damage because it leads to the loss of the total value of the bike. You will need to meticulous follow the steps below and obtain all relevant documents to file a claim –
First, you need to file an FIR with the local police station and obtain a copy of the FIR. You need to submit this FIR copy with the insurer. This is the first step to prove that you have observed due diligence to retrieve the stolen vehicle.
You need to submit a written intimation with the Regional Transport Officer (RTO) in your local jurisdiction informing them that your bike has been stolen. A copy of this written intimation must also be submitted with your insurer.
You must submit a stolen endorsement request with the RTO against the registration certification of your two-wheeler held in the register at your RTO office. The endorsement received from the RTO has to be submitted with the insurer.
You will need to submit original documents of the two-wheeler with the insurer, such as the latest tax receipts, the first two pages of the insurance policy, dealership invoice, registration certificate, emission testing certificate, etc.
Oftentimes stolen vehicles are stripped off their parts to be sold in the black market and the chassis is dumped at the dump yard. Your insurer may also require you to check with the dump yards in the vicinity and obtain a certificate from them that no chassis matching your bike's description has been brought to them recently.
You need to file a transfer of ownership form with the RTO in Form 29 and Form 30, so that the car may belong to the insurance company if it is subsequently recovered after your claim amount is paid.
If there is a loan against your vehicle, your insurer may require you to get an acknowledgment from the bank, who in turn may refuse to give such clearance unless the loan is repaid in full. So be prepared for a little negotiation here.
You need to submit a No-Trace certificate issued after 6 months by the police and certified by the Court that your vehicle could not be located.
You also need to submit an NOC for transferring vehicle ownership and also an indemnity to the Insurance company to compensate them for any contributory actions on your part which unknowingly facilitated the theft.
What are some myths about two-wheeler insurance in India?
Sadly, India there is generally a lack of adequate awareness relating to insurance, especially auto insurance. This puts off people from purchasing adequate cover, the right kind of cover, or wasting money on too much cover. Let us burst some of the most important myths regarding auto-insurance so that you can hit the road with confidence and most importantly, safety.
Private Insurance Policy covers risks for personal and commercial use of the two-wheeler.
Nope, your private insurance will not cover claims for events that occurred when you were using your bike for commercial use. This is actually one of the most important non-negotiable exclusions in a private insurance policy. You need to purchase a commercial insurance policy to cover separately to cover such risk. You can compare commercial vehicle insurance policies online and select the best deal.
Pillion Rider would automatically be covered under private insurance
While you, as the driver, will still be legally liable for injuries sustained by the pillion rider, your insurance will not automatically cover such risk. You may need to purchase a pillion rider cover separately as an add-on to your policy.
Third-party Insurance cover is sufficient
In serious accidents, third Party insurance cover falls short of the full amount required to cover the total bill of medical costs and damage to property and this you will need to shell out money from your own pocket anyway. Better to increase the coverage and invest in some cover for yourself also.
Insurance Provider cannot be changed
You can choose not to renew your policy at the end of the year and instead change your insurance company and renew it with the new insurer. Your accumulated no-claim bonus with the previous insurer will also be counted in your new policy.
Insurance policy cannot be canceled
You can cancel your comprehensive policy anytime you want, but you must always have a minimum third-party insurance cover to ride your bike on Indian roads as per the law. You may be charged so administrative charges or cancellation fees.
Is it a good idea to buy insurance from the dealer?
Your two-wheeler dealer will conveniently offer you some policy at the showroom itself at the time of purchasing your bike. These dealerships have a tie-up with the insurance policy which awards them a commission for every insurance policy they sell. However, is it worth it for you? Or should you look for insurance on your own? Let's look at some pros and cons of buying insurance from the dealership.
Advantages
The entire process is streamlined and convenient. It will definitely save you some time.
You may get some bundling discounts from the dealership to buy insurance along with the bike itself.
You can call up the dealership for assistance at the time of insurance claim and they may agree to assist you.
Disadvantages
You will have limited options available and the dealership will try to push those policies which will guarantee them a maximum commission.
Policies purchased from dealerships often have higher premiums than those purchased online, with the same features and add-ons.
Your dealership may bundle additional unnecessary add-ons to puff up the premium and maximize their commission without your knowledge.
You may be charged additional administrative fees for paperwork processed by the dealership, which will offset discounts that you had received.
Thus we can see that the only major advantage of purchasing insurance from car dealerships is that it is more convenient. But it will almost always cost you more than if you compare policies online before purchasing. Moreover, taking note of the significant amount of collusion between dealerships and manufacturing companies, the Insurance Regulatory Development Authority of Indian (IRDAI) in January 2018 issued some guidelines and clarifications to its 2017 "Guidelines on Motor Insurance Service Provider". The clarification stated that "It is reported that the Original Equipment Manufacturers – OEMs are exercising undue influence both on the insurance intermediary and the automobile dealer who has become MISP without having corresponding accountability for their actions. In order to ensure that MISP guidelines work in the interest of the customers, it is advised that no MISP or the insurance intermediary can enter into an agreement with the OEM which has an influence or bear.". It is thus highly recommended that you explore third party options for insurance out of the dealerships.
What is Insured Declared Value (IDV)?
The Insured Declared Value (IDV) allows you to declare your two-wheeler's value to your insurer less than the original actual value of the vehicle. As premiums are decided on the value of your vehicle, you can bring down premiums by declaring a low IDV. However, beware that you will get a lesser amount in case of a claim.
How to File a complaint against an Insurance Provider?
If you are unsatisfied or feel like the claim has been unfairly rejected, or deliberately delayed, then there are a few avenues to explore for redressal.
A grievance may be lodged with the designated grievance redressal officer of the insurance provider itself, who is usually a member of the senior management.
A formal complaint may be lodged with the insurance ombudsman of the Executive Council of Insurers of the concerned state whose decision is binding on the insurance provider.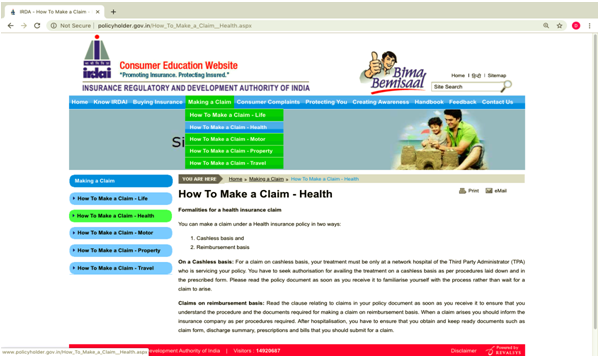 A complaint may be lodged with the grievance redressal cell of the consumer affairs department of the Insurance Regulatory Authority of India (IRDA) by sending an email at complaints@irda.gov.in or by a phone call on 155255 (or) 1800 4254 732. The IRDA may also be contacted through the Integrated Grievance Management System (IGMS) at igms.irda.gov.in.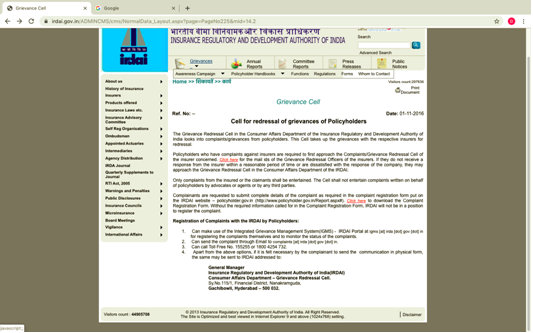 Finally, you can also complain to the National Consumer Helpline by signing up online, giving a call on 1800-11-4000 or 14404 or SMS to 8130009809 or signing up on the app, litigation may be lodged at a consumer court of the judiciary. Off late there has been an increase in private complaints against insurance companies.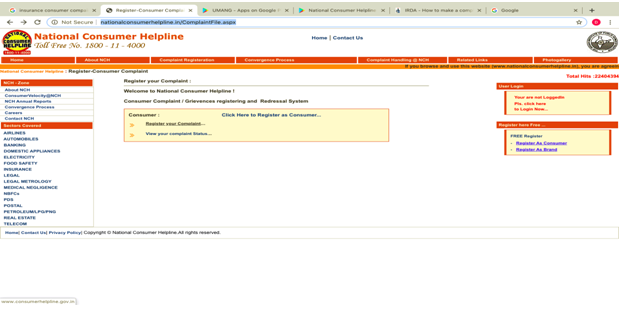 Share this post?