How To Become a PAN Card Expert with GST Suvidha Kendra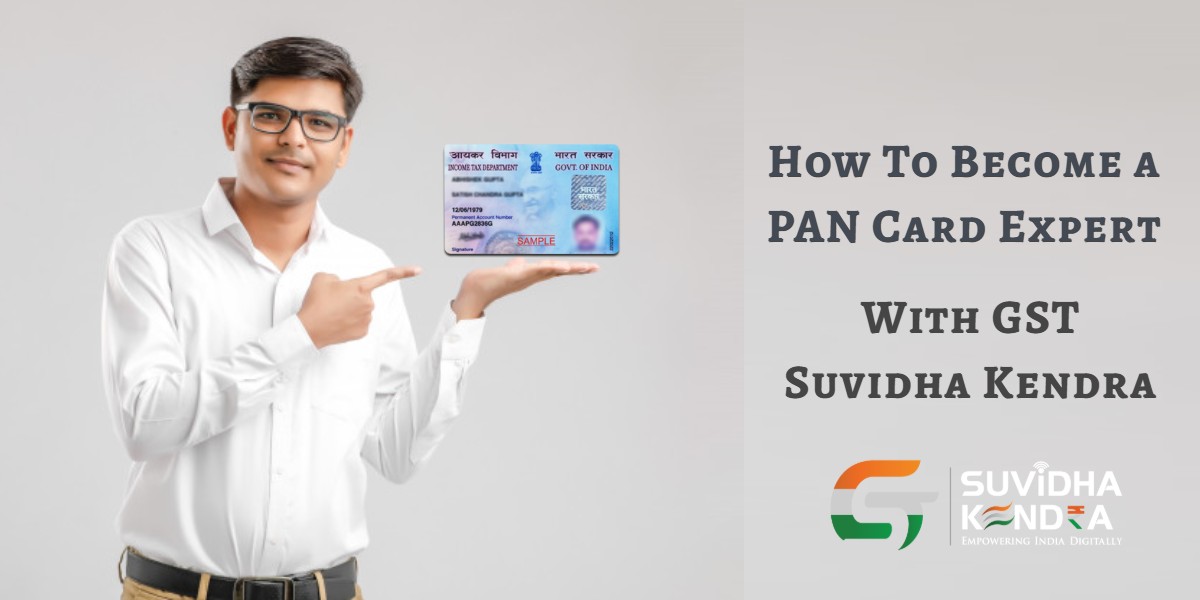 There are different ways via which one can start earning extra income without spending a hefty amount of money. Do you want to make some side income with less investment and effort? If yes, read on.
It doesn't matter if you are a student or working personnel. You must have the desire to work and earn.
Nowadays, money can be earned in several ways which was not possible 2 decades ago.
We have one such option for you where you can get your hands on the extra income that you have been dreaming of.
Become a PAN Card Expert by joining GST Suvidha Kendra. This is a booming field because nowadays, almost 80% of people carry their PAN cards.
You can become a retailer and apply at GST Suvidha Kendra as a PAN Card Expert. They help you to earn a commission on every PAN card application.
The Eligibility Criteria
GST Suvidha Kendra has been authorized to apply for PAN Card across India through the retail network. The task of the PAN Card Expert is to prepare the online application of the New PAN Card or make any corrections in the existing PAN cards. He also has the authority to develop a duplicate PAN Card as per the client's needs.
Becoming a PAN Card Expert at GST Suvidsha Kendra is a very simple task. Anyone fulfilling the eligibility requirement can become a PAN Card Expert at GST Suvidha Kendra.
The eligibility to become a PAN Card Expert is as follows:
Candidate must have cleared 12th standard
The candidate must be an Indian citizen
Must have a proper computer and internet knowledge
Must have two passport size photographs
Must verify date of birth proof and address proof
Must be above 18 years
This is the eligibility criteria, isn't it too simple for anyone to apply for it. All we need is an efficient candidate with excellent skills. The PAN Card Expert must have the desire to grow with us.
The Registration Process
The registration process to become a PAN Card Expert at GST Suvidha Kendra is very simple. You need to enter a few details, and then you are ready to become a PAN Card Expert.
You must be curious to know the steps that would lead you to success. You would need to fill in this in the below-mentioned information for registering yourself for a PAN Card Expert
Name of the applicant
Mobile Number of the applicant
Email address of the applicant
Area where the applicant stays
City of the applicant
Pin Code of the applicant
After filling all the above information, you need to submit it. After submission, the GST Expert from GST Suvidha Kendra would check for your PIN Code and the availability of the GST Suvidha Kendra in your area.
If the GST Expert doesn't find any GST Suvidha Kendra in your PIN Code area, then you will get a call from the GST Expert in the next 24 hours asking for your Aadhar card copies, photographs, and PAN Card copy.
Also, if you find any queries regarding it, you can always call on the registered mobile number, or you can also email us.
Application process
The documents required for the application process of a PAN Card Expert are-
1)1 Photo
2)1 Photo ID (Aadhar, Passport, DL, Voter ID, PAN Card)
3)Location Address
Once your documents and location are verified, then you would have to sign an agreement, pay for the 25 years license, and can avail the coupons equivalent to License Fee. Once all this is done, then you would get trained to become a PAN Card Expert.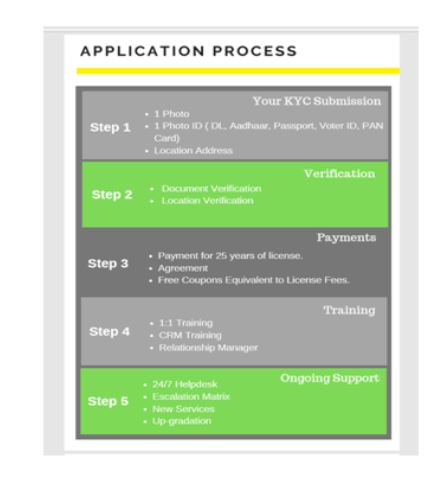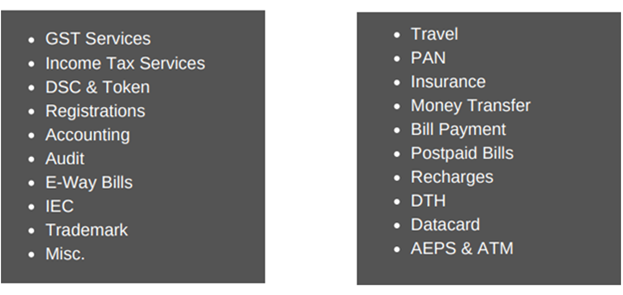 There are a few services that work instantly. Those include bill payment, recharge, insurance, trains, bus, flight tickets, Data card, DTH, etc.
You don't need us to operate these services. If little training is provided, you yourself can work on these services, and you can also earn commission instantly.
GST & Company services provide you with our back-office experience. For these services, you should focus on our CRM. The CRM offers pricing, the application checklist, and 100 percent assistance from our Assistance Professionals for every service.
If you want to know about how much you can earn is a PAN Card expert with GST Suvidha Kendra, then you can make use of an income calculator.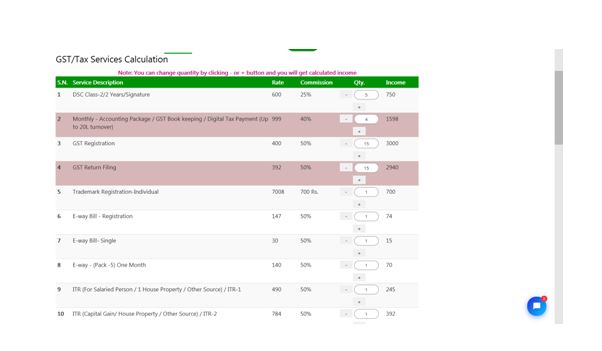 Commission Rates
The commission structure of GST Suvidha Center is shown below. We know that you must be eager to know how much commission one can earn by becoming a PAN Card Expert at GST Suvidha Kendra. The Commission rates one can earn by becoming a PAN Card Expert is between 20% to 30%.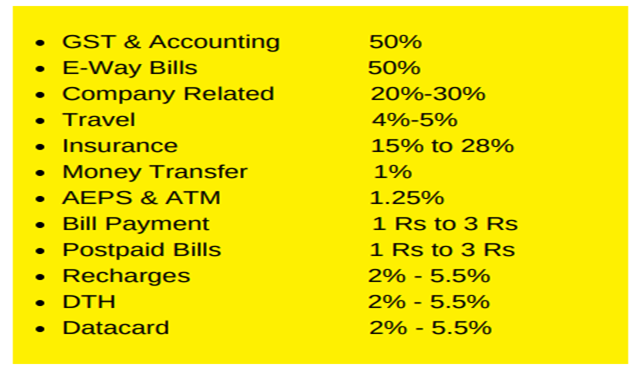 Perks of paying the License fee which is Rs.24000:
Once you pay the license fee, you will be provided with the following things.
License and software, you will be given access to the software and the Login page wherein you can place new orders.
100% Money Redeem
You will be provided with 240 coupons of Rs. 100 each
You will get Rs. 100 discount on all the services. For example, the GST registration fee is Rs. 400, and your commission is 50%. With this coupon, you have to pay fees of Rs. 300.
Services
We provide the cheapest services in the market. For example, the GST Registration cost is Rs. 400, and the cost of GST filing is Rs. 200.
We also provide more than 200 services, including Insurance, Travel, AEPS, Money Transfer, PAN, Bill, and recharge.
The Promotional Material
You will be provided with the promotional material like user manual, CRM instruction manual, information kit about the services, etc.
Training and Support
You will be given four days of training.
24×7 Help Desk either by phone, mail or ticket support
Also, 20 local clients in your local area.
There are many more benefits that you can avail after paying this fee and would be really helpful for you. This is the service list which states for which service you need to pay for GST Basic License and for which you need to pay the amount for GST Super License.
Be a part of GST Suvidha Kendra and boost your career
Now you must know everything that you need to become a PAN Card Expert. You can register today with the GST Suvidha Kendra and become a certified PAN Card Expert.

Share this post?