Sell Recharges and Bill Payment with GST Suvidha Kendra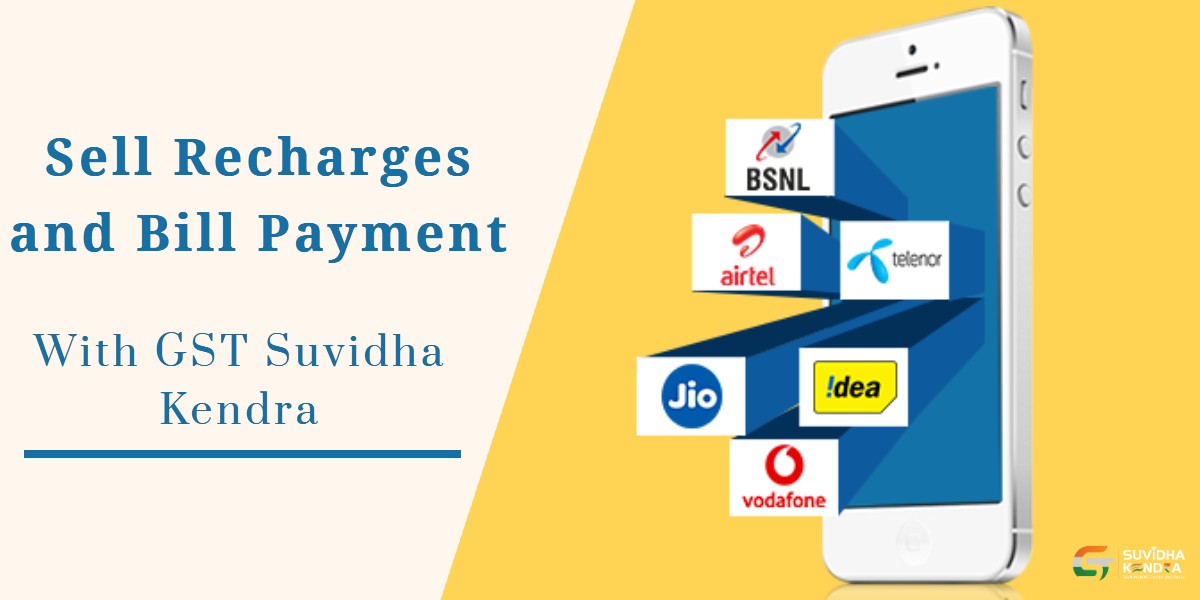 Generally speaking, we Indians are conservative when it comes to spending money except for some occasions, and our main goal is to save more for the future.
Money is a permanent source of happiness. You earn money from your resources, which keeps on increasing. Many of us are behind income that is temporary and used in day to day expenditure.
If you are someone looking to earn extra, then selling recharges, and bill payments would be the best opportunity for you.
Selling recharges, and bill payments is a rewarding job opportunity and have exceptional growth potential in it. People wishing to earn extra can start earning extra income by selling recharges and bill payments by joining GST Suvidha Kendra.
Selling recharges and bill payments are the best opportunity where you have to invest a minimum and earn remarkable profits. You do not need any particular career background for selling recharges and bill payments with GST Suvidha Kendra.
You would get proper training with an approved license, and then you can sell recharges and bill payments with GST Suvidha Kendra. Hence, if you are seeking a fresh start and want to join GST Suvidha Kendra by selling recharges and bill payment, then this is a perfect platform. The quicker you jump into it, the sooner you would get the client base.
Joining GST Suvidha Kendra would be an excellent start to your career with a very less amount of investment. Here you would get many occasions to prove yourself and show how different you are from other agents.
Know the eligibility criteria
Well, the procedure to join GST Suvidha Kendra by selling recharges, and bill payments are quite straightforward, but firstly, you need to check out the eligibility criteria to join GST Suvidha Kendra by selling recharges and bill payment-
The aspirant must have completed 12th level education
The aspirant must be an Indian citizen
The aspirant must have basic knowledge of internet and computer
The aspirant should carry their valid photo ID card
The aspirant should take one photograph
The aspirant must be minimum of 18 years of age
There is no maximum age limit
If you fulfill the above criteria, then you are eligible to apply in GST Suvidha Kendra to sell recharges and bill payments.
According to the traditional structure of Indian society, even in these times of digital advancement, lots of people prefer getting their mobile, and the DTH recharges via the nearest retailer.
GST Suvidha Kendra has made it easy and also profitable that allows the retailer to commence offering all these services with the trading balance, which is less than Rs. 1000.
You don't need to make much effort to initiate the tie-ups with different operators and services; the GST Suvidha Kendra handles everything
The Registration Process
The registration process is quite straightforward than you think. GST Suvidha Kendra has kept it very simple and hassle-free. There are few details you need to fill to become a part of GST Suvidha Kendra for selling recharges and bill payment.
The necessary information to be filled is given below:
Your Name
Your Mobile Number
Your Email address
Area where you live
City where you stay
Pin Code of your area
After filling the information, you need to submit it. Once we receive your application at GST Suvidha Kendra, our GST expert would check for your pin code and the availability of the GST Suvidha Kendra in your area. But you need not worry; in case they do not find any GST Suvidha Kendra near your pin code, they would get you a call in the next 24 hrs, asking for your PAN, photo, and Aadhar Card copies.
Your task of selling recharges and bill payment
Being a part of GST Suvidha Kendra, you can conveniently use our bill payment services for paying various kinds of utility bills like post-paid bills, landline bills, gas, water, electricity bills for the customers.
Looking at every family, you cater to various needs of paying at least 4 out of 5 bills each month, where you will earn more incentives.
List of services offered by GST Suvidha Kendra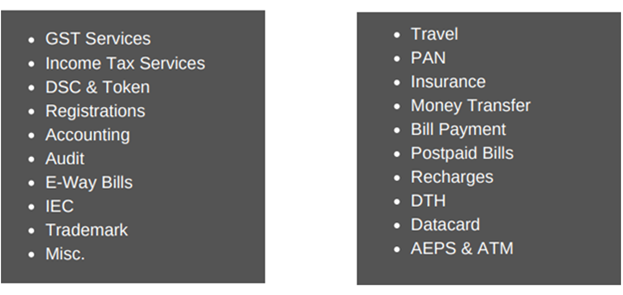 These are only a handful of services, GST Suvidha Kendra provides more than 200 services.
Application Process -
The documents required for the application process of selling recharge and bill payment are-

1)1 Photo
2)1 Photo ID (Aadhar, Passport, DL, Voter ID, PAN Card)
3)Location Address proof
Once your documents and location are verified, then you would have to sign an agreement, pay for the 25 years license which is Rs.24000, and you can avail the coupons equivalent to License Fee.  Once all this is done, then you would get trained to become a part of GST Suvidha Kendra for selling recharges and payments.
The Commission Structure provided by GST Suvidha Kendra
Looking at the commission structure below, you might be worried about the payment of the license fees. You can rest assured with the GST Suvidha Kendra that you will gain money after every 15 days, and you will be paid directly into your accounts.
The commission rate one can earn by selling recharges is between 2% to 5.5% whereas the commission rates for bill payments are between Rs. 1 to Rs. 3.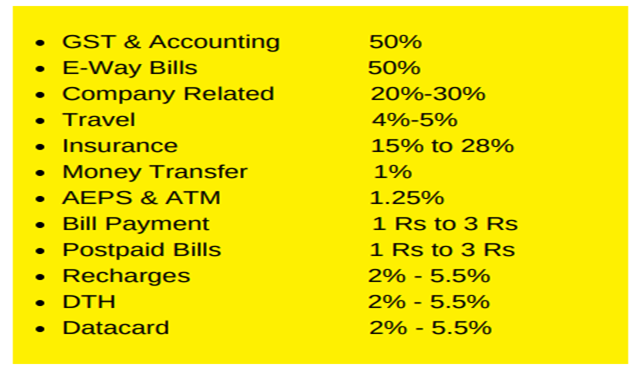 Perks of paying the license fee
Below mentioned are the perks that you would get-
Training Material
GSTN-GST Approved License
GST Promotional Material
All the GST related services
Round the clock help desk support
GSK engagement services
Every Tax and Company related services
Get Rs.100 discount on all the services
20 clients in your local area
There are many more benefits that you can avail after paying this fee and would be helpful for you.
After reading this, don't you feel this is the best opportunity to boost your career? The process to apply is straightforward, and also you do not need any previous experience. You would get proper training here and also would advise you everything about the entire process in detail. Thus, without any second thought, join GST Suvidha Kendra and become a part of one of the most renowned and reliable online stores.

Share this post?