Steps To Become An IRCTC Agent To Earn A Good Income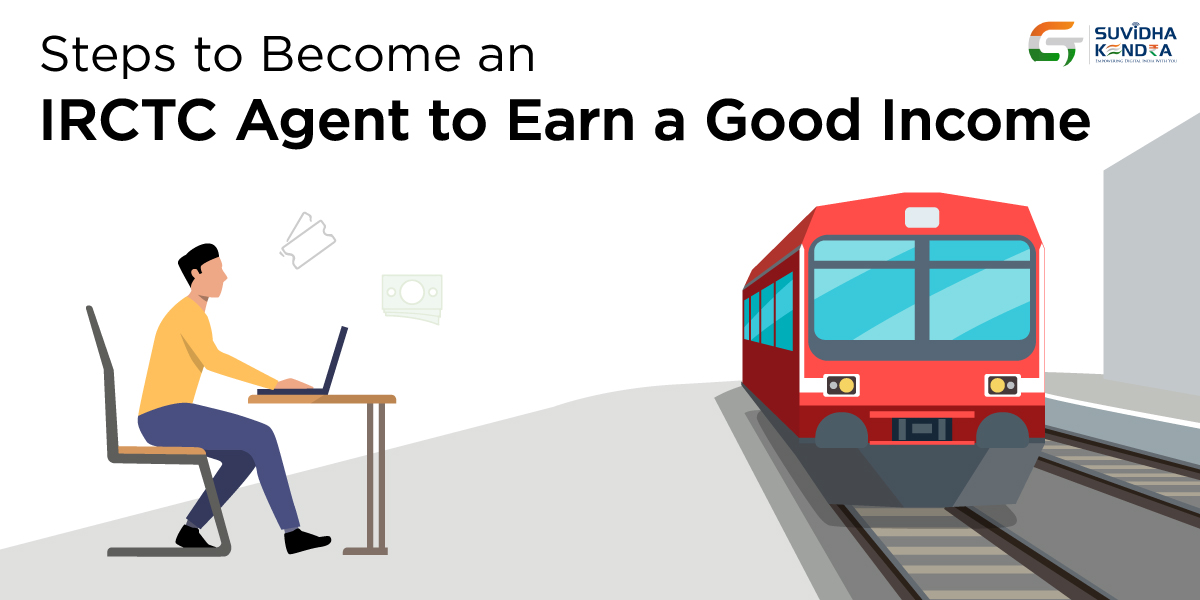 Are you looking for some stability in your professional life and wish to leave your current temporary job? if you are finding a new income source, probably this amazing career as an IRCTC agent can get your instant sight. Honestly, you can make up to 80k per month with this hassle-free job. Here, we will be discussing its benefits and ways to become an IRCTC agent.
Let's get some crucial information about IRCTC beforehand
IRCTC stands for Indian Railways Catering and Tourism Corporation, which is meant for serving the public-private collaborations. This subsidiary of Indian railways is great for catering to all the tourism corporations through railways. This great initiative is enhancing the quality of the services the Indian railways and catering to the people with better hospitality and tourism. IRCTC has put forward the innovative practices for the betterment of the manpower and optimization of the resources.
Also, it lets the tourism sector cope up with the technology changes and developing the industry accordingly. This has also maximized the worth of the investment made and making the sector even more competitive. Basically, the core motive of the IRCTC department is to let the heritage, people, and environment grow in the best possible manner. This is the reason why IRCTC is authorized to purchase tickets and secure reservations on the passenger's behalf.
Solid reasons to become an IRCTC agent
The right to book as many tickets as per the requirement without any restriction.
Get a tag of a full-fledged authorized travel agent, with the ultimate trust of customers.
RAAC, tatkal or waiting list, no botheration for you as per the IRCTC regulations.
Earn high commissions on each ticket booked.
Be a travel agent without any trade license in India.
You can expand your travel business while earning hefty commissions.
Eligibility criteria to qualify for the IRCTC agent
Documents required-
An attested copy of address proof and photo ID.
Latest photograph
Registration accounts' demand draft
Filling up two forms for your basic details and once the applicant submits all the necessities, one can receive the IRCTC agent license within 25 days.
Basic requirements
Complete net banking system to book tickets online.
A computer system or a laptop
Printer to give hard copies of tickets to the clients.
An uninterrupted internet connection
By having all these requirements fulfilled, you can successfully start your business as an IRCTC travel agent.
How DSC (Digital Signature Certificate) matters for IRCTC agents?
A DSC is merely an electronic version of our regular signature and can be referred to as our digital identities. This way you can tell the server, you are the right and the same person every time you wish to enter. In other words, this is the digital identity card just like your driver's license or voter id. This is best when you wish to get access to sign the documents digitally.
To get your tickets booked as per the IRCTC norms, you need to submit the DSC i.e. the Digital Signature Certificate. With this certificate, you become an eligible passenger to get an e-ticket issued by the authorized agents. The class 3 DSC obtained by an agent gives them the right to work under the IRCTC. This certification when passed by the principal agent of the IRCTC is showcased as RTSA user on the website. This agent can lawfully book as many tickets he or she wants to, without any restriction.
Reasons to get the DSC to be an IRCTC agent
By obtaining this certification, your transactions on the site of IRCTC becomes even more encrypted. Also, you will authenticate your identity as an IRCTC agent online. Also, there will be a different level of security and privacy of the information exchanged by you over the website. Assuring the recipient will be a lot easier for you by getting the right to signing the information digitally.
Some of the benefits of using a digital signature certificate
You will be able to get a secured email and your web-based transactions will be encrypted. Also, you will get access to identify the transactions over the web by others.
To maintain an SSL/ TSL encrypted session between you and the website while transacting.
With the class 3 DSC, you can sign the web forms online, and submit the e-tender documents easily. Even, you can file the tax returns as an agent and get the memberships for various websites hassle-free. Even, your requirement for the username and password to enter the sites does not exist.
Why become only IRCTC agent? Instead join GST Suvidha Kendra as an IRCTC agent. Still confused on why join GSK? Read on to find out how.
Why join GSK as an IRCTC agent?
GST Suvidha Kendra provides you with an excellent opportunity to earn a regular income. By joining GST Suvidha Kendra as an IRCTC agent is always a better choice. Here you will get lots of opportunities to prove yourself and show how you are varied from others.
Are you looking for an excellent chance with astonishing perks? We have come with a fantastic opportunity for those looking to spend only minimal and gain substantial profits. The most helpful thing is that for you to become an IRCTC agent, you do not need a specific background. You will receive an approved license with proper training, and then you can join GST Suvidha Kendra as an IRCTC agent. This is the best forum for those looking for a new start and planning to become IRCTC agent with GST Suvidha Kendra.
We at GST Suvidha Kendra are partners with different companies in the industry to provide you with the best plans available with us. As soon as you start your business, you think of earning more money and want to discern from other agents. You can gain a lot from being an IRCTC agent at GST Suvidha Kendra. On the whole, you can say that for any travel transaction you can earn a commission of 4-5% as an IRCTC agent.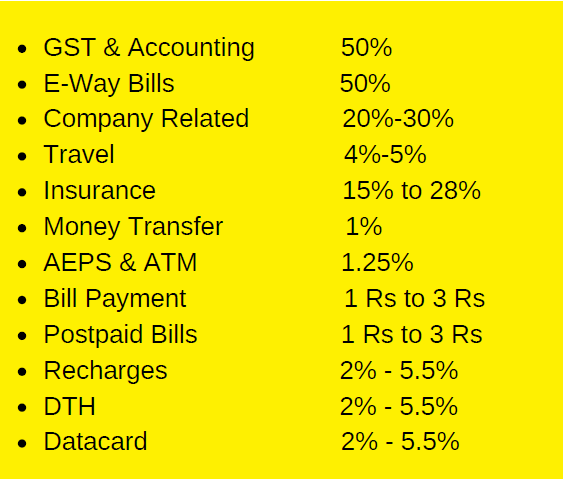 The income entirely depends on you. The more you sell services to your customers, the more you can earn. We also have a commission calculator on our website that can easily measure how many transactions you can do. GST Suvidha Kendra helps you to understand things quickly and transparently.
List of services offered by GST Suvidha Kendra are mentioned below:
GST and E-way Bill Services(More than 20 functions)
Company and Tax Services (More than 200+ services)
AEPS
Money Transfer
Banner and Other Promotional Material
Recharges (Mobile, DTH, Data Card)
Post Paid Bills
Insurance (Life Insurance, Car, Bike, Travel, Health, Critical Illness)
PAN Card
Travel (Bus, Flight, Hotel, Tours)
Bill Payment (Water, Mobile, Gas, Insurance, Electricity, Landline, Internet)
Loans (Home Loans, Business Loans, Personal Loans, Vehicle Loans, Loan Against Property)
To join GST Suvidha Kendra you need to pay GST Super License. GST Super License fee is Rs.24,000, but there are lots of benefits that you can avail after paying this fee. The list of products for which GST Basic License is payable and for which the GST super license is payable is mentioned above.
Benefits of joining GST Suvidha Kendra as an IRCTC Agent
Let us have a look at various benefits of joining GST Suvidha Kendra as an IRCTC agent.
By becoming a part of GST Suvidha Kendra, you can set up your own office as per your convenience, i.e. either in your residential area or any other place where meeting people would become more comfortable.
With GST Suvidha Kendra, you can get 100% redemption on the amount which you have paid, and in return, you would get 240 coupons of Rs. 100 each in the GST wallet.
Another good news for the GST Suvidha Kendra joiners is that you get paid twice a month.
At GST Suvidha Kendra, you would be provided with excellent training material such as offline training, study material, MCQs etc.
Also, there is no hidden cost when you join GST Suvidha Kendra.
Looking to be a part of us? The link is provided below
Since reading this, don't you think this can be the best opportunity for a small initial investment, and you can make a large amount of money after that. The application process is straightforward, and you don't have to go on a trip. You would receive proper training and also give you detailed advice on the entire process. So join GST Suvidha Kendra and become a part of one of the best known and trustworthy online stores without a second thought.

Share this post?