Become a Money Transfer & AEPS Agent with GST Suvidha Kendra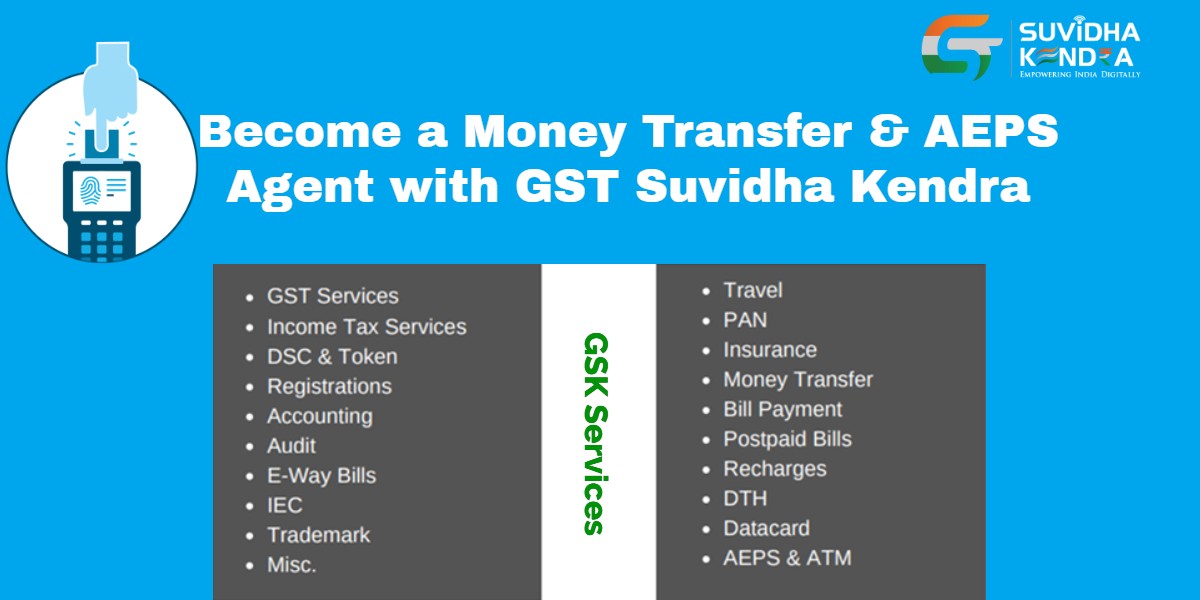 Gone are the days when you had to stand in long queues to transfer money to your loved ones living in the other part of the country. With money transfer service, moving money to any bank account in India has become hassle-free.
What you need to do is to carry cash with you and walk into any one of the IMPS supported banks, fill in the necessary details, and get the money transferred to your dear ones.
Are you someone looking for some excellent employment opportunity? Here is one of the best opportunities where you can invest a minimum and earn a good profit. Are you still thinking about the opportunity? Joining GST Suvidha Kendra as a Money Transfer and AEPS agent is a great opportunity, and they would provide a significant juncture to your career.
With GST Suvidha Kendra, one can at any time transfer money to any Indian bank account. They provide the cheapest, safest, and most secure money transfer service. Joining as a Money Transfer and AEPS agent would be an excellent gear up to your career where investment is very less.
GST Suvidha Kendra is a one-stop portal that enables small and medium-sized enterprises, shopkeepers, individuals with over 20 lakhs of turnover to file their GST returns on time with much lower tax-professional fees in India.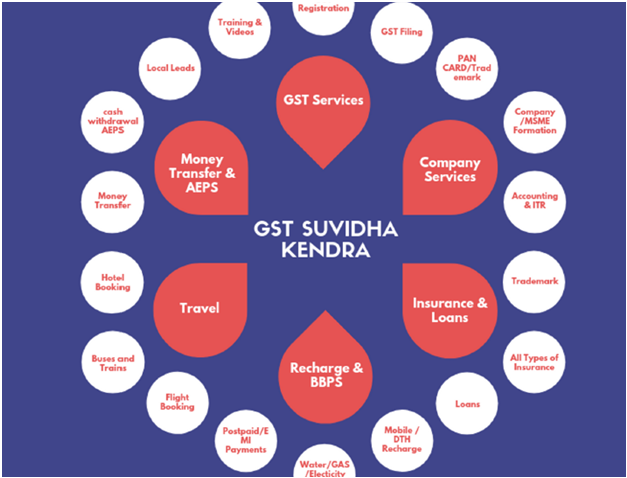 Eager to grasp the Eligibility Criteria? Here it is.
The first and foremost thought which strikes your mind about this opportunity is whether you fulfill the eligibility criteria or not. Don't worry, and you can check the eligibility criteria here.
Any Indian citizen can start GST Suvidha Kendra and support other businesses. GST Suvidha Kendra is the GST facilitation center that GSPs have named and authorized. Any Indian citizen may start GSK to serve any size of the market.
Eligibility Criteria
Must be a citizen of India
Must have completed 18 years of age
Must have basic computer knowledge
Must be minimum 12th standard pass
The aspirants do not need any other additional experience to become a Money Transfer and AEPS agent with GST Suvidha Kendra. In addition to the unemployed people, people looking for extra income can join GST Suvidha Kendra.
Apart from a full-time job, here, you have the flexibility of working from home or working part-time.
How to apply?
The application process is way too simple. The list of required documents during the application process is mentioned below, along with the details of the application process. Read on to find out more:
Step 1 – KYC Submission
1 Photograph
1 Photo ID card ( either Aadhar Card, Voter ID, PAN Card or Passport)
Address Proof
Step 2 – Verification
Verification of Documents
Verification of address
Step 3 – Payment Process
You need to pay for the license of 25 years
You are required to pay for the agreement
Step 4 – Types of Training provided
CRM Training and On Boarding – Day 1
Training GST Overview – Day 2
Tax Related Services – Day 3
Utility Services – Day 4
Relationship Manager
Step 5 – Happy To Help
9 AM to 6 PM Ongoing Support (All Days)
Information about New Services
Up-gradation
Once you apply to start your own GST Suvidha Kendra, we check if there is any existing GST Suvidha Kendra already available in your area or not.
Our GST experts will call you and notify you about your successful application for opening a new GSK if there is no existing GSK availability.
What will you get after joining us?
License and Software
100% Money Redeem
All Services
Promotional Material
Training and Support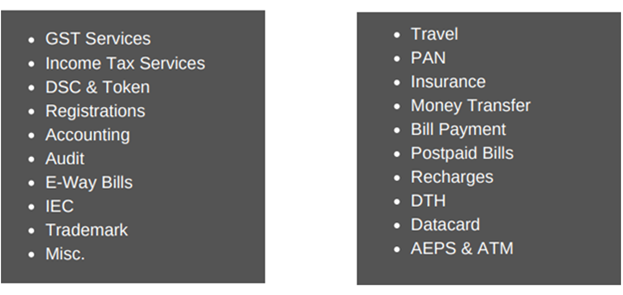 The Commission Structure at GST Suvidha Kendra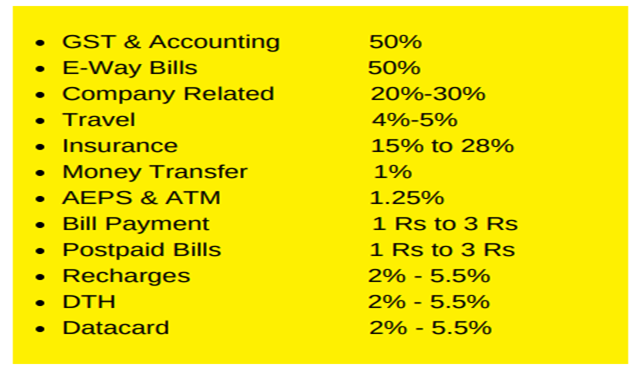 Once you apply to start your own GST Suvidha Kendra, we check if there is any existing GST Suvidha Kendra already available in your area or not.
Our GST experts will call you and notify you about your successful application for opening a new GSK if there is no existing GSK availability.
To meet its GST compliance requirements GSK must function efficiently. Such centers may also be used by season companies and casual taxpayers and very quickly satisfy GST.

Such centers can be the drivers of the most effective fiscal reform in India, an unparalleled success, a low-cost model that will reduce the cost and burden of returning GST and therefore cover a significant proportion of your registered business units.
The current Indian situation shows that a small businessman is confused with GST Registration, GST Returns, EWAY Bill & all other GST compliances.
Simultaneously, it is not feasible to employ a highly valued professional tax advisor like CAs as his not everybody's teacup. Due to a lack of knowledge or a quest for economic solutions, they do not apply for GST registration.
We, therefore, have a chance of earning a fair amount of money, because the average is between 1% to 1.25%, which is quite a lot as an agent for money transfer and AEPS.
GST Suvidha Kendra removes this by cutting costs, offering substantial relief to small businesses with lower GST registration limits, which is above Rs.20 lakhs. Every taxpayer now has, at very nominal rates, the option of GST Suvidha Kendra close him/her.
What is Money Transfer with GST Suvidha Kendra?
GST Money transfer is the process of transferring money digitally. Because of account opening risks, scheduled timings, or no range, most people do not choose to go to the bank & post office for money transfer.
To solve these barriers, the GST Suvidha Kendra website offers customers a Domestic Money Remittance Service through which an agent can instantly transfer money across India for their customers at the lowest charges and receive commissions.
With a money transfer facility, you can send instant money, i.e., 24x7x365, to any IMPS supported banks in India.
The receiver at the other end can receive the credited cash in their bank account in just 5 to 10 seconds. Being a Money Transfer Agent, you can start offering money transfer services via and also boost the outlet footfall and income.
How Does Money Transfer work?
Domestic Money Transfer operates the same way as Mobile Recharge does. Still, the only difference is that you need to collect the recipient bank account number, IFSC code, and the sum to be transferred from your customer walk instead of mobile number.
Enter the details and complete the transaction in a simple web form. The balance gets credited into the beneficiary account within 5-10 seconds.
How does our system work?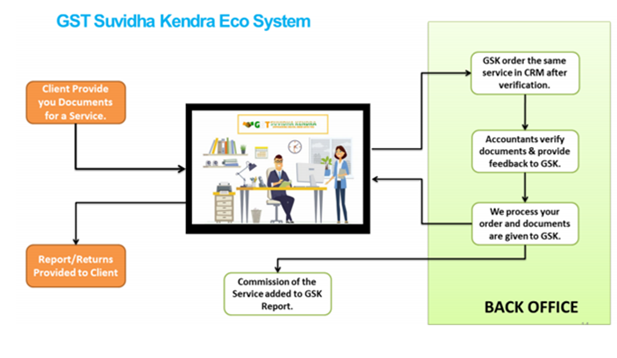 Who can run AEPS?
The AEPS agent will make transactions in India with any account.
No withdrawal form or debit card is required for you to register.
With the assistance of the AEPS agent, you could make financial or non-financial transactions.
Nobody can copy the print of your hand.
With this Dogma Partner Mini ATM, you can enter remote rural areas.
In a Nutshell
I hope this article helps you in becoming a Money Transfer and AEPS agent. You can sign up with us and become a Money Transfer and AEPS agent at GST Suvidha Kendra. In joining us, you can receive limitless benefits and earnings. Not only do we help you to make a profit, but we also give you an excellent platform for development and additional revenue.

Share this post?