Pay Nearby vs GST Suvidha Kendra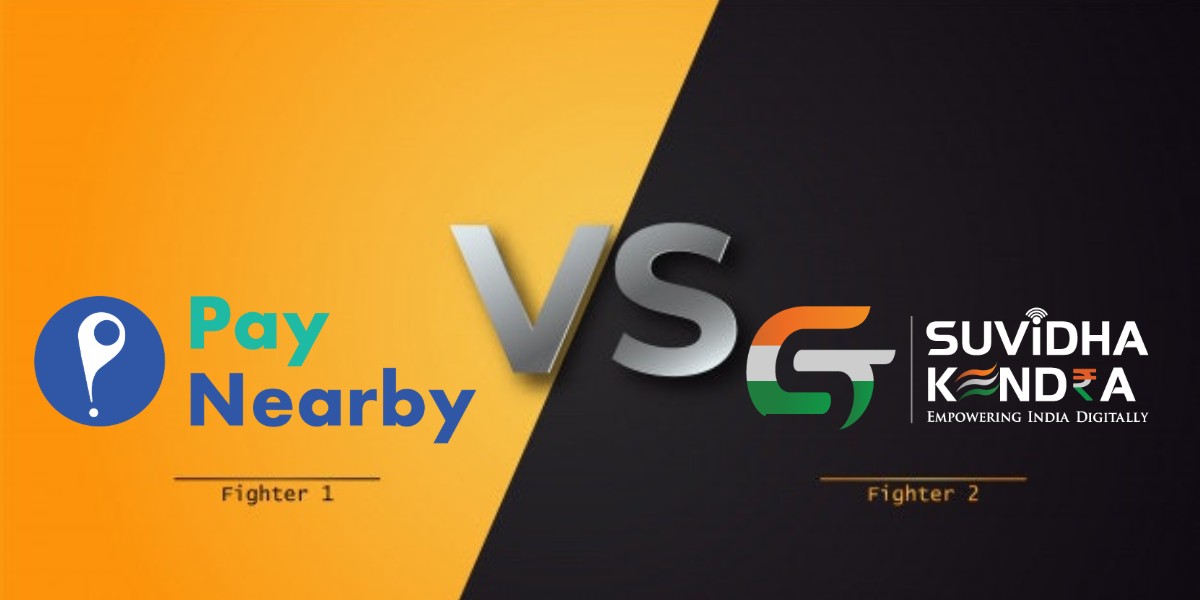 Adding extra income has become a requirement these days, isn't it? The expenses are increasing day by day but income is the same, therefore the question that comes to our mind is how can we do that?
Here in this article, we would discuss the two companies which work online and provide financial services to the customers directly or indirectly. You can become their member or distributor with a very small amount of investment and add more income to your pocket.
Excited to know what do the companies deal with and what is the procedure to join them? But another matter of concern is which one to join? Don't worry we would give you the insights of both of them, their joining procedure, services, investment amount and income. Hence, by the end of this article, you would have complete knowledge about both the companies and then you can decide which one to join.
Pay Nearby- Har dukaan, digital pradhan
This company was set up lately in 2016 by people who were experts in the Payment industry and Digital Marketing. The company aims to become the largest financial company, who can provide these services anywhere and everywhere.
The services which this company offers are-
a) Aadhar Banking – It is also called AEPS which is done through digital banking service that allows you to provide basic functions to the customers such as balance inquiry, cash withdrawal, and domestic money remittance. You can become a retailer and offer these services to the customers and earn a commission.
b) Money Transfer- With this feature you can help the clients to transfer money from their bank account to any other bank account instantly anywhere in the world plus the additional benefit is that you can help them transfer money on bank holidays too. You would take a transaction fee from them and as per your transactions, Pay Nearby would pay you the commission.
c) SMS Payment- This payment method needs a smartphone and you can easily help customers to transfer the money. This is particularly for customers who believe in cashless payments. This mode of payment is really simple and easy and is available at all the Pay Nearby retail stores.
d) Recharges and Bill Payments- You can make payments of your phone, gas, water or electricity and also get your DTH or telecom recharged with the help of Pay Nearby. Being a retailer of Pay Nearby you can help the customers to pay their bills easily without any hassle of standing in the queue to pay the bills. Customers love this feature as it makes things easy for them because it saves a lot of time and also the cost of traveling.
e) Khata Management- Managing your khata would become easy and digital with the help of Pay Nearby. With the help of this app, you would be able to track the past record of customers' purchase, current inventory, credits, and everything. You would have complete transparency of the records and also it makes accessing the past transactions simple and quick.
Here being a distributor you would have to promote the retailers to use this app and you would get paid for that. Additionally, on every transaction the retailer makes, you would also be paid some percentage of that too.The commission rates of Pay nearby are different according to the service. But the rates are fixed for the retailers and you would get the amount according to the transaction retailer does.
Advantages of becoming a distributor of Pay Nearby
Added Income
Product training would be provided
Easy to promote the app as it is created for fast customer services
Makes cash and khata management easy
Now, you know everything about Pay Nearby, you must be thinking that how can you become a distributor, well here is the answer to this.
Read about this other company which can open the door for added income to your account with better benefits offered than Pay Nearby. The name of the company is GST Suvidha Kendra and it can help you grow immensely and touch the sky of success. Want to know how? Read on
GST Suvidha Kendra- One shop, all services
If you are looking for additional income with minimum investment then this is the company you should opt for. This is one company where you can get all the financial services under one umbrella. With GST Suvidha Kendra you would get a chance to earn a good amount of commission as they deal in so many services that you can provide the customers which can ultimately benefit you.
The services which GST Suvidha Kendra offers are-
a) Domestic Remittance Services
b) Individual and Business Loan
c) Travel Ticketing
d) General and Life Insurance
e) Mutual fund & other investment products
f) E-Commerce
g) ATM
h) Bank Account Opening
i) Utility Bill Payments
j) Prepaid Gift Card Insurance
k) Recharges
l) Cash Collection and Bank Account Deposits
The best part about this company is that it aims to provide maximum business to entrepreneurs and people who wish to add some extra income to their existing revenue. After knowing about so many services that GST Suvidha Kendra offers, you must be thinking who can apply for it, how and what would be the investment amount and the foremost thing what would be your commission?
Don't worry, we would tell you everything about joining GST Suvidha Kendra.
First Question: Am I eligible?


A person who is-
An Indian citizen
Minimum 12th pass
Should have basic computer and internet knowledge
Willing to work full time/ part-time/ work from home
This company provides you with full flexibility to work with no time-bound or restriction to work at the office or give particular hours. It completely would depend on you whether you would like to work on weekends or after office.
The next important thing is how to register? They have kept the registration process really simple for you so that you have no trouble applying for it. You just need to fill in the online form and provide-
1 photo ID Proof
Location (address)
Once your documents are approved, you get a call from the GST experts within 24 hrs. After that, you would need to pay a fee of Rs.20000 to Rs.24,000 based on the service you opt for. But there is a piece of good news for you that the amount which you pay for registration you get ample of benefits from it.
Benefits of paying the registration fee:
License and software- You will be given access to the software and the Login page wherein you can place new orders.
You would get Rs. 100 discount on all the services. For example, the GST registration fee is Rs. 400, and your commission is 50%. With this coupon, you have to pay fees of Rs. 300.
Services- They provide the cheapest services in the market.
For example, the GST Registration cost is Rs. 400, and the cost of GST filing is Rs. 200.
They also provide more than 200 services, including Insurance, Travel, AEPS, Money Transfer, PAN, Bill, and recharge.
The Promotional Material
You will be provided with the promotional material like user manual, CRM instruction manual, information kit about the services, etc.
Training and Support
You will be given four days of training.
24×7 Help Desk either by phone, mail or ticket support
By now, you know that you are eligible or not, its registration process and the fee, but, what about the commission?
Below is the list of the commission that is paid according to the services-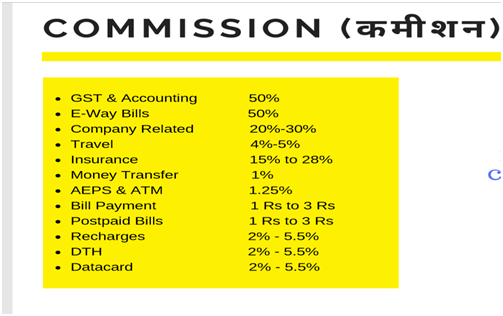 Which one is better?
If you are looking for a franchise, GST Suvidha Kendra wins the battle.
GST Suvidha Kendra commission rates and the number of services they allow you to offer are the two major factors which you should consider. In fact, our vote goes to GST Suvidha Kendra as it is a reliable, one-stop-shop for the customers, which makes their day to day work simple. So, without a wait, email or call them for registration today.


Share this post?