Common Questions About General Insurance In India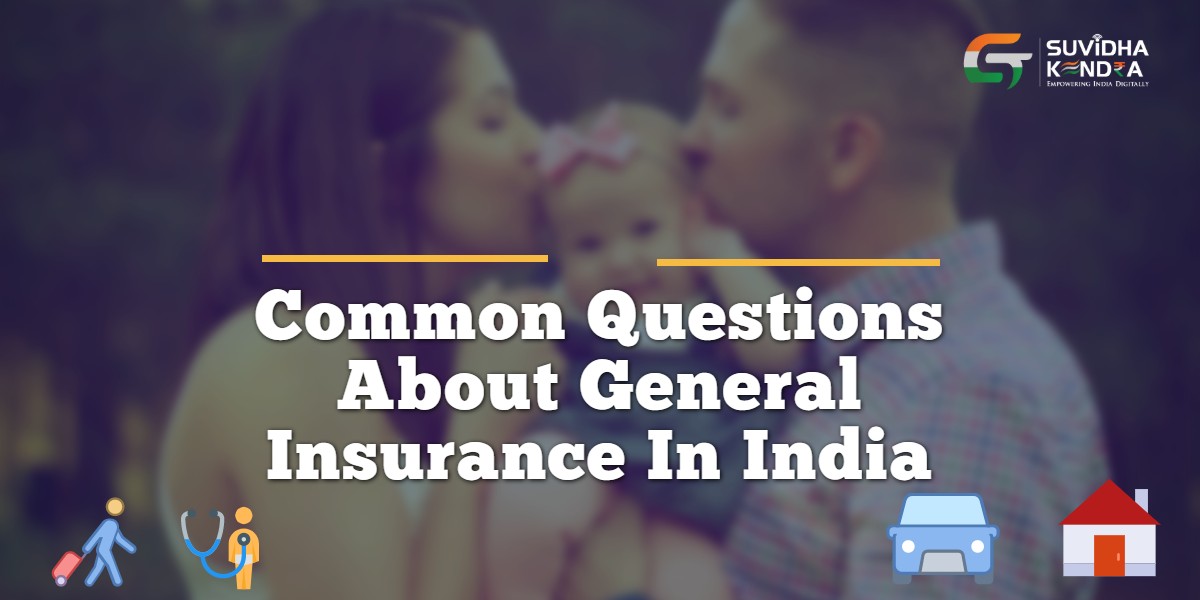 What type of Policies are covered under General Insurance?
Health Insurance
Motor Insurance
Travel Insurance
Home Insurance
Commercial Insurance
Rural Insurance
What are some exclusions in General Insurance?
Home Insurance
Health Insurance
Automobile Insurance
Travel Insurance
Commercial Insurance
What Factors Affect the premiums in General Insurance?
Health Insurance
Home Insurance
Travel Insurance
Automobile Insurance
Commercial Insurance
How to File a Claim for General Insurance?
Health Insurance
Home Insurance
Fire Insurance Claim
Documents required for Alternate Accommodation
Flood Insurance Claims
Theft and Burglary Insurance Claim
Auto-Mobile Insurance
Travel Insurance
Medical Claim
Lost or Damaged Passport
Personal Liability
What are Third Party Administrators (TPA)?
What is Insured Declared Value (IDV)?
How to File a complaint against an Insurance Provider?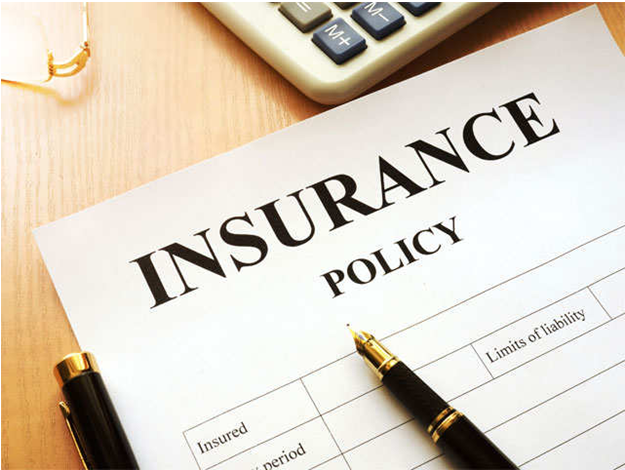 General Insurance safeguards you from all types of risks that you will encounter in life except death. This includes your home, your car or bike, traveling, legal liability, business loss, professional liability, etc. It protects you from natural calamities like storms, earthquakes, floods, and such, theft and burglary, accidents, frauds, and illnesses. It is a one umbrella cover for all that can go wrong in your life. You only need to choose the right plan which covers all the risks that you require. Compare general insurance plans online and buy in a hassle-free manner to protect yourself and your business today.
In this article, we will try to give you a basic overview of general insurance in India.
What type of Policies are covered under General Insurance?
Health Insurance
Health Insurance covers your medical, surgical and diagnostic expenses due to illness, accidents or disease.
If the treatment is done in a hospital that is affiliated to the network of the insurance provider cashless treatment facility is available – which means that the insurer pays directly to the hospital and you don't have to spend money out of your pocket. If treatment is done in a non-affiliated hospital then you will be eligible to claim reimbursement from the insurer after you have first made payment to the hospital.
In health insurance, you are not only eligible to get benefits in case of hospitalization, but you can claim for expenses incurred in doctor visits, medicines, diagnostic scans, etc. Hospitalization bill may be broken up into room rent, doctor visits, diagnostics, medicines, and miscellaneous. Your policy may prescribe maximum limits payable for each category separately, called, and thus it is important to peruse the document carefully. Some other important thing to notice is if your policy has a co-pay clause which means that regardless of the claim amount you must pay a percentage of some amount yourself. While people sometimes voluntarily opt for co-pay clauses in policies to lower the premium amount payable, it can cause inconvenience in situations where the bill amount is substantial but still less than the permissible maximum claim amount.
Motor Insurance
Motor insurance as the name suggests covers all vehicles owned by your such as a car, bike, or truck. Auto insurance will cover damage to your vehicle, to another vehicle you have damaged in an accident, injuries sustained by you, your pillion rider (in case of two-wheeler) and co-passenger (in case of a car), and injuries sustained by the third person. It is important to note that your personal general insurance policy will not cover circumstances in which you were using the vehicle for commercial purposes. If the vehicle is used for business purposes a separate commercial insurance policy has to be taken.
The two main types of coverage are (a) third-party liability cover and, (b) comprehensive cover.
A third party liability cover is mandatory under the law as laid down in the Motor Vehicles Act. In case you get into an accident that has been caused by your fault, third party cover would protect you from the liability owed to that person in terms of medical injuries caused to him and damages caused to his vehicle or property. According to a directive issued by the Supreme Court in 2018, first-time riders or drivers must purchase a long term third party insurance cover for a minimum of 3 years for car and 5 years for a bike. However, it is important to remember that the third party insurance does not cover injuries suffered you personally or damages suffered by your car. Further, the quantum of the maximum claim amount is so low, it rarely satisfied the full amount of liability owed by the third party, except in the case of very minor accidents.
Due to the above limitations of third party liability cover, you must almost always look to purchase a comprehensive cover. A comprehensive cover has all the benefits of third party liability and also covers personal injuries and vehicular damages suffered by you. Further, it gives you the freedom to purchase some valuable add-ons which increase the value and usefulness of your policy. Some add-ons are emergency roading assistance where a mechanic will be sent to your location if your car malfunctions or you are involved in an accident, with towing facility available if your vehicle has been totally destroyed and needs to be taken to a garage. Engine cover add-on as damage to engines is not covered under the basic policy. Alternative vehicle or daily transport allowance when your vehicle is under repair in the garage for a long time. And much more.
Travel Insurance
Most people don't bother to purchase travel insurance, but it's one of those things you will be glad you have if you need it, and thus it is better that you purchase it even if the chances of a claim are slim. Travel insurance protects you against things like a lost passport, theft or misplacement of luggage, emergency medical services, and delay or cancellation of the flight. It is true that these things occur rarely but when you are the victim, especially in a foreign land, your relaxing holiday quickly becomes a harrowing experience. Not to mention that in First World countries, things like medical expenses and hotels are prohibitively expensive which can quickly burn a hole in your pocket. If you lose important documents like your passport, visa or other travel documents, your insurance company can also help you manage the bureaucratic red tape with the authorities. Repatriation services back to India for medical emergencies or for your dead body, if you happen to pass away abroad are also available.
Depending on your circumstances, you can purchase an individual policy for a single traveler, family plan and senior citizen plan. If you are a frequent traveler, the corporate policy will be very attractive to you. International tourists rarely restrict their visit to one country but rather tour all the neighboring countries in the region as well, that is why plans are also available based on regions of travel, such as the South Asia plan, Schengen Plan for Europe, the USA plan, etc.
Home Insurance
A house is the most expensive thing most of us will ever buy. Thus, it is very important to secure it with the right kind of insurance.
A comprehensive home insurance policy has coverage for many different kings of perils., Fire cover insures damages caused by fire due to earthquakes, lightning, electrical failure, gas leak, etc. Natural calamities cover insures against damages caused by floods, earthquakes, cyclones, landslides, and other types of natural disasters. A man-made calamities cover insures against things like mass scale riots, thefts, and burglaries.
Home insurance not only covers the outside structure that is your home but articles inside your houses such as furniture, fittings, decorations, and appliances also. However, you must provide a comprehensive list of articles inside your home to your insurance provider to get them covered. As you purchase more and more articles, you must update the list annually, but beware that this will cause a rise in premiums as well.

It is a misconception that one needs to be a homeowner to purchase home insurance. In fact, tenants may only purchase cover for household articles inside that they own, and whereas the landlord only purchases insurance for the structure of the building and the underlying land only.
Commercial Insurance
This kind of insurance is available for businessmen and industrialists for their various business-related needs. Many industrial sectors are covered like telecom, manufacturing, construction, logistics, etc. The aim of commercial insurance is to mitigate risks that come up while operating a business.
Commercial insurance plans may include
Property insurance to protect your office from natural calamities, fire, theft, and burglary, etc.;
Shopkeeper's insurance to protect your shop against theft, fire, accident, protect signboards outside, electrical and water damage, etc.;
Marine insurance in industries like oil and gas, hydel power, paper mills, for infrastructure and machinery upgrades and damage due to malfunction or depreciation, etc.;
Liability insurance for businesses covering liability to employees and workmen; product liability, clinical trial liability, etc.;
Employee benefits insurance for providing group health and life insurance;
Aviation insurance for damage to aircraft, machinery, hijack, and total loss due to crash;
International insurance for MNCs for protection against cross-border legal disputes arising out of miscellaneous domestic laws and international business;
Banker's indemnity insurance for robberies, forgery, embezzlement by employees, loss of hypothetical goods, etc.;
Automobile insurance for vehicles being operated for a commercial purpose.
Rural Insurance
Rural Insurance is a special kind of insurance provided through Gramin Banks to families engaged in farming or livestock cultivation. It includes risks such as loss of livestock, agricultural pumps and other machinery, beneficial insects such as honeybees, earthworms, etc., loss of crops due to floods, fires, droughts, etc.
What are some exclusions in General Insurance?
Exclusions in insurance policies are circumstances where the insurance company will deny your claim as such circumstances will be an exception of liability under your policy. Here are the most common exceptions to your general insurance policy.
Home Insurance
Destruction due to war or large scale unrest.
Damage caused by terrorism or nuclear weapons.
Damage like corrosion of household articles due to pollution.
Damage caused due to natural wear and tear over time.
Damage to temporary or kuchha structures.
Damage or theft to very expensive items like jewelry, designer clothes, and antique furniture – these have to be separately insured.
Damage caused due to the home being abandoned or remaining uninhabited for a long time.
Damage caused when the home was being used as business premises.
Damages caused intentionally.
Damages caused due to illegal activities or fraud by the policyholder.
Damages caused due to gross negligence.
Damages caused by other people when the house was being let out.
Health Insurance
Pre-existing diseases, if not covered under the policy,
If a claim has occurred under a lapsed policy.
If the claim event has occurred for a disease or pregnancy, which was still under a waiting period under the policy,
Claim for alternative therapies like homeopathy, yoga reiki, etc.
Claim for hospitalization due to a suicide attempts.
Claim for cosmetic surgery procedure.
Claim for sexually transmitted diseases.
Automobile Insurance
Claim during the lapsed policy
The accident occurred due to driving under intoxication.
Accidents caused deliberately.
Damages to the engine without the purchase of engine cover.
Accidents occurred when the vehicle was being driven by someone with a valid license
Consequential damages, or losses which are the consequences of some actions by the policyholder, whether deliberate or unintentional- such as hydrostatic loss during monsoons because of cranking up the car in a water-logged area.
Damages incurred due to collateral contracts such as pledging the vehicle to secure a loan.
Travel Insurance
Claims which occurred due to policyholder being intoxicated
Medical claims due to pre-existing medical conditions not covered under the policy
Medical claims due to pre-existing conditions fraudulently not disclosed at the time of purchasing insurance.
Injuries suffered due to nuclear radiation
Loss of luggage due to negligence and irresponsibility.
Claims due to terrorism or war between nations.
Cancellation of trip by the travel agent or tour agency.
Injuries suffered while participating in adventure sports.
Injuries suffered in local protests.
Commercial Insurance
Damages due to depreciation and natural wear and tear.
Damages due to gross negligence or unnecessary risk-taking even after having prior knowledge of the likelihood of the occurrence of the risk.
Claims emanating from fraud or international non-disclosure of material fact, such as damaged state of the office building before purchasing the insurance policy.
Claims due to willful damage or destruction of property.
Loss due to war and nuclear damage.
What Factors Affect the premiums in General Insurance?
These are the factors that affect your general insurance premiums and here is what you should do to reduce premium amounts.
Health Insurance
Jobs that are risky such as security services, window cleaner will attract higher premiums as the likelihood of injury is more.
Purchasing health insurance policy at an older age would mean paying higher premiums as old people are statistically at a greater risk of illnesses. So try to purchase health insurance when you are young.
Your medical history and current illnesses such as high blood pressure and diabetes would lead to an increase in premiums as you are perceived to be a greater risk of lodging a claim by the company.
Obesity and unhealthy habits like smoking and regular drinking can cause a significant rise in premiums. In fact, there is a separate section of the personal information document dedicated to enquiring if you are a smoker while purchasing insurance. And an obese person is also at a greater risk of developing other diseases such as high BP, diabetes, osteoporosis, heart conditions, etc. Thus, try to quit smoking and lose some weight before purchasing insurance.
Family floater plans would obviously have greater premiums than individual plans.
Home Insurance
Older homes attract bigger premiums as there is a greater risk. So consider some home repairs to reduce the premiums.
You can install security features such as padded locks, CCTV camera, etc. to reduce premiums.
The location of your home, if in a natural disaster-prone area will cause a rise in premiums. Consider investing in mitigating features such as wooden frames in earthquake-prone zones, toughened glass in windows in cyclone-prone zones, concrete in forest fire-prone areas to reduce premiums.
Consider not lodging a claim for minor amounts as this would lead to a rise in premiums from the next year due to your claim history.
Do not add-unnecessary add-on features that you don't have a bonafide need for.
Travel Insurance
Older travelers are charged more premiums as they are statistically at a higher risk of falling ill during the trip.
Any pre-existing medical conditions if they are covered increases premiums. Even if not covered they would increase the premium as the likelihood of associated diseases increase. Such as heart conditions if there is a pre-existing condition of high blood pressure.
Longer trips would attract bigger premiums as the likelihood of any unfortunate event statistically increase with time.
If you are traveling to a country in regards to which a travel advisory has been released, then higher premiums would be charged as your destination has been flagged as unsafe.
High premiums are charged for international travel as compared to domestic ones.
Add-ons would, of course, increase premiums and thus you shouldn't add unnecessary add-ons.
Automobile Insurance
A bad credit score will mean higher premiums. Check your credit score online and take steps to rectify if too low.
People of the age group 18-26 are considered inexperienced drivers and are charged higher premiums.
If you register your car and stay in a crowded metropolitan area, your chances of accidents go up and so does your premium amounts.
People with professions requiring more travel such as lawyers, delivery professionals are charged a higher premium, as the more you travel, the higher the chance of accidents.
Unmarried people are charged more premiums than married ones, as bachelors are thought to lead a riskier lifestyle than married people.
Young males have statistically shown to be involved in more accidents than young females, and thus charged more premiums.
A performance car with more engine capacity is charged higher premiums as there is potential for speeding.
Older vehicles are charged more premium as there is an increased likelihood of malfunction.
Cars without safety features such as air-bags, ABS, etc. are charged higher premiums.
If you have a bad driving record with previous accidents, you are considered to be riskier and thus charged more premiums.
Deductibles are a mandatory percentage that you will have to pay irrespective of the claim amount. Consider maximizing your deductibles to decrease premiums amounts.
Do not add unnecessary add-ons to lower premiums.
Commercial Insurance
Certain industries that carry a higher risk, and thus businesses engaged in this industry are charged higher premiums.
If your business is located in an area with a higher crime rate or higher rates of natural disasters you will be charged a higher premium. For crimes, consider investing in security features like reinforced glass, CCTV cameras, guards, to lower premiums. For natural disaster mitigation, consider reinforcing your building construction to withstand, installing fireproofing and roof water dispensing nozzle, etc.
If you have a bad claims history, i.e. you have made multiple claims in the past, your premiums will go up.
A bad credit score will entail higher premiums as you will be considered a risky client who is prone to frequent defaulting on premium payments.
How to File a Claim for General Insurance?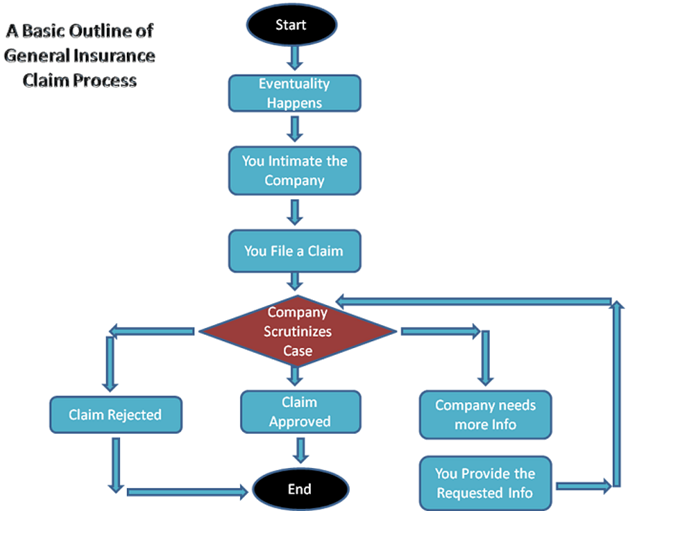 Filing an insurance claim is not that complicated as people make it out to be. As soon as possible after a claimable incident, you need to call up the office of your insurance provider or TPA office in case of medical claims and explain the situation to them. Your insurance provider will email or fax you some claim forms which you will have to fill up and submit along with some additional documentation as proof and due diligence of the claim. But before this, if the incident requires you to alert the police, such as in case of theft or accident, then you should lodge an FIR with the Police before calling up your insurer.
Here are the different documents required for lodging your claim –
Health Insurance
For cashless claims, you need to visit a hospital affiliated to the insurance provider and show your health card at the time of admission. Your hospital will coordinate with the insurer/TPA automatically without much hassle on your part.
For reimbursement claims, the following documents will be required.
Duly filled claim form
Police Report and FIR if the accident required police intimation such as vehicular accidents
Medical documents such as diagnostic reports, test reports, hospital emergency reports, X-Ray, and MRI plates, etc.
Doctor's prescriptions
Full itemized bill available upon discharge
Discharge summary
Home Insurance
Fire Insurance Claim
Duly filled in Claim Form
FIR copy
Fire Bridge Report
News Paper clippings (if any)
Photos
Title Deeds and Layout plans
Relevant bills and invoices
Estimates of Repairs
Documents required for Alternate Accommodation
Duly filled in Claim Form
Proof of rent paid for such alternate accommodation in case of reimbursement claim
Proof of actual occupancy at the accommodation
Flood Insurance Claims
Duly filled in Claim Form
Meteorological Dept. report
Estimate of loss
Title Deeds and Layout Plan
Estimates of repair from an Engineer (may be accredited by the insurer)
Bills of repair (in case of reimbursement claim)
Theft and Burglary Insurance Claim
Duly filled in Claim Form
FIR copy detailing items stolen and subsequently Final Police Report
Original Invoices of items (you should store such invoices as far as possible)
Newspaper Clippings (if present)
Indemnity Letter
No-Trace Certificate issued by the Police and certified by the Court
Auto-Mobile Insurance
Copy of FIR that accident has occurred or vehicle has been stolen
Intimation to RTO that vehicle has been stolen
Copy of endorsement in the vehicle register from the RTO that the vehicle has been stolen
Original vehicle documents like the latest tax receipts, the first two pages of the insurance policy, dealership invoice, registration certificate, emission testing certificate, etc.
Dump Yard Certificate that vehicle matching the description has not been sent to the dump yard to be crushed.
Form 29 and Form 30 for transferring ownership to the insurer if the vehicle has been stolen, so that if found later, the vehicle would be the property of the Insurer.
Acknowledgment from Bank in case the vehicle was bought with a loan.
No-trace certificate from the Police and certified by the Court that the vehicle has not been found.
NOC and Indemnity Letter from you for transferring vehicle ownership and also an indemnity to the Insurance company to compensate them for any contributory actions on your part which unknowingly facilitated the theft.
Travel Insurance
Medical Claim
Duly filled in Claim Form
Doctor's report
Original admission/discharge card
Original bills/receipts/prescription
Original X-ray reports/ Pathological/ Investigative reports
Copy of passport/visa with entry & exit stamp
Loss of Luggage
Duly filled in Claim Form
Copies of Baggage Tags
Copies of correspondence with the airline authorities/Others about loss of checked baggage
Property Irregularity Report (obtained from Airline)
Details of compensation received from Airlines/Other authorities, if any
Delay or cancellation of Trip
Duly filled in Claim Form
Confirmation from the airlines, with the time of actual arrival v. scheduled time of arrival
If the trip is canceled or interrupted due to medical reasons, then medical reports and doctors statement,
If the cancellation or interruption is due to sickness, injury or death of a traveling companion or a family member, then the original tickets of the insured and the traveling companion indicating travel to the same destination for the same dates.
All the bills/receipts of reasonable additional expenses incurred and / or proof of cancellation charges levied by the carriers.
Lost or Damaged Passport
Copy of new passport
Copy of previous passport (if available)
Original bills/invoices of expenses incurred for obtaining a new passport
Copy of FIR/ Police Report
Personal Liability
Full statement of the facts in writing
Witness statements
Any other documents relevant to the incident, including Summons, legal notice, etc.
Any other information you would like to share with us
What are Third Party Administrators (TPA)?
In medical insurance claims, Third-Party Administrators (TPA) are organizations who possess a license from IRDA to process insurance claims to provide cashless treatment to policyholders on behalf of insurance providers. The concept was introduced by the IRDA in 2001 to ease the administrative burden on insurance companies.
They assistance insurance providers in many vital ways
TPAs are essential to process claims with agility in case of discharge of patients availing cashless treatment.
They have their own infrastructure and team of doctors and legal experts to peruse through claim documents and verify the authenticity of claims.
They negotiate with hospitals on behalf of insurance providers on matters of empanelment.
They connect with hospitals to book appointments for planned hospitalizations.
What is Insured Declared Value (IDV)?
The Insured Declared Value (IDV) allows you to declare your vehicle's value to your insurer less than the original actual value of the vehicle. As premiums are decided on the value of your vehicle, you can bring down premiums by declaring a low IDV. However, beware that you will get a lesser amount in case of a claim.
How to File a complaint against an Insurance Provider?
If you are unsatisfied or feel like the claim has been unfairly rejected, or deliberately delayed, then there are a few avenues to explore for redressal.
A grievance may be lodged with the designated grievance redressal officer of the insurance provider itself, who is usually a member of the senior management.
A formal complaint may be lodged with the insurance ombudsman of the Executive Council of Insurers of the concerned state whose decision is binding on the insurance provider.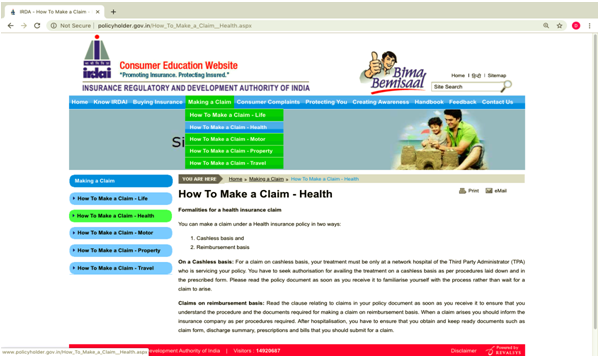 A complaint may be lodged with the grievance redressal cell of the consumer affairs department of the Insurance Regulatory Authority of India (IRDA) by sending an email at complaints@irda.gov.in or by a phone call on 155255 (or) 1800 4254 732. The IRDA may also be contacted through the Integrated Grievance Management System (IGMS) at igms.irda.gov.in.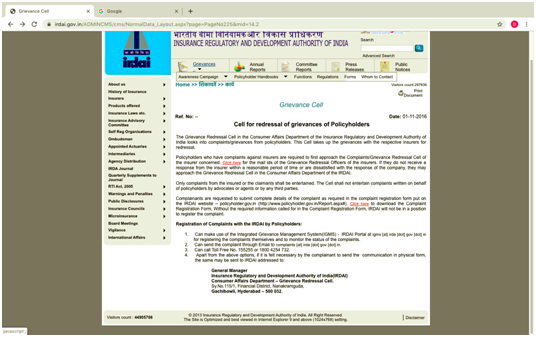 Finally, you can also complain to the National Consumer Helpline by signing up online, giving a call on 1800-11-4000 or 14404 or SMS to 8130009809 or signing up on the app, litigation may be lodged at a consumer court of the judiciary. Off late there has been an increase in private complaints against insurance companies.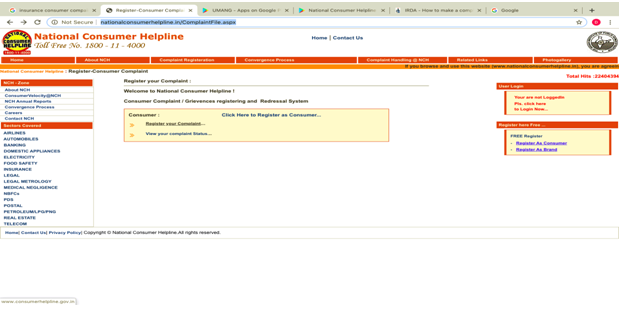 Share this post?