How to Become a Travel Agent or Start a Travel Agency in India?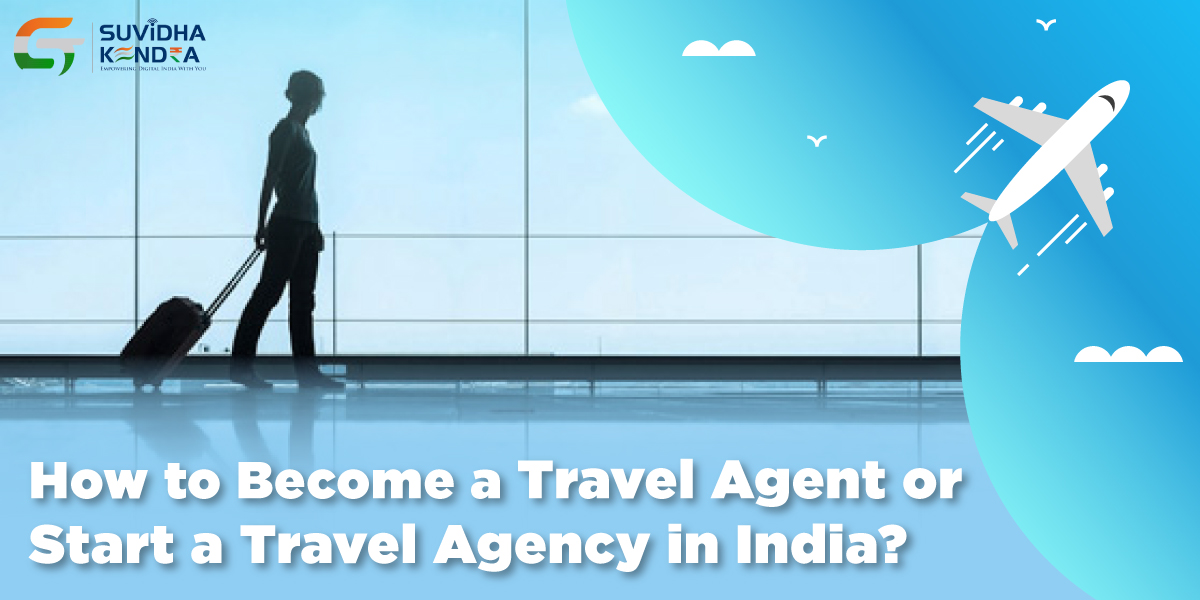 Fond of travelling and want to bloom your hobby into a profession? Or you might be considering starting your own business as a travel agent. There is no reason that you shouldn't!
Travel and Tourism is one of the biggest industries not only in India but in the whole world. You can become a travel agent and even establish your own agency in a fairly inexpensive manner. As you can start up with limited staff and a very little upfront cost. However, finding the right niche is solely important in this highly competitive market.
The process of becoming a travel agent is very easy as you require a high school diploma to become one. On top of that many employers prefer additional formal training along with good communication and computer skills among the travel agency applicants. Moreover, it is always preferable by an employer if you have a college degree and certificate in Travel and Tourism.
There are two recognized certifications that will enhance your skills as a travel agent. These certifications are CTA (Certified Travel Associate) and CTC (Certified Travel Counsellor). You can apply for CTA designation with at least 12 months of experience in the retail travel industry. Whereas, you become eligible to apply for a CTC designation after getting 5 years of experience in this industry to prove that the applicants have requisite skills to be effective managers.
One should also know that passing a CTA test is necessary before you apply for a CTA exam. Furthermore, you need to complete 10 continuing education units per year to maintain CTC certification.
Many vocational schools, community colleges, and industry associations offer professional travel planning classes. These classes focus on marketing, reservation systems, and regulations regarding international travel.
Career Growth
If you are running your travel agency or you are an independent travel agent, there is a great possibility for you to boost your career by availing and taking the correct advantage out of the opportunities available.
There are bountiful career opportunities once you become a travel agent such as you can become a Corporate Travel agent, Travel counsellors, travel service consultants, Certified Travel Counsellors, Auto Travel Counsellors, etc. Listed below are the tips for better sales performance which will help you in your growth and expansion-
Finding your niche and sell experience by identifying where the demand is for a travel agency and following appropriate marketing strategies
Establishing a robust social media presence
Always ask for referrals
Motivate your sales employees and team members with incentives
Try to develop a personal connection with your clients, it will develop a long-term professional relationship between you and the customer
Always be open to the customer's feedback and reviews. Always remember you can only improve after the customer's feedback
Establish strategic partnerships collaborating with another business for an overall benefit to both of you
Go where your customers are
Your career growth immensely depends upon these crucial factors which should be well considered.
Becoming an IATA Agent
Thinking of becoming an IATA member? If you are still thinking, after reading the below information you would absolutely want to go for cracking an IATA exam.
The International Air Transport Association (IATA) is an association of trade representing more than 84% of the total air traffic (that becomes more than 240 airlines). If you want to become a renowned travel agent, IATA accreditation is one of the most significant seals of being recognized worldwide. IATA also offers professional development services and comprehensive training for travel agents that enhance their skills.
This course briefs the revolution in the role of a travel agent, the role of travel customer and the airline industry business model. Moreover, it communicates the complex information such as how to market, compute, defend and charge a transaction fee. You will be awarded an e-certificate once you complete the course.
Eligibility
The candidates who can apply for IATA examination must be 10+2 and graduated from any stream. This course is recommended and ideal for –
Agency Administration
Mid-level managers and supervisors
Agency Back office personnel
Travel Managers
Syllabus
This course is available in e-textbook and textbook format. If you are opting for e-textbook option, you can easily study the material on your own, whereas choosing the textbook format will require you to enrol at an authorize Training Centre and study the material with the help of a local trainer. Listed below are some crucial things you need to know about this exam-
This course can be completed in 12 months from the date of enrolment. Once this enrolment validity expires, users will not be allowed to take the exam and access the course content.
All the study material and online resources can be accessed through your user account
The key topics included in this course are Managerial and negotiation skills, Marketing and Pricing, Administration and Accounting, Tour production and Event Planning, and Laws Related to the travel Industry
Training
Upon the completion of this course, the main focus of the course trainers is to enhance your expertise, skills and competency to-
Increasing your opportunity for career growth
Expand your business and profits
Think like an entrepreneur and become creative
Launch your tour company or travel agency
Improve operational processes
Schedule
Becoming a travel agent is nothing less than becoming an entrepreneur. Most travel agents work full time and follow a typical business week. Their schedule also depends upon their client's/customer's situational needs as when travel arrangements need to be updated or changed on short notice, they may also work overtime and spend additional working hours at the office.
Fees
Do you want to know the cost incurred to do an IATA course to excel in a travel agency? You need to spend Rs 70,000 inclusive of all taxes which can be paid in 2 quarterly instalments as the duration of the course if 6 months.
FAQ
Q1) What skills are utmost required to be a successful travel agent?

A1) You may require to have certain skills and competencies which will enable you to gain your customer's trust and help to secure the best deals of your clients. You need to work efficiently with vendors- hotels, resorts, airlines, railways, etc. The skills that are indispensable to run a successful travel agency are good customer service skills, negotiating skills, problem-solving skills, computer-savvy, communication skills, detail-oriented, and sales skills.

Q2) What is the average salary of a travel agent once you clear IATA exam?
Q3) What are the main responsibilities of travel agents?

A3)
Listed below are the duties of travel agents-
Determine customer needs and preferences such as cost and schedule
Arrange travel for business and leisure customers
Find fare and schedule information
Plan and arrange tour packages, day trips, and excursions
Calculate total travel cost
Describing the whole trip to clients in a systematic manner
Insights about the cruciality and details on required documents such as passports, visa, or any other important document
Advice the customers about local weather conditions, customs, and attractions
If changes arise before or during the trip, making alternative booking arrangements

This was everything about becoming a travel agent but don't you think it would be even better if you join hands with a well-known and reliable company? GST Suvidha Kendra is a leading company which provides numerous services to its customers which includes travel, insurance, bill payment, GST Services, domestic remittance and whatnot. Being a part of this organisation and joining them as a travel agent can be a great start for your success.
You can easily join them by filling the registration form. In this form, you just need to fill in your details and a GST expert would call you within 24 hrs, after verifying your details. Once your application gets accepted, you would have to pay a fee of Rs.24,000 to become their travel agent.
Don't worry, along with the fee comes a plethora of benefits which includes 100% money redemption, promotional and training material, four days of training and much more.
Now, comes the most exciting part, which is revenue? GST Suvidha Kendra provides a fair amount of commission rates to its agent, as they very well understand the hard work you put in. You would be paid 4%-5% on every transaction you do.
Thus, joining GST Suvidha Kendra would be of great advantage to you as you would be provided proper training plus the big name of the company, which would attract more customers. So, without giving a second thought, join them today.
Share this post?