Oxigen vs GST Suvidha Kendra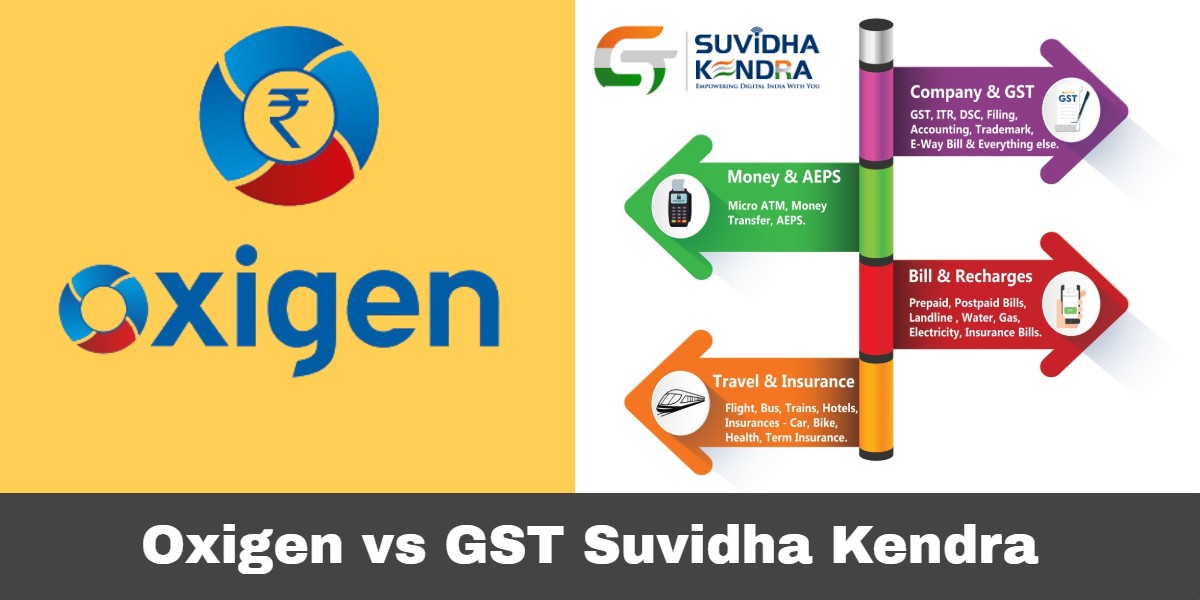 Confused and tensed as to where to invest and get the best results? No need to overthink and investing time in researching the options as we have all the answers for you on this aspect, in this article. Each one of us wants to add some extra income as the expenses are increasing plus we want to maintain a good lifestyle. In this article, we would mention about two magnificent companies in which you just need to invest some money and you can earn great revenue. The best thing is that you can work according to your availability and choose the office location yourself and can also work from home. Feeling relieved after reading this? Read on…
Oxigen- Simplified Digitalized Services
This is the first company that we mentioned above and is one company where you can invest and rely undoubtedly upon. This company aims at digitalizing India and strives to become oxygen for India's rural masses. This company was founded 15 years ago and is said to be India's largest Payment Solution Provider. Joining this company can be a great benefit for you in terms of both growth and monetary benefits. One of the added advantages is the services that Oxigen provides, as there is a vast range of services you have more chances of adding income to your pocket. The services that it offers to the customers are-
AEPS
Insurance
Domestic Remittance
Money Transfer
Payment Solutions
Book Tickets
Mobile Recharge
Bill Payments
DTH Recharge
Movie Tickets
Merchant Payments
Mobile Wallet Top-ups
These are the services that Oxigen provides and joining them could be one of the best decisions for earning more as the investment is less and they have attractive incentives along with best deals for their agents.
If you have a PC and internet connectivity you can become their retailer right away. You can use their web application for quick selling and can also use their POS which is Point of Sale Terminal through which you would be able to do the transactions online and offline both. It needs very little space in your outlet but can provide you with many benefits with the minimal cost of operation.
Being there service agent you would be able to convert your shop in a mini ATM where you would be able to sell services like cash withdrawal or deposit, bill payment, etc. and can earn commission on it. This means that you would be able to earn extra money without any set-up and would be able to provide a complete banking experience to your customers.
Additionally, if you have a GPRS enables handset with the internet you just need to download it and start selling their services to earn more. Thinking how to be a part of them? It's pretty easy, you just need to go to their website and register there. You need to fill in your name, mobile number, email address, state, city and submit the form. They will contact you in a few days and you can become their member if you complete their verification process.
There are many benefits of joining them and of Oxigen Retail outlets such as-
You would not have to maintain any minimum trading balance
Online trading portal access
No risk of physical damage or theft to recharge coupons
Transaction record available anytime on the terminal

Thus, you can earn a remarkable commission joining them with less investment, easy application and greater returns with so many services at just one app or website. I am sure you must have liked this option but there is one more company which you might not even think twice before joining as it provides you with so many perks with the flexibility of working according to yourself and very little investment. Want to know which company is it?
GST Suvidha Kendra- Simplified Financial Services
Incredibly good and an outstanding performer, these are the two words that describe this company. Being there member can be an added benefit to your career as they would not let you earn money but would also develop the skills within you. They believe in digitizing cash and transforming the lives of the people. According to them to establish a great business and gain faith the most important things needed are trust, transparency, passion, integrity, and teamwork. This is what they look for the people who work for them or become a part of them.
Read a lot about them, its time to know what are the services that GST Suvidha Kendra offers-
a) Domestic Remittance Services
b) Individual and Business Loan
c) Travel Ticketing
d) General and Life Insurance
e) Mutual fund & other investment products
f) E-Commerce
g) ATM
h) Bank Account Opening
i) Utility Bill Payments
j) Pre-Paid Gift Card Insurance
k) Recharges
l) Cash Collection and Bank Account Deposits
The interesting thing for you is that you can select any service according to your choice and there is no experience or educational background required for joining them.
Now is the time to know what is their registration process and the eligibility criteria for joining them. Don't overthink it is very simple and easy to join them.
You should have basic computer and internet knowledge
Minimum 12th pass
Should be an Indian Citizen
Also, 1 photo and 1 photo ID card is required
This was about the eligibility criteria, I am sure you are eligible to apply for being their member. Now, if you want to register yourself as there agent you need to fill a form and put the following details-
Name
Mobile Number
Email address
City
Any prior Distributorship Experience(if any)
Why do you want to apply?
Fill these details and submit it. Once you do this, your job is done. After that, a GST expert would contact you within 24hrs and tell you if your application is accepted or rejected. Once the form is accepted you would need to submit a fee of Rs.20,000 or Rs.24,000 as per the service you avail.
There must be a question coming to your mind that what would be the benefits that you would get after paying this fee or is this just the registration fee? Well, this company believes in giving more than taking. There are numerous benefits to you after paying this fee, some of them are-
You would be provided access to the software and the Login page wherein you would be able to place new orders.
You would get Rs. 100 discount on all the services. For example, the GST registration fee is Rs. 400, and your commission is 50%. With this coupon, you have to pay fees of Rs. 300.
Services- We provide the cheapest services in the market. For example, the GST Registration cost is Rs. 400, and the cost of GST filing is Rs. 200.
We also provide more than 200 services, including Insurance, Travel, AEPS, Money Transfer, PAN, Bill, and recharge.
Promotional Material
You will be provided with the promotional material like user manual, CRM instruction manual, information kit about the services, etc.
Training and Support
You will be given four days of training.
9 AM to 6 PM Help Desk either by phone, mail or ticket support
Listed above were a few of the benefits that you would be able to avail after paying the fee. The next and most important thing is how much you would be paid for every transaction you do? Here the commission structure is really awesome and you would feel glad after knowing how much money you can make Curious to know, here is the answer for you-
So, these were the commission rates that you would get, isn't it great? Thus without a second thought, you should opt for GST Suvidha Kendra because it not only needs less investment but gives you the flexibility to work from home or if you want to work from an office, there are no time limitations or deadlines. You can work according to your convenience and earn as much as you can. Therefore, join them today and do not miss this golden opportunity.

Share this post?