Pay Point India vs GST Suvidha Kendra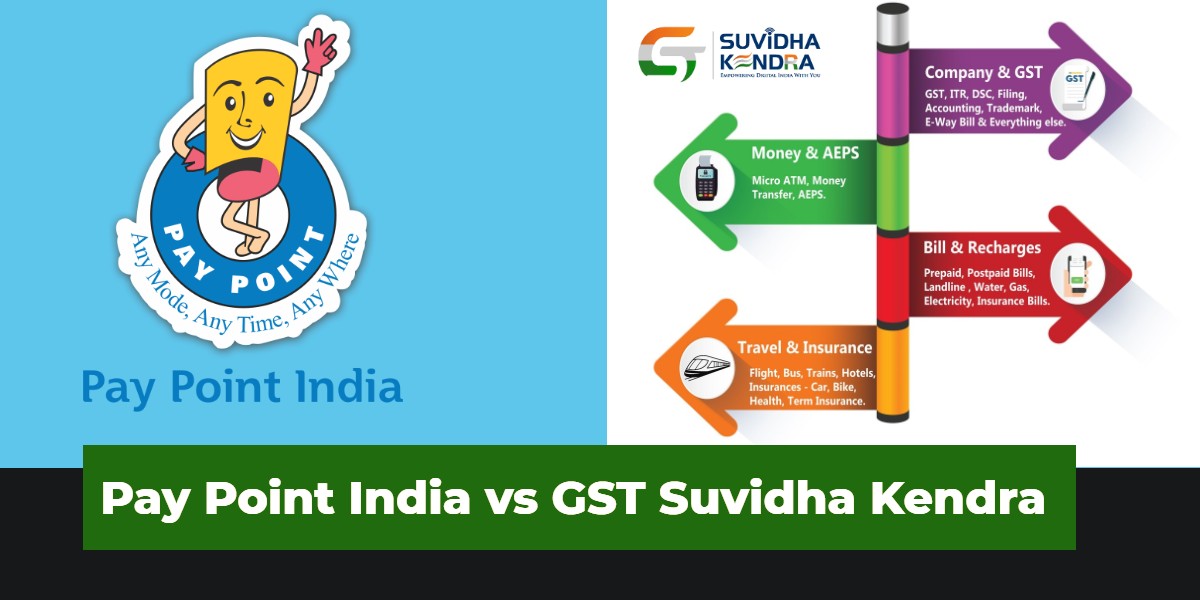 In today's time, everyone is looking for additional income options with flexible working hours. We are sure you must be seeking for an opportunity which gives you maximum benefits and also is according to your working time and place.
As fascinating as this sound, it is physically difficult for people to work 2 jobs a day. But, not anymore…
In this article, we would provide you with the best solution to your problem along with some added perks for you. Plus, we would be telling you about the two remarkably excellent companies which have their online websites and you can become the lucky one to work for them as a franchise and earn a decent amount of money for yourself.
We have shared enough information for you so that you can easily compare and choose the best one for yourself.
Pay Point India- Single Stop Access
This company provides an array of services to the customers so that they can make bill payments, recharges and other financial and banking services quick and easy for the customers. A few years back making any payments such as for electricity, phone or water bill was big trouble but now Pay Point India has provided you with an effective and time-saving way of doing this simply by phone. You not only save time but can avail additional benefits by paying through them.
Being their channel partner and you can earn a lot of money by just joining retailers to them. All you need to do is to become a linking pin between the two and you can earn money on every transaction that the retailer would make, which sounds really good and pleasing for your pocket.
Now you must be wondering what are the services that Pay Point India offers as this is the first thing that you must be curious to know.
Services offered-
Recharge
Money Transfer
Two-Wheeler Insurance
Travel
Bill Payment
Aadhar Micro ATM
GST Services
Online Shopping
PAN Card
These are the few amazing services that Pay Point India offers to the customers, so you being its distributor partner would get the commission on all the services that retailers would sell to the customers.
The registration process to join them is also simple. You just need to fill in a few details such as-
Name
Email ID
Phone number
City
And then in a drop-down, you need to choose do you want to be a distributor partner or retail partner, etc.
After filling these details you need to submit the form and Pay Point India experts would get in touch with you within a short span of time.
You must be thinking that when you are delivering such excellent services then the commission structure would also be equally good. If you become a retailer then your commission on various services would be different for urban and semi-urban cities. Thus you would be amazed to know that on the transaction of one cash withdrawal of Rs.100 you would get Rs.1.68 and it increases with the amount.
The same goes for account transfer and cash deposit. For any recharge, you would a 2.25% commission of the transaction. This was about the commission rates.
So, this was all about Pay Point India but we have another option for you which is even better than this one. Want to know more about it? The name of the other company is GST Suvidha Kendra. This company too provides you with a plethora of financial services which makes doing day to day financial activities like recharge, bill payment, insurance, travel and much more pretty easy.
GST Suvidha Kendra- A multi-functional terminal
This is one company that has gained fame because of simplifying work for the customers, one feature why consumers love using it. This company helps both small and medium entrepreneurs, individuals and shopkeepers with a turnover of 20 lakhs to file GST return by charging a very nominal fee.
Furthermore, the services that GST Suvidha Kendra provides are-
a) Domestic Remittance Services
b) Individual and Business Loan
c) Travel Ticketing
d) General and Life Insurance
e) Mutual fund & other investment products
f) E-Commerce
g) ATM
h) Bank Account Opening
i) Utility Bill Payments
j) Pre-Paid Gift Card Insurance
k) Recharges
l) Cash Collection and Bank Account Deposits
More services to offer than Pay Point India
Surprised to see so many services provided by just one company. Yes, you can be a part of this amazing company and become a distributor without any paperwork. This is a great company to be a part of because they don't believe in growing alone instead their motto is growing with their partners and making a profit alongside them. The question that must be coming to your mind is that what is the registration process?
All you need is to fill in the form online and provide 1 photo, photo ID and location address. Once you submit these details your documents and location would be verified and then based on that you would get a call from GST Suvidha Kendra expert informing you that the application is accepted or rejected.
Once your application is accepted you just need to pay a small amount for registration that is either Rs.20,000 or Rs.24,000 based on the services that you would avail.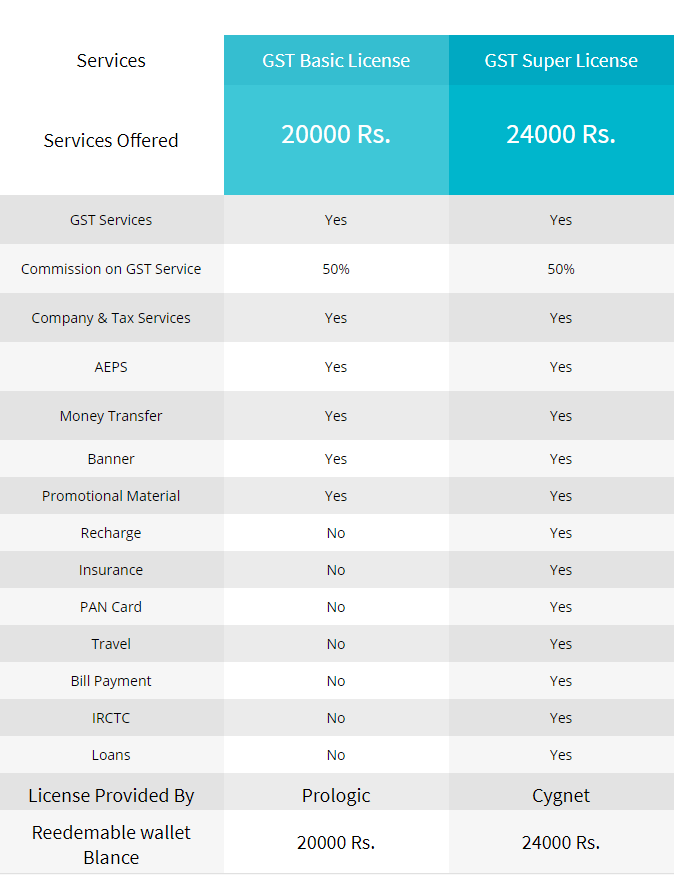 But there is good news for you that there are numerous benefits that you can avail after paying this amount-

You would be provided access to the software and the Login page wherein you would be able to place new orders.
You would get Rs. 100 discount on all the services. For example, the GST registration fee is Rs. 400, and your commission is 50%. With this coupon, you have to pay fees of Rs. 300.
Services- They provide the cheapest services in the market. For example, the GST Registration cost is Rs. 400, and the cost of GST filing is Rs. 200.
They also provide more than 200 services, including Insurance, Travel, AEPS, Money Transfer, PAN, Bill, and recharge.
Promotional Material
You will be provided with the promotional material like user manual, CRM instruction manual, information kit about the services, etc.
Training and Support
You will be given four days of training.
9 AM to 6PM Help Desk either by phone, mail or ticket support
These were the certain benefits that you can avail and We are pretty sure you must be glad and feeling content after reading this information. This was about being a part of this company but what about the commission structure?
Well, here is the list of commission structure for you-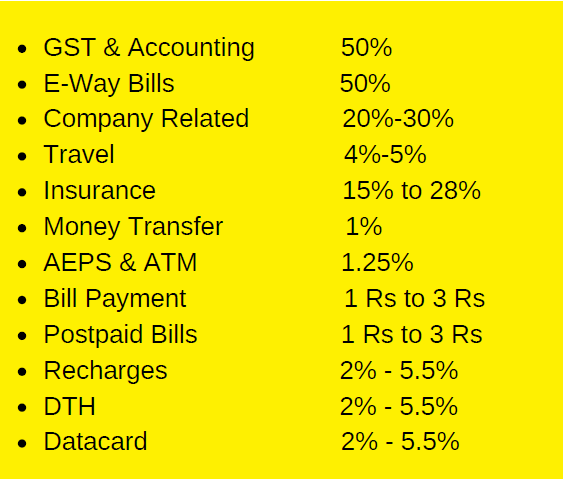 Which one is better?
After reading everything about both the companies, we believe that you have already made mental calculations of the commission rates and your probable monthly income. Also, it is clear that GST Suvidha Kendra allows you to offer more services in comparison to Pay Point India.
Our Recommendation: Go for GST Suvidha Kendra. This company offers so many perks, excellent commission structure, training, promotional material and also round the clock support.
Best luck!

Share this post?