Payworld India vs GST Suvidha Kendra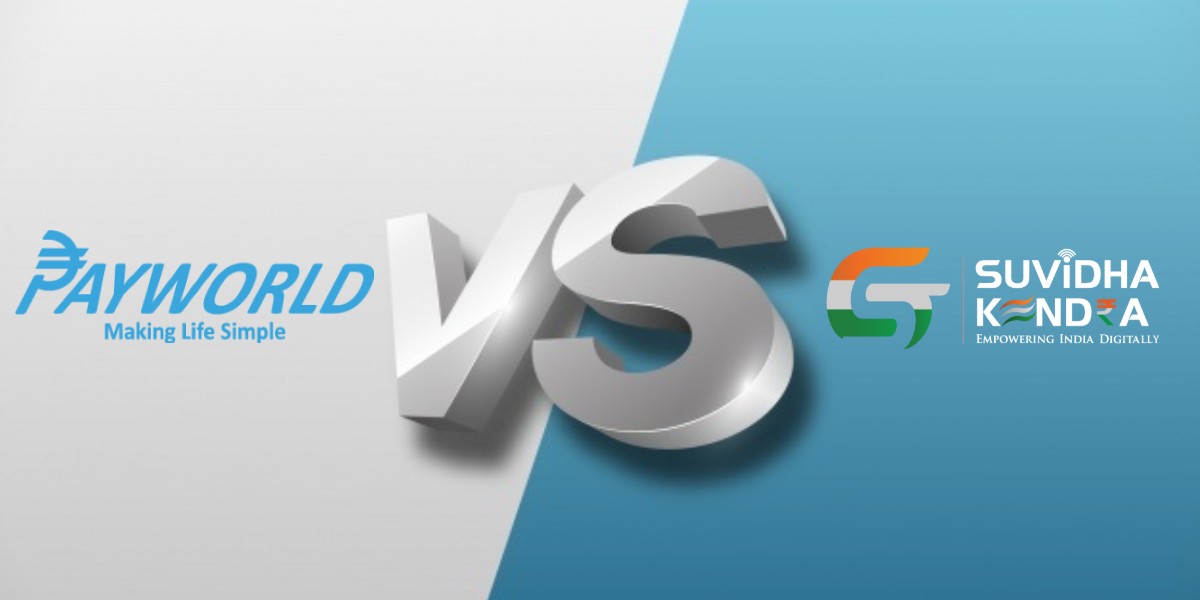 Finding a reliable source for earning additional income is truly a challenging task, I am sure you must be facing the same issue. But you need not worry, we have a great solution for you. In fact, after doing a lot of research we could find two reliable and renowned companies that you can be a part of and add extra income to your account.
There might be many platforms available in the market but it is tough to choose the right one. Everyone seeks a company where they need to invest less and earn more plus the risk should be minimal. You must be thinking where is such kind of a company with so many qualities. Here is the answer for you, the two companies that we would discuss in the article today are the ones where you need very little investment and you can earn good profits as per your transaction.
Payworld- Making Life Simple
This company aims at making life simple for both retailers and customers. They use advanced technology for making day to day transactions easy. It was made by the Sugal & Damani group of companies and was founded in the year 2006.
If we talk about its outreach it has more than 100,000 active retail touchpoints and is there in more 630 cities and more than 20 cities. The unique thing about them is that they are using advanced technology for making electronic transactions, where a customer can easily do transactions by going to the retail touchpoints and paying digitally and in cash.
The services that this company offers are-
Mobile & DTH recharge
Domestic Money Remittance
Travel
Insurance
Utility Bill Collection
Cash Withdrawal points
Loan
Payment
Investments(Mutual Fund & E-Golds)
AEPS
GST Filing
These are the services that Payworld offers and you being there new business associates can earn a lot of money with them as the services they provide are required by the customers in their everyday life. You must be thinking how can you sign up with them and become a member.
Don't worry they have made sure that the process is kept simple and it does not take a lot of time and paperwork to join them. You simply need to open their website and fill in the form where you just need to put your basic information such as-
Name
Mobile Number
Email Id
State
City
If you are already working
Annual Turnover
Once you fill in this information and submit the form they will contact you within 24 hrs and discuss the terms and conditions with you. How simple it was to signup with them and become their business associate. I am sure the next thing you are interested to know is the commission that you would get on each transaction that you do.
Here is the list of the commission that you would get-
| | |
| --- | --- |
| Services | Commission Structure |
| Money Transfer | Up to 1% |
| Rail E-Ticket | Rs7- Rs.18 per ticket |
| Mobile Recharge | 0.50%-3.00% |
| Bill Payments | Up to Rs.4 per transaction |
| DTH Recharge | 0.50%-3.00% |
| Bus Reservation | 0.01%-5.00% |
| Air Reservation | 0.01%-5.00% |
| Hotel Booking | 7.00% |
| E-Shopping | 1.50%-6.50% |
| Digital Wallet | 0.3% |
| Mini ATM Service | Up to Rs.2 per transaction (for withdrawal) |
| Insurance | 10%-20% |
| Cash Management Service | Rs.5- Rs.25 per transaction |
This was about the commission structure of Payworld, we are sure you must be mesmerised after reading about the benefits that you would get joining this company. But there is something more for you and maybe better than this.Yes, we are talking about the next company that we are going to discuss GST Suvidha Kendra. This is one company where you need a very less amount of investment and the benefits and endless as it solely depends on you how much time you give and transactions you do.
GST Suvidha Kendra- Experts in Financial Services
This company provides financial services and has gained a lot of expertise over it. GST Suvidha Kendra is one of the best companies when it comes to providing any sort of financial services to the customers, this is one reason why people count on this website and use their services. Under this platform, GST Suvidha Kendra provides you with numerous utility services such as –
a) Domestic Remittance Services
b) Individual and Business Loan
c) Travel Ticketing
d) General and Life Insurance
e) Mutual fund & other investment products
f) E-Commerce
g) ATM
h) Bank Account Opening
i) Utility Bill Payments
j) Pre-Paid Gift Card Insurance
k) Recharges
l) Cash Collection and Bank Account Deposits
Too many services provided by just one company which makes it easier for the distributor to earn money and attract more and more customers. Joining such a company which is reliable, renowned and provides you with great opportunity can be a good chance of earning remarkable profits.
This company aims at reaching every corner of the country so that they can make financial services facile for every individual and particularly the unbanked population.
Overwhelmed by hearing so much about this company and want to know if you are eligible to join them? There are very simple requirements to apply-
You should be above 18 years of age
Minimum 12th pass
Should have basic computer and internet knowledge
That is it, if you have completed all the above-mentioned terms then you can be a part of this magnificent company. Now, as you know that you are eligible, do you want to know about the registration process? It is absolutely straightforward and easy. You just need to fill in a form and load your details-
Name
Email id
Mobile Number
City
Business Name(if any)
Prior Distributorship experience (if any)
Why do you want to apply?
These are the basic details that they need from you and along with it, you need to send 1 photo and 1 photo ID. Once you submit all this you would get a call from the GST Suvidha expert after the verification of your documents and address.
Once the verification process completes you would need to give the registration fee which would be Rs.20,000 or Rs.24,000 based on the services that you would opt for.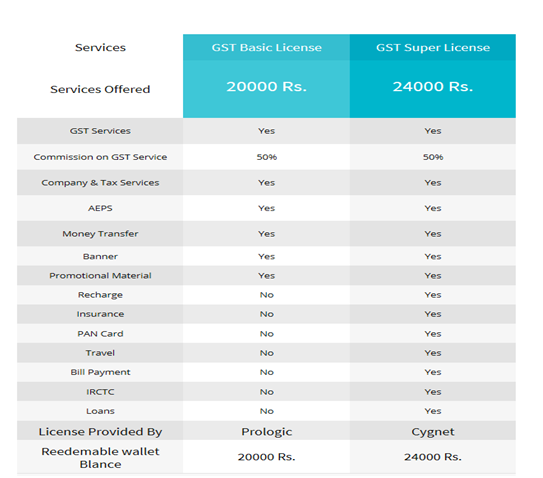 This is the payment chart as per the service but doesn't think that you are paying for nothing. There are numerous perks that you would get paying this fee-
You will be given access to the software and the Login page wherein you can place new orders.
24×7 Help Desk either by phone, mail or ticket support
You would get Rs. 100 discount on all the services. For example, the GST registration fee is Rs. 400, and your commission is 50%. With this coupon, you have to pay fees of Rs. 300.
We also provide more than 200 services, including Insurance, Travel, AEPS, Money Transfer, PAN, Bill, and recharge.
You will be provided with the promotional material like user manual, CRM instruction manual, information kit about the services, etc.
Training and Support
Promotional Material
You will be given four days of training.
Services- We provide the cheapest services in the market. For example, the GST Registration cost is Rs. 400, and the cost of GST filing is Rs. 200.
I am sure by now the registration process, initial investment and its benefit must be clear to you. The next and the most vital point that must be coming to your mind is what would be your commission? Well, this is one company that ensures that believes in paying a fairly good amount to their distributors as they understand the hard work they put in. The commission structure is as follows-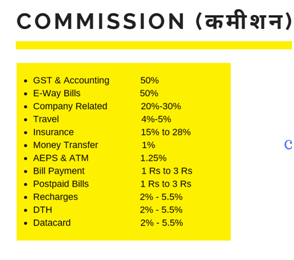 Now you know about the commission structure of GST Suvidha Kendra, I am sure you must be amazed after looking at the return they provide you. On every transaction that you would make you would get a commission on all. Thus, it would solely depend on you, the more time you put in and do transactions you can earn an enormous amount of money.
Bottom Line
After a proper understanding of both the companies, I am sure you must have made your mind that GST Suvidha Kendra is better than Payworld and provide more benefits and commission. Additionally, it is a more reliable company with lots of existing customers who are happy using its services. Thus joining and being a part of this organization can be a great step towards your success and earning money. So, without a wait join GST Suvidha Kendra today.

Share this post?