Why investing your money with eBIZ is a bad idea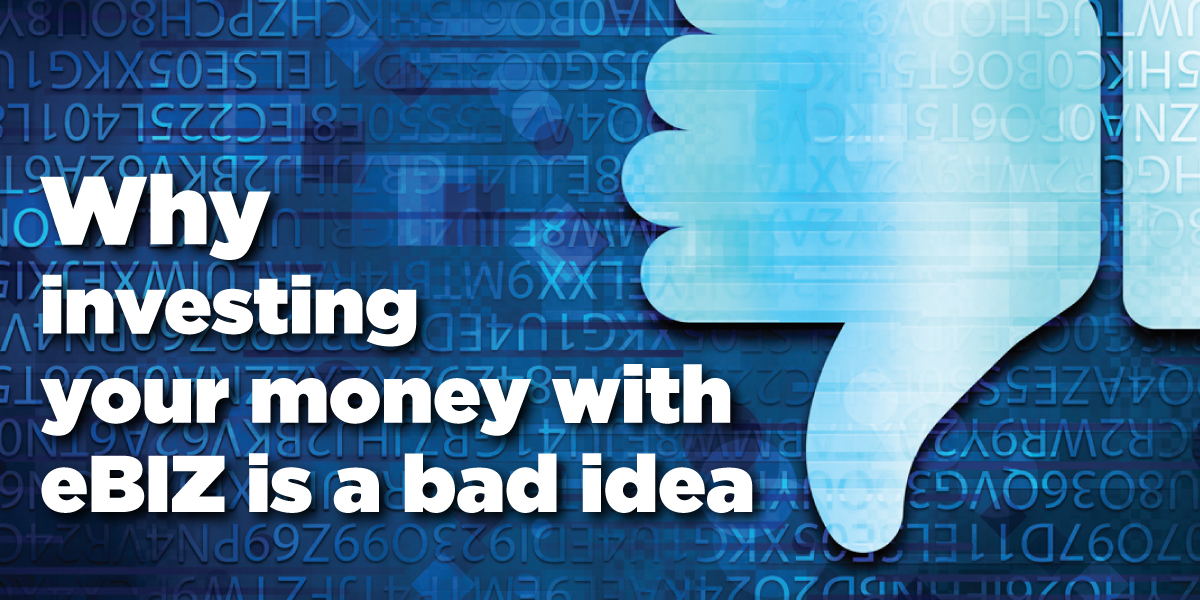 Arrest of eBIZ Father-Son Promoter Duo
On 20th August 2019, the country was shocked as the Hyderabad Police arrested Pawan Malhan and his son Hitik Malhan for allegedly committing fraud of over Rs. 5000 crores. The father-son duo was promoters of the Company eBIZ which is accused of duping people by operating a fraud business in the model of Multi-Level Marketing (MLM) scam and a pyramid scene. Over Rs. 389 Crores worth of funds held by the Company in different Bank Accounts in the name of the Company and its Directors have been frozen by the Authorities. According to the Police, the Company has managed to dupe over 17 lakh people and add them as its members in exchange for an investment, which was never returned as promised.
The business model of eBIZ
The company ostensibly sold basic computer courses at exorbitant prices, even though the study material is available online for free of cost. They are also not affiliated by any Technical Board or University, thus casting dubious aspersions on their legitimacy. This allowed the company to earn a legitimate income by selling this course at a whopping Rs. 17,000. The major selling point of the business however, was to induce people who have bought the course to convince their friends and family to buy the course also. In successful, they would get a small commission. But then these people would have to recruit members of their own (called downlinks) and everyone on the uplink would again get some commission. In this way, the chain would continue. This is called a pyramid scheme or a "money circulation scheme" in India.
Why did the business fail
Pyramid Schemes or Money circulation schemes are not practical. The entire business model depends on taking money from one person as enrollment fees for joining the company and then using that money to repay the loan of that earlier person. It is like using one credit card to pay another. In the end, there would be no more banks left to take credit cards from. Similarly, in a money circulation scheme, there would come a time when there are no more people left to join. The entire business model would collapse then as there would be no revenue source to pay off the debts of the people who have already invested in the company. The worst affected would be those who have joined at the later stages because they would not get the opportunity to earn income from getting more people to join – as there is no one left.
Can you be successful with eBIZ?
Are there people who are successful at eBIZ. Yes, there are. But they are usually high-level gold and silver members who have 100 to tens of thousands of people in their network. They had joined the company at a very early stage and had the opportunity to recruit people very early on so as to get dividends when these people further sold anything. But now the pool is all dried up. There are not many more people left to recruit and after the arrest of Pawan and Hitik Malhan the eBIZ fraud has been totally exposed.
The Company does not compensate you for travel or accommodation expenses incurred for work purposes like attending frequent conventions or group meetings, which are more or less mandatory as you will be pressurized by your uplinks. Even your mobile balance, that you spend in copious amounts to keep in touch with your uplinks, is not reimbursed by the Company. You end up shelling a lot of money out of your pocket very quickly without any return on your investment. This becomes a huge downside for trying to get people to join in. It is no wonder that 95% of the people who invest in eBIZ fail to even maintain a team of 9 members – the minimum needed to reach a basic partnership tier of "cycle achiever" (team of 9 people). A minute 2% of people reach the next tier – "silver" which consists of 50 people. And a minuscule 1% of all investors reach the "gold" tier.
An insider former eBIZ employee, reveals the level of shamelessness and exploitation of new joiners and juniors by high-level gold and silver members of the eBIZ franchisee. The meetings that the Company mandatorily made the juniors go to, at their own expense, of course, was nothing but another slimy money-making opportunity by the eBIZ higher-ups. These events would be organized for a profit. Passes would be printed and given to the juniors to sell to their friends to get more people into the convention (in an effort to prey on them as new members). But the appalling thing is that the entire money from the passes would be taken from the juniors beforehand. Now it becomes their liability to sell off the passes that they have already paid for by duping their friends and family. But it has been seen that most people are not even able to recover the money they paid passes, as it is difficult to find people in real life you who will be willing to pay to attend a bogus corporate remind of a pyramid scheme company. As desperate juniors harangue and cajole their people around them, they become shunned and alienated by friends and family.
The law on MLM and Pyramid Schemes in India
Section 2(c) of the Prize Chits and Money Circulation Schemes (Banning) Act 1978, makes any business illegal, whose central purpose is to make a quick buck by the exchange of money for the enrollment of new members. In M/S Apple FMCG Marketing Pvt. Ltd. v. Union of India, the Supreme Court stated that in any pyramid scheme there will come a point of time when the chain will get saturated and there will be no one left to sell to; and that there is a danger of lakhs of people losing their entire money and livelihood in such as scheme. Such schemes are thus "money circulation schemes" under the Act, and is illegal.
The Supreme Court in Kuriachan Chacko and Ors. vs. The state of Kerala took note of the absurdity and long term unworkable nature of money circulation schemes, pyramid schemes, and comparable MLM schemes. It noted the downright cunning and diabolical arrangement that the only people who would benefit from this unsustainable business model are the promoters of the fraudulent themselves and no one else.
The Cyber Crime Cell of the Cyberabad police in Hyderabad has issued a Public Awareness Notice that many schemes are being floated to dupe the public under different names such as Direct Marketing (DM), Multi-Level Marketing schemes (MLM), Network Marketing (NWM), Referral Marketing, Introduction Marketing, Chain Marketing, etc., and that these are nothing but "money circulation schemes" which are banned under the provisions of the Prize Chit and Money Circulation Schemes (Banning) Act, 1978, money circulation schemes are banned in India.
The Supreme Court has declared the business of even Amway as an illegal money circulation scheme, as they distribute commissions on getting other people to join, in Amway India Enterprises v. Union of India.
Do you know about GST Suvidha Kendra?
If you have arrived at this page by browsing about eBIZ online, we think we think you might be interested in a legitimate business opportunity with a Govt. affiliated company, instead of fraudulent pyramid schemes. We are Prologic Web Solutions Private Limited a GSTN Approved GSP partner which was registered in 2012, July. Here is our full details. Our CIN is U72900DL2012PTC238413 & Company GST Number is 09AAGCP7559N1ZI.
Our business model – Govt. of India has given the responsibility of the management of the entire IT Infrastructure for the GST Scheme to the non-profit NGO Goods and Services Network (GSTN) which serves as a Nodal Agency. GSTN has further delegated the task to renowned IT Companies like Deloitte, TCS, Ernst & Young, and others, who are called GST Suvidha Provider GSP. These companies will build interactive and easy to use software for people to connect to the GST Network and provide services like GST Registration, Returns Filing, among a host of other services. We Prologic Web Solutions Private Limited have partnered with such a GSP to recruit independent businessmen like you to bring GST technology to the actual people.
Your role – You will conduct business as a registered GST Suvidha Kendra (GSK) authorized by the GSTN-GSP. Your job will be to solicit small business owners to use the software provided by the GSP to meet their various GST compliances and beyond. Along with GST compliance, there are a host of other services like financial auditing, Online Income Tax filing, and Return prep, UDYOG Aadhaar services, registration of all types of businesses, like a partnership, company, cooperative, society registration, and many more. You do not have to know anything about GST, Income tax or finance. You just need to know how to operate the software and enter customer details correctly and it will do all the calculations in the back-end. We will provide you will all the necessary training and learning materials.
Here is why partnering to become a GST Suvidha Kendra is better than eBIZ
1. GSK provides potential for regular long-term customers
Any experienced businessman will tell you that the lifeblood of a business is retaining clients. Acquiring new clients come secondary. Regular business is the key. But regular business is not possible by the very nature of a pyramid scheme like eBIZ, where you sell a one-time computer course and that its. There is nothing new to sell, and at one time it is inevitable that there will be no new members to recruit. Thus the earnings will stop.
But this where the GST Suvidha Kendra especially shines! Our services are like GST filings, Income Tax and audit are regular and periodic requirements – in fact, GST returns filing is a monthly affair. Thus, your customers will be natural repeat customers. No need to harass your friends and family and alienate them.
2. GSK has a transparent commission system
The commission system in a pyramid scheme like eBIZ is inherently complicated. Your earnings would depend on how many downlines (junior recruits) you have, and their performance. There is also a minimum number of people that you have to recruit every month to claim a commission. Without it, no commission for that month. We on the other hand treat our partners with the utmost respect. We understand that it ultimately you who is selling our software to the ultimate customer and thus we help you with our utmost efforts to succeed. Our commission system as simple and easy to understand as possible. There is no fine print, hidden charges, or complicated points system. The commission percentage and amount is clearly stated. We even have an online commission calculator at our website to give you an idea about the earning potential before you jump into business.
3.GSK provides ubiquitous and in-demand products
The Goods and Services Tax is a replacement of all the indirect taxes in India such as VAT, excise duty and service tax. Every small or big trader, Company, Association, even freelancers have to deposit GST now. Since GST is still at a nascent stage, the public understanding regarding GST low. There is a huge demand for affordable products and services to fulfill the compliance requirements and that is where you as a GST Suvidha Kendra would come in. Compare that to trying to sell outdated computer training courses for 10 times the price.
4. You will be directly involved in Nation-building
Taxation is the lifeblood of a nation and one of the only major sources only sources of income by the govt. to pay for the massive amount of public infrastructure development and subsidized schemes that are essential for the lifeblood of an adolescent economy like ours. Our country has one of the highest tax evasion rates and the previous system before was complicated and provider a lot of scope for fraud and tax evasion. One of the most important goals of GST is to widen the tax collection base and it has also seen success on that front. As a GSTN-GSP licensed entity, you will be working for national benefit by bringing GST to the actually people – small traders.
5. Anyone can join and all assistance will be provided to you
You do not need knowledge of taxation or finance to become a GST Suvidha Kendra. You just need to know how to operate the software, for which comprehensive training will be provided from our end. We also offer a 100% cash-back guarantee where you will get refunded the entire cost of the program to your wallet to spend on our features. if you are unable to get your business going and decide that this is not your cup of tea, we also provide a full money-back guarantee within 90 days of purchase.

Share this post?