How To Start PAN Card Agency And Become PAN Card Agent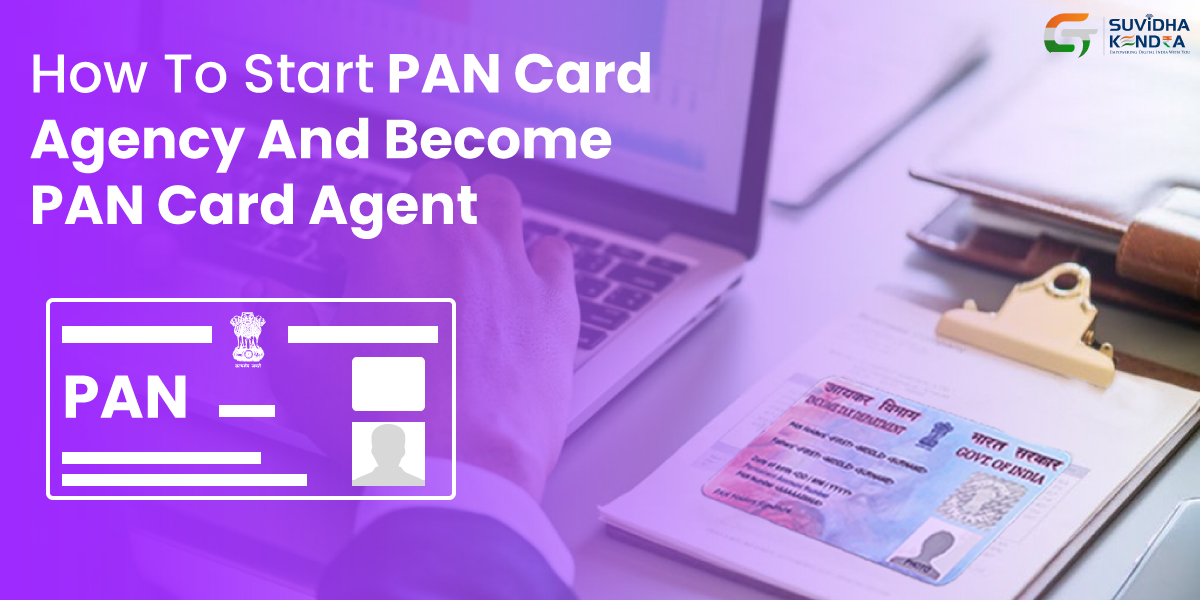 Considering opening a PAN card agency or becoming a PAN card agent? Before starting this business, one has to be familiar with PAN (Permanent Account Number) which is a laminated plastic card consisting of 10 digits alphanumeric number issued by the Income Tax Department and allocated to the PAN cardholder.
PAN card is one of the most significant documents allotted to every taxpayer of the country which is even accepted as identity proof by several Govt. organizations. In this regard, several outlets have been opened in various states across the country to facilitate the PAN application process for the applicants. There used to be the biggest concern of how to fill up the PAN application form and where to submit it. However, the online agents have rendered efficient service to the customers which have made the entire process easy.
You might be inquisitive about knowing the benefits of the PAN card before proceeding further. These benefits will also galvanize you to become a PAN card agent and drive a perfect reason for citizens of India to get a PAN card. One need a PAN card for-
Purchase and Sale of any immovable property, vehicles, company's shares, securities, etc
For filing Income Tax Returns and to claim the tax refund
Helps in Tax Deduction
To open a Demat account
For tax evaluation
Easy accessibility
For availing a credit card
To receive a payment in cash for more than Rs. 50,000
So, starting a PAN card agency is a value-adding proposition in short. All you need is a basic setup which includes, a PC, Document Scanner, Printer, and the Internet.
Every person requires a PAN card these days more or less, so there is no need to pitch to your customers. The whole market consists of potential customers if you have started a PAN card agency or you have become a PAN card agent. On top of this, you can get high returns without much capital investment. Sounds good, right?
To help you further with becoming a PAN card expert, GST Suvidha Kendra is a one-stop-shop solution if you want to know how you can easily commence your business by opening a PAN card agency or become PAN agent?
GST Suvidha Kendra- Multi-functional terminal
GST Suvidha Kendra is one company which has been authorized to apply for PAN Card across the country by our retail network. The consumer base of the company is growing because of the amazing services that they offer to its customers.
GST Suvidha Kendra has earned it name not only in terms of providing PAN card services but it also provides a lot more than that. The other services that it offers are-
Individual and Business Loan
General and Life Insurance
Travel Ticketing
ATM
Utility Bill Payments
E-Commerce
Prepaid Gift Card Insurance
Bank Account Opening
Cash Collection and Bank Account Deposits
Domestic Remittance Services
Mutual fund & other investment products
Recharges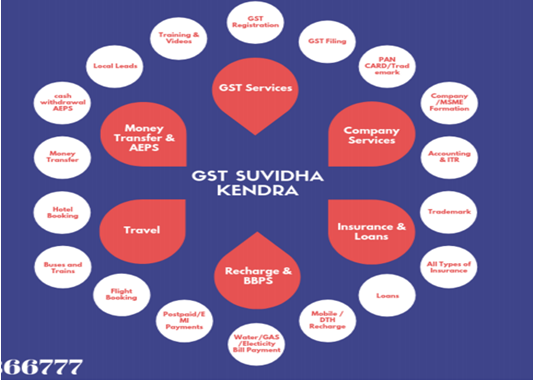 GST Suvidha Kendra is an esteemed company, thus starting your career with them as an agent would not only help you in grooming your overall skills but along with that aid you in earning a decent amount of money. They aim to provide facile and instant solutions to their consumers, which is why people love using their services and joining them.
How does GST Suvidha Kendra help in getting a PAN Card Agency?
This is one sector that can give you a great platform to grow and add money to your pocket. More than 80% of the people carry PAN cards with them as it is vital for one to pay tax.
The first thing before applying for a PAN Card agency is to check the eligibility criteria-
Must have 2 passport size photographs
Minimum 12th pass
Above 18 years of age
Indian Citizen
Should have a basic knowledge of internet and computer
Must provide address proof and date of birth proof
These are the basic eligibility requirements for opening a PAN card Card agency. Now, if you are eligible then you can easily apply for the PAN Card agency, by just filling a simple form and filling these details-
Name
Email address
Mobile Number
City
Pin Code
Once you submit the form a GST expert would review it and contact you within 24 hrs. If there is no GST Suvidha Kendra near your area you would get a call and would be asked to submit a copy of Aadhar card, PAN card and 1 passport size photo.
The second step would be the verification of your documents and location would be verified. If the application gets approved then you would have to sign an agreement and pay the fee. The fee that you would have to pay is Rs.24,000 and you would get a license for 25 years, plus many more benefits which are-
You would be provided with the access of license and software, plus the login page from where you would be able to place fresh orders
240 coupons would be provided worth Rs.100 each, which means 100% money redeem
You can use these services to avail any GST service
Also, you would get Rs.100 on all the GST services that you avail
You would be offered with more than 200 services such as Insurance, Bill Payment, Money transfer and much more
Provided with promotional material which includes banners, instruction kit and much more
Four days of training
9 PM to 6 PM help desk support either by phone or mail
Hence, there are a plethora of advantages you would be getting by paying this fee. Additionally, if you become their agent, you would get the cheapest price in the market for all the services they offer. This was about paying the fee but now we would discuss the earnings or commission you would get after becoming a PAN card agent.
Commission and Earnings
This is the part which you must be keen to know as to how much would you earn becoming a PAN Card agent. The commission rates for PAN Card agent ranges between 20%-30%. Here is the commission list for other services: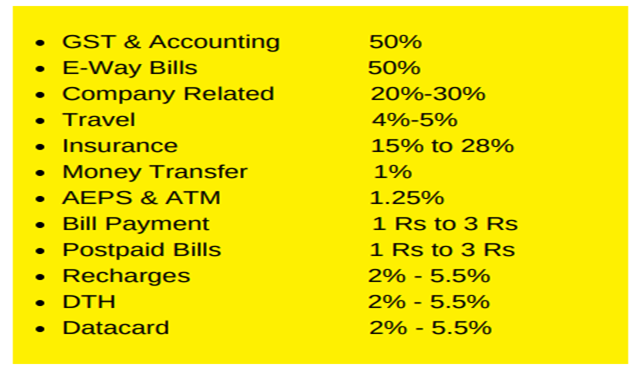 The commission rates are pretty good as by issuing one PAN Card or registering for changes you would get 20-30% commission, which means that you can earn really well if you join GST Suvidha Kendra and become a PAN Card agent or start a PAN Card agency.
Bottom Line
By now, you know everything about becoming a PAN Card Expert with GST Suvidha Kendra. Joining then would not only boost your career but help you in earning a fairly good amount of money every month. Thus without a wait contact and register yourself for becoming a PAN Card agent.

Share this post?